Abstract
An increase in coagulation in patients with pancreatic carcinoma has long been documented. In this Review, we present what is known about the pathophysiology of increased coagulation in cancer and how it applies to pancreatic carcinoma. The relationship between the activation of coagulation or symptomatic thromboembolic disease and the development of pancreatic carcinoma is explored. Data on the relationship between thromboembolic disease and the behavior of pancreatic cancer before, during or after a diagnosis is made are also reviewed. Finally, the rationale and evidence for the use of oral anticoagulants or heparin in patients with pancreatic carcinoma is presented. This Review is a critical appraisal of what is known, and when the evidence is acceptable, on the subject of thromboembolism, anticoagulation, and treatment with anticoagulants in patients with pancreatic carcinoma.
Key Points
Pancreatic carcinoma is associated with activation of coagulation, and interplay between activation of coagulation, inflammation and angiogenesis seems to affect the morbidity and mortality of patients with pancreatic carcinoma

Thromboembolism predicts an increased risk for the development of an occult cancer, including a pancreatic carcinoma

Thromboembolic events are associated with a poorer prognosis in patients with pancreatic cancer than in those with other types of cancer

Recurrence of thromboembolism in patients with pancreatic carcinoma predicts reduced duration of survival

Use of either warfarin or low molecular weight heparin seems to improve survival in patients with pancreatic carcinoma

Two large multicenter studies on the use of low molecular weight heparin plus chemotherapy in patients with pancreatic carcinoma are under way
Relevant articles
Open Access articles citing this article.
A. Gasiorowska

,

R. Talar-Wojnarowska

…

E. Małecka-Panas

Digestive Diseases and Sciences Open Access 23 November 2015

Hanno Riess

,

Uwe Pelzer

…

Helmut Oettle

BMC Cancer Open Access 05 December 2008
Access options
Subscribe to Journal
Get full journal access for 1 year
$79.00
only $6.58 per issue
All prices are NET prices.
VAT will be added later in the checkout.
Tax calculation will be finalised during checkout.
Buy article
Get time limited or full article access on ReadCube.
$32.00
All prices are NET prices.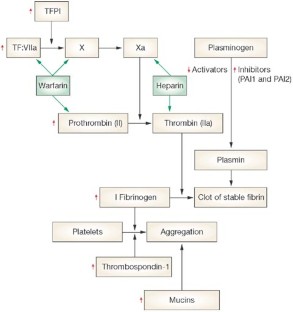 References
Moore MJ et al. (2007) Erlotinib plus gemcitabine compared with gemcitabine alone in patients with advanced pancreatic cancer: a phase III trial of the National Cancer Institute of Canada Clinical Trials Group. J Clin Oncol 25: 1960–1966

Löhr M (2006) Is it possible to survive pancreatic cancer? Nat Clin Pract Gastroenterol Hepatol 3: 236–237

Trousseau A (1865) Phlegmasia alba dolens. Clinique Medicale de l'Hotel-Dieu. Paris: Bailliere JB 3: 654–712

Bariety M (1947) Trousseau, 1801–67. Geneva: Mazenod, 234–235

Khorana AA and Fine RL (2004) Pancreatic cancer and thromboembolic disease. Lancet Oncol 5: 655–663

Sproul E (1938) Carcinoma and venous thrombosis: the frequency of association of carcinoma in the body or tail of the pancreas with multiple venous thrombosis. Amer J Cancer 34: 566–585

Pinzon R et al. (1986) Pancreatic carcinoma and Trousseau's syndrome: experience at a large cancer center. J Clin Oncol 4: 509–514

Virchow RLK (1856) Gesammelte Abhandlungen zur Wissenschaftlichen Medicin. Frankfurt, Meidinger: Sohn & Co. (Reprint edition: Virchow R (1998) Thrombosis and Emboli (1846–1856). AC Matzdorff, WR Bell, transl, Canton, MA: Science History Publications

Brotman DJ et al. (2004) Virchow's triad revisited. South Med J 97: 213–214

Haas SL et al. (2006) Expression of tissue factor in pancreatic adenocarcinoma is associated with activation of coagulation. World J Gastroenterol 12: 4843–4849

Khorana AA et al. (2007) Tissue factor expression, angiogenesis, and thrombosis in pancreatic cancer. Clin Cancer Res 13: 2870–2875

Wojtukiewicz MZ et al. (2000) Expression of prothrombin fragment 1 + 2 in cancer tissue as an indicator of local activation of blood coagulation. Thromb Res 97: 335–342

Rudroff C et al. (2002) Expression of the thrombin receptor PAR-1 correlates with tumour cell differentiation of pancreatic adenocarcinoma in vitro. Clin Exp Metastasis 19: 181–189

Wojtukiewicz M.Z et al. (2001) Localization of blood coagulation factors in situ in pancreatic carcinoma. Thromb Haemost 86: 1416–1420

Kakkar A et al. (1995) Tissue factor expression correlates with histological grade in human pancreatic cancer. Br J Surg 82: 1101–1104

Nitori N et al. (2005) Prognostic significance of tissue factor in pancreatic ductal adenocarcinoma. Clin Cancer Res 11: 2531–2539

Ueda C et al. (2001) Pancreatic cancer complicated by disseminated intravascular coagulation associated with production of tissue factor. J Gastroenterol 36: 848–850

Lindahl AK et al. (1992) Coagulation inhibition and activation in pancreatic cancer. Changes during progress of disease. Cancer 70: 2067–2072

Wojtukiewicz M et al. (2003) Immunohistochemical localization of tissue factor pathway inhibitor-2 in human tumor tissue. Thromb Haemost 90: 140–146

Chaturvedi P et al. (2007) MUC4 mucin potentiates pancreatic tumor cell proliferation, survival, and invasive properties and interferes with its interaction to extracellular matrix proteins. Mol Cancer Res 5: 309–320

Lindahl AK et al. (1993) Increased plasma thrombomodulin in cancer patients. Thromb Haemost 69: 112–114

Marguerie GA et al. (1984) The platelet–fibrinogen interaction. Evidence for proximity of the A alpha chain of fibrinogen to platelet membrane glycoproteins IIb/III. Eur J Biochem 139: 5–11

Isenberg JS et al. (2008) Thrombospondin-1 stimulates platelet aggregation by blocking the antithrombotic activity of nitric oxide/cGMP signaling. Blood 111: 613–623

Tobita K et al. (2002) Thrombospondin-1 expression as a prognostic predictor of pancreatic ductal carcinoma. Int J Oncol 21: 1189–1195

Wahrenbrock M (2003) Selectin–mucin interactions as a probable molecular explanation for the association of Trousseau syndrome with mucinous adenocarcinomas. J Clin Invest 112: 853–862

Kakkar AK (1998) A characterization of the coagulant and fibrinolytic profile of human pancreatic carcinoma cells. Haemostasis 28: 1–6

Andren-Sandberg A et al. (1992) Peaks in plasma plasminogen activator inhibitor-1 concentration may explain thrombotic events in cases of pancreatic carcinoma. Cancer 69: 2884–2887

Jesnowski R et al. (2007) Genes and proteins differentially expressed during in vitro malignant transformation of bovine pancreatic duct cells. Neoplasia 9: 136–146

Yu JL et al. (2005) Oncogenic events regulate tissue factor expression in colorectal cancer cells: implications for tumor progression and angiogenesis. Blood 105: 1734–1741

Redston MS et al. (1994) p53 mutations in pancreatic carcinoma and evidence of common involvement of homocopolymer tracts in DNA microdeletions. Cancer Res 54: 3025–3033

Allgayer H et al. (1999) Targeted disruption of the K-ras oncogene in an invasive colon cancer cell line down-regulates urokinase receptor expression and plasminogen-dependent proteolysis. Br J Cancer 80: 1884–1891

Fernandez PM et al. (2004) Tissue factor and fibrin in tumor angiogenesis. Semin Thromb Hemost 30: 31–44

Ruf W and Mueller BM (2006) Thrombin generation and the pathogenesis of cancer. Semin Thromb Hemost 32 (Suppl 1): S61–S68

Tsopanoglou NE and Maragoudakis ME (2004) Role of thrombin in angiogenesis and tumor progression. Semin Thromb Hemost 30: 63–69

Hobbs JE et al. (2007) Alternatively spliced human tissue factor promotes tumor growth and angiogenesis in a pancreatic cancer tumor model. Thromb Res 120 (Suppl 2): S13–S21

Alvarez RH et al. (2006) Biology of platelet-derived growth factor and its involvement in disease. Mayo Clin Proc 81: 1241–1257

Hwang RF et al. (2003) Inhibition of platelet-derived growth factor receptor phosphorylation by STI571 (Gleevec) reduces growth and metastasis of human pancreatic carcinoma in an orthotopic nude mouse model. Clin Cancer Res 9: 6534–6544

Löhr M et al. (2001) Transforming growth factor-beta1 induces desmoplasia in an experimental model of human pancreatic carcinoma. Cancer Res 61: 550–555

Kleeff J et al. (2007) Pancreatic cancer microenvironment. Int J Cancer 121: 699–705

Fukunaga A et al. (2004) CD8+ tumor-infiltrating lymphocytes together with CD4+ tumor-infiltrating lymphocytes and dendritic cells improve the prognosis of patients with pancreatic adenocarcinoma. Pancreas 28: e26–e31

Albo D et al. (1999) Thrombospondin-1 and transforming growth factor beta-1 upregulate plasminogen activator inhibitor type 1 in pancreatic cancer. J Gastrointest Surg 3: 411–417

Fareed D et al. (2004) Blood levels of nitric oxide, C-reactive protein, and tumor necrosis factor-alpha are upregulated in patients with malignancy-associated hypercoagulable state: pathophysiologic implications. Clin Appl Thromb Hemost 10: 357–364

Scarpati EM and Sadler JE (1989) Regulation of endothelial cell coagulant properties. Modulation of tissue factor, plasminogen activator inhibitors, and thrombomodulin by phorbol 12-myristate 13-acetate and tumor necrosis factor. J Biol Chem 264: 20705–20713

Esposito I et al. (2004) Inflammatory cells contribute to the generation of an angiogenic phenotype in pancreatic ductal adenocarcinoma. J Clin Pathol 57: 630–636

Rudroff C et al. (2001) Thrombin enhances adhesion in pancreatic cancer in vitro through the activation of the thrombin receptor PAR 1. Eur J Surg Oncol 27: 472–476

Gunji Y and Gorelik E (1988) Role of fibrin coagulation in protection of murine tumor cells from destruction by cytotoxic cells. Cancer Res 48: 5216–5221

Palumbo JS et al. (2000) Fibrinogen is an important determinant of the metastatic potential of circulating tumor cells. Blood 96: 3302–3309

He Y et al. (2007) Interaction between cancer cells and stromal fibroblasts is required for activation of the uPAR-uPA-MMP-2 cascade in pancreatic cancer metastasis. Clin Cancer Res 13: 3115–3124

Qian X et al. (1997) Thrombospondin-1 modulates angiogenesis in vitro by up-regulation of matrix metalloproteinase-9 in endothelial cells. Exp Cell Res 235: 403–412

Qian X et al. (2001) Expression of thrombospondin-1 in human pancreatic adenocarcinomas: role in matrix metalloproteinase-9 production. Pathol Oncol Res 7: 251–259

Palumbo JS et al. (2005) Platelets and fibrin(ogen) increase metastatic potential by impeding natural killer cell-mediated elimination of tumor cells. Blood 105: 178–185

Monreal, M et al. (1991) Occult cancer in patients with deep venous thrombosis. A systematic approach. Cancer 67: 541–545

Prandoni P et al. (1992) Deep-vein thrombosis and the incidence of subsequent symptomatic cancer. N Engl J Med 327: 1128–1133

Monreal M et al. (1997) Occult cancer in patients with venous thromboembolism: which patients, which cancers. Thromb Haemost 78: 1316–1318

White RH et al. (2005) Incidence of venous thromboembolism in the year before the diagnosis of cancer in 528,693 adults. Arch Intern Med 165: 1782–1787

Sorensen HT et al. (2000) Prognosis of cancers associated with venous thromboembolism. N Engl J Med 343: 1846–1850

Iodice S et al. (2008) Venous thromboembolic events and organ-specific occult cancers: a review and meta-analysis. J Thromb Haemost 6: 781–788

Mandala M et al. (2007) Venous thromboembolism predicts poor prognosis in irresectable pancreatic cancer patients. Ann Oncol 18: 1660–1665

Khorana AA et al. (2006) Thromboembolism in hospitalized neutropenic cancer patients. J Clin Oncol 24: 484–490

Chew HK et al. (2006) Incidence of venous thromboembolism and its effect on survival among patients with common cancers. Arch Intern Med 166: 458–464

Hirsh J et al. (2003) American Heart Association/American College of Cardiology Foundation guide to warfarin therapy. Circulation 107: 1692–1711

Hirsh J et al. (2001) Heparin and low-molecular-weight heparin: mechanisms of action, pharmacokinetics, dosing, monitoring, efficacy, and safety. Chest 119 (Suppl 1): S64–S94

Norrby K (2006) Low-molecular-weight heparins and angiogenesis. Apmis 114: 79–102

Miller GJ et al. (2004) Increased incidence of neoplasia of the digestive tract in men with persistent activation of the coagulant pathway. J Thromb Haemost 2: 2107–2114

Folkman J et al. (1983) Angiogenesis inhibition and tumor regression caused by heparin or a heparin fragment in the presence of cortisone. Science 221: 719–725

Pross M et al. (2004) Effect of low molecular weight heparin on intra-abdominal metastasis in a laparoscopic experimental study. Int J Colorectal Dis 19: 143–146

Schwalke MA et al. (1990) Effects of prostacyclin on hepatic metastases from human pancreatic cancer in the nude mouse. J Surg Res 49: 164–167

Schulman S and Lindmarker P (2000) Incidence of cancer after prophylaxis with warfarin against recurrent venous thromboembolism. Duration of Anticoagulation Trial. N Engl J Med 342: 1953–1958

Schulman S et al. (2006) Post-thrombotic syndrome, recurrence, and death 10 years after the first episode of venous thromboembolism treated with warfarin for 6 weeks or 6 months. J Thromb Haemost 4: 734–742

Taliani MR et al. (2003) Incidence of cancer after a first episode of idiopathic venous thromboembolism treated with 3 months or 1 year of oral anticoagulation. J Thromb Haemost 1: 1730–1733

Zacharski LR et al. (1984) Effect of warfarin anticoagulation on survival in carcinoma of the lung, colon, head and neck, and prostate. Final report of VA Cooperative Study #75. Cancer 53: 2046–2052

Zacharski LR and Henderson WG (2002) A rebuttal: vitamin K antagonists and cancer survival. Thromb Haemost 88: 173–175

Maurer LH et al. (1997) Randomized trial of chemotherapy and radiation therapy with or without warfarin for limited-stage small-cell lung cancer: a Cancer and Leukemia Group B study. J Clin Oncol 15: 3378–3387

Kuderer NM et al. (2007) A meta-analysis and systematic review of the efficacy and safety of anticoagulants as cancer treatment: impact on survival and bleeding complications. Cancer 110: 1149–1161

Nakchbandi W et al. (2006) Effects of low-dose warfarin and regional chemotherapy on survival in patients with pancreatic carcinoma. Scand J Gastroenterol 41: 1095–1104

Nakchbandi W et al. Prospective study on warfarin and regional chemotherapy in patients with pancreatic carcinoma. J Gastrointestin Liver Dis, in press

Lee AY et al. (2003) Low-molecular-weight heparin versus a coumarin for the prevention of recurrent venous thromboembolism in patients with cancer. N Engl J Med 349: 146–153

Ruf W (2007) Tissue factor and PAR signaling in tumor progression. Thromb Res 120 (Suppl 2): S7–S12

Jung SP (2001) Inhibition of human angiogenesis with heparin and hydrocortisone. Angiogenesis 4: 175–186

Kiricuta I et al. (1973) Prophylaxis of metastases formation by unspecific immunologic stimulation associated with heparintherapy. Cancer 31: 1392–1396

Owen CA Jr (1982) Anticoagulant treatment of rats with Walker 256 carcinosarcoma. J Cancer Res Clin Oncol 104: 191–193

Green D et al. (1992) Lower mortality in cancer patients treated with low-molecular-weight versus standard heparin. Lancet 339: 1476

Khorana AA et al. (2003) Heparin inhibition of endothelial cell proliferation and organization is dependent on molecular weight. Arterioscler Thromb Vasc Biol 23: 2110–2115

Lee AY et al. (2005) Randomized comparison of low molecular weight heparin and coumarin derivatives on the survival of patients with cancer and venous thromboembolism. J Clin Oncol 23: 2123–2129

Icli F et al. (2007) Low molecular weight heparin (LMWH) increases the efficacy of cisplatinum plus gemcitabine combination in advanced pancreatic cancer. J Surg Oncol 95: 507–512

von Delius S et al. (2007) Effect of low-molecular-weight heparin on survival in patients with advanced pancreatic adenocarcinoma. Thromb Haemost 98: 434–439

Pelzer U et al. (2006) A prospective randomized trial of simultaneous pancreatic cancer treatment with enoxaparin and chemotherapy (PROSPECT CONKO 004). 2006 ASCO Annual Meeting Proceedings. J Clin Oncol 24 (Suppl 18): S4110

Maraveyas A. Gemcitabine and dalteparin or gemcitabine alone for advanced pancreatic cancer (FRAGEM). [http://www.cancerhelp.org.uk/trials/trials/] (to find, search for pancreatic cancer trials; accessed 16 May 2008)
Acknowledgements
This work was supported in part by the Max-Planck Society (IAN), the German Cancer Research Center (JML), and a research fund from the Dr Hans & Lore Graf Stiftung (JML).
Ethics declarations
Competing interests
The authors declare no competing financial interests.
About this article
Cite this article
Nakchbandi, I., Löhr, JM. Coagulation, anticoagulation and pancreatic carcinoma. Nat Rev Gastroenterol Hepatol 5, 445–455 (2008). https://doi.org/10.1038/ncpgasthep1184
Received:

Accepted:

Published:

Issue Date:

DOI: https://doi.org/10.1038/ncpgasthep1184