Abstract
The term 'appetite suppressant' is used to denote drugs that act primarily on the neurochemical transmitters of the central nervous system to reduce food intake. In addition to drugs that release or mimic the effect of norepinephrine (noradrenaline), this could include drugs that inhibit: reuptake of norepinephrine or 5-hydroxytryptamine (also known as serotonin); bind to the γ-aminobutyric acid receptors or the cannabinoid receptors; and some peptides that reduce food intake. The sympathomimetic drugs phentermine, diethylpropion, benzphetamine, and phendimetrazine—so named because they mimic many effects of norepinephrine—are only approved in a few countries, and then only for short-term use. Sibutramine, a norepinephrine–5-hydroxytryptamine reuptake inhibitor, is approved for long-term use. Several new mechanisms for drug action are under investigation. Appetite suppressants should be viewed as useful adjuncts to diet and physical activity and might help selected patients to achieve and maintain weight loss.
Access options
Subscribe to Journal
Get full journal access for 1 year
$59.00
only $4.92 per issue
All prices are NET prices.
VAT will be added later in the checkout.
Tax calculation will be finalised during checkout.
Rent or Buy article
Get time limited or full article access on ReadCube.
from$8.99
All prices are NET prices.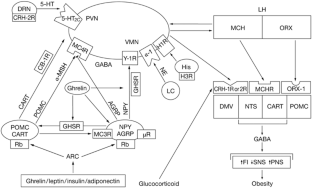 References
1

Bray GA and Greenway FL (1999) Current and potential drugs for treatment of obesity. Endocr Rev 20: 805–875

2

Bray GA and Tartaglia LA (2000) Medicinal strategies in the treatment of obesity. Nature 404: 672–677

3

Kroeze WK et al. (2003) H1-histamine receptor affinity predicts short-term weight gain for typical and atypical antipsychotic drugs. Neuropsychopharmacology 28: 519–526

4

Sykas SL et al. (1983) Anorectic drugs which stimulate thermogenesis. Life Sci 33: 1269–1275

5

Lupien JR and Bray GB (1986) Effect of mazindol, d-amphetamine and diethylpropion on purine nucleotide binding to brown adipose tissue. Pharmacol Biochem Behav 25: 733–738

6

Hansen DL et al. (1998) Thermogenic effects of sibutramine in humans. Am J Clin Nutr 68: 1180–1186

7

Scoville BA (1975) Review of amphetamine-like drugs by the Food and Drug Administration: clinical data and value judgments. In Obesity in Perspective. (Ed. Bray GA) Washington DC: Department of Health, Education, and Welfare Publication NIH 75–708, 441–443

8

Munro JF et al. (1968) Comparison of continuous and intermittent anorectic therapy in obesity. Br Med J 1: 352–354

9

Haddock CK et al. (2002) Pharmacotherapy for obesity: a quantitative analysis of four decades of published randomized clinical trials. Int J Obes Relat Metab Disord 26: 262–273

10

Padwal R et al. (2003) Long-term pharmacotherapy for obesity and overweight: a systematic review and meta-analysis of randomized controlled trials. Int J Obes Relat Metab Disord 27: 1437–1446

11

Bray GA et al. (1999) Sibutramine produces dose-related weight loss. Obes Res 7: 189–198

12

James WPT et al. (2000) Effect of sibutramine on weight maintenance after weight loss: a randomized trial. STORM study group. Sibutramine Trial of Obesity Reduction and Maintenance. Lancet 356: 2119–2125

13

Wirth A and Krause J (2001) Long-term weight loss with sibutramine: a randomized controlled trial. JAMA 286: 1331–1339

14

McMahon FG et al. (2000) Efficacy and safety of sibutramine in obese white and African American patients with hypertension: a 1-year, double-blind, placebo-controlled multicenter trial. Arch Intern Med 160: 2185–2191

15

McMahon FG et al. (2002) Sibutramine is safe and effective for weight loss in obese patients whose hypertension is well controlled with angiotensin-converting enzyme inhibitors. J Hum Hypertens 16: 5–11

16

Hazenberg BP (2000) Randomized, double-blind, placebo-controlled, multicenter study of sibutramine in obese hypertensive patients. Cardiology 94: 152–158

17

Sramek, JJ et al. (2002) Efficacy and safety of sibutramine for weight loss in obese patients with hypertension well controlled by β-adrenergic blocking agents: a placebo-controlled, double-blind, randomized trial. J Hum Hypertens 16: 13–19

18

Wadden RA et al. (2001) Benefits of lifestyle modification in the pharmacologic treatment of obesity: a randomized trial. Arch Intern Med 161: 218–227

19

Ascher JA et al. (1995) Bupropion: a review of its mechanism of antidepressant activity. J Clin Psychiatry 56: 395–401

20

Anderson JW et al. (2002) Bupropion SR significantly enhances weight loss: a 48-week double-blind, placebo-controlled trial. Obes Res 10: 633–641

21

Guy-Grand B et al. (1989) International trial of long-term dexfenfluramine in obesity. Lancet 2: 1142–1145

22

Weintraub M et al. (1984) A double-blind clinical trial in weight control. Use of fenfluramine and phentermine alone and in combination. Arch Intern Med 144: 1143–1148

23

Connolly HM et al. (1997) Valvular heart disease associated with fenfluramine-phentermine. N Engl J Med 337: 581–588

24

Bray GA et al. (2003) A 6-month randomized, placebo-controlled, dose-ranging trial of topiramate for weight loss in obesity. Obes Res 11: 722–733

25

Wilding J et al. (2004) A randomized double-blind placebo-controlled study of the long-term efficacy and safety of topiramate in the treatment of obese subjects. Int J Obes Relat Metab Disord 28: 1399–1410

26

Gadde KM et al. (2003) Zonisamide for weight loss in obese adults: a randomized controlled trial. JAMA 289: 1820–1825

27

Di Marzo V et al. (2001) Leptin-regulated endocannabinoids are involved in maintaining food intake. Nature 410: 822–825

28

Executive summary of the third report of the National Cholesterol Education Program (NCEP) expert panel on detection, evaluation, and treatment of high blood cholesterol in adults (adult treatment panel III). JAMA (2001) 285: 2486–2497

29

Cohen C et al. (2002) SR141716, a central cannabinoid (CB(1)) receptor antagonist, blocks the motivational and dopamine-releasing effects of nicotine in rats. Behav Pharmacol 2002 13: 451–463

30

Farooqi IS et al. (1999) Effects of recombinant leptin therapy in a child with congenital leptin deficiency. N Engl J Med 341: 879–884

31

Considine RV et al. (1995) Evidence against either a premature stop codon or the absence of obese gene mRNA in human obesity. J Clin Invest 95: 2986–2988

32

Friedman JM (2002) The function of leptin in nutrition, weight, and physiology. Nutr Rev 60 (Part 2): S1–S14

33

Morton GJ and Schwartz MW (2001) The NPY/AgRP neuron and energy homeostasis. Int J Obes Relat Metab Disord 25 (Suppl 5): S56–62

34

Heymsfield SB et al. (1999) Recombinant leptin for weight loss in obese and lean adults: a randomized, controlled, dose-escalation trial. JAMA 282: 1568–1575

35

Lambert PD et al. (2001) Ciliary neurotrophic factor activates leptin-like pathways and reduces body fat, without cachexia or rebound weight gain, even in leptin-resistant obesity. Proc Nat Acad Sci USA 98: 4652–4657

36

Ettinger MP et al. (2003) Recombinant variant of ciliary neurotrophic factor for weight loss in obese adults: a randomized, dose-ranging study. JAMA 289: 1826–1832

37

Regeneron Pharmaceuticals (online 14 April 2003) Regeneron's AXOKINE® promotes weight loss in study of overweight and obese people with type 2 diabetes [http://www.regeneron.com/company/press_detail.asp?v_c_id=170] (accessed 23 December 2004)

38

Palmiter RD et al. (1998) Life without neuropeptide Y. Recent Prog Horm Res 53: 163–199

39

Ludwig DS et al. (1998) Melanin-concentrating hormone: a functional melanocortin antagonist in the hypothalamus. Am J Physiol 274 (Part 1): E627–E633

40

Ludwig DS et al. (2001) Melanin-concentrating hormone overexpression in transgenic mice leads to obesity and insulin resistance. J Clin Invest 107: 379–386

41

Shimada M et al. (1998) Mice lacking melanin-concentrating hormone are hypophagic and lean. Nature 396: 670–674

42

Huszar D et al. (1997) Targeted disruption of the melanocortin-4 receptor results in obesity in mice. Cell 88: 131–141

43

Fehm HL et al. (2001) The melanocortin melanocyte-stimulating hormone/adrenocorticotropin(4-10) decreases body fat in humans. J Clin Endocrinol Metab 86: 1144–1148
Ethics declarations
Competing interests
The author declares no competing financial interests.
About this article
Cite this article
Bray, G. Drug Insight: appetite suppressants. Nat Rev Gastroenterol Hepatol 2, 89–95 (2005). https://doi.org/10.1038/ncpgasthep0092
Received:

Accepted:

Issue Date: