Abstract
Measurement of prolactin is one of the most commonly undertaken hormonal investigations in evaluating patients with reproductive disorders. Hyperprolactinemia is found in up to 17% of such cases. Diagnostic evaluation of hyperprolactinemia is difficult but is facilitated by a logical approach where a thorough patient history is obtained, secondary causes of hyperprolactinemia are excluded, and the limitations of current prolactin assays are appreciated. Once hyperprolactinemia has been confirmed, attempts to establish the underlying cause can start. Given current workloads, laboratories rely on automated platforms to measure prolactin, most of which employ two-site immunoassay sandwich methods. Although generally robust and reliable, such immunoassays are susceptible to interference, and good collaboration between clinicians and the laboratory helps to minimize problems. A major challenge facing laboratories is correct differentiation of patients with true hyperprolactinemia from those with macroprolactinemia. Macroprolactin is a high-molecular-mass, biologically inactive form of prolactin that is detected to varying degrees by all prolactin immunoassays. Conservative estimates suggest that the presence of macroprolactin leads to misdiagnosis in as many as 10% of all reported instances of biochemical hyperprolactinemia. In the absence of specific testing, macroprolactin represents a diagnostic pitfall that results in the misdiagnosis and mismanagement of large numbers of patients.
Key Points
Prolactin levels are invariably measured in patients presenting with infertility

Although the etiology of hyperprolactinemia is complex, correct diagnosis is facilitated by a logical and systematic investigative approach

Immunoassay interference together with physiologic, pharmacologic, and secondary causes of hyperprolactinemia should be ruled out before embarking on pituitary imaging

The introduction of screening for macroprolactin has significantly reduced the extent of misdiagnosis and mismanagement of patients
This is a preview of subscription content
Access options
Subscribe to Journal
Get full journal access for 1 year
$59.00
only $4.92 per issue
All prices are NET prices.
VAT will be added later in the checkout.
Tax calculation will be finalised during checkout.
Buy article
Get time limited or full article access on ReadCube.
$32.00
All prices are NET prices.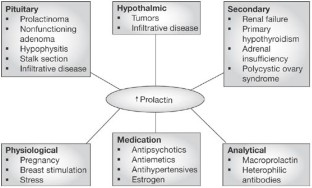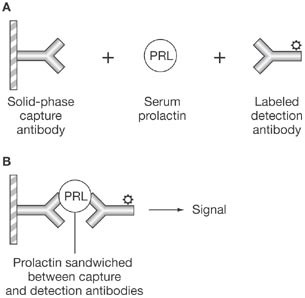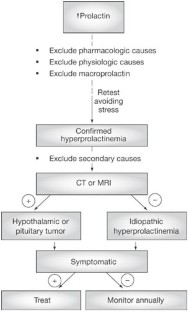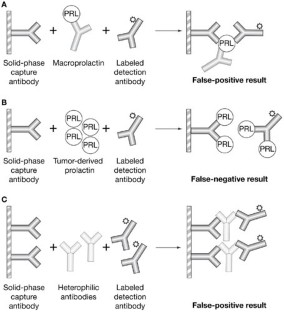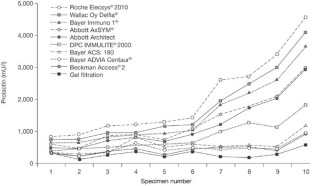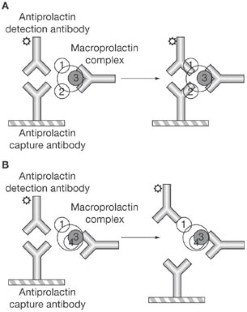 References
Jeffcoate SL et al. (1986) Assays for prolactin: guidelines for the provision of a clinical biochemistry service. Ann Clin Biochem 23: 638–651

Gibney J et al. (2005) The impact on clinical practice of routine screening for macroprolactin. J Clin Endocrinol Metab 90: 3927–3932

Fahie-Wilson MN and Soule SG (1997) Macroprolactinaemia: contribution to hyperprolactinaemia in a district general hospital and evaluation of a screening test based on precipitation with polyethylene glycol. Ann Clin Biochem 34: 252–258

Olukoga AO et al. (1999) Macroprolactinaemia: validation and application of the polyethylene glycol precipitation test and clinical characterization of the condition. Clin Endocrinol (Oxf) 51: 119–126

Leslie H et al. (2001) Laboratory and clinical experience in 55 patients with macroprolactinemia identified by a simple polyethylene glycol precipitation method. J Clin Endocrinol Metab 86: 2743–2746

Strachan MW et al. (2003) Clinical and radiological features of patients with macroprolactinaemia. Clin Endocrinol (Oxf) 59: 339–346

Fraser IS et al. (1989) Detailed assessment of big big prolactin in women with hyperprolactinemia and normal ovarian function. J Clin Endocrinol Metab 69: 585–592

Hattori N et al. (1997) Anti-prolactin (PRL) autoantibodies cause asymptomatic hyperprolactinemia: bioassay and clearance studies of PRL-immunoglobulin G complex. J Clin Endocrinol Metab 82: 3107–3110

Larrea F et al. (1985) Further evidence that big, big prolactin is preferentially secreted in women with hyperprolactinemia and normal ovarian function. Fertil Steril 44: 25–30

Foglia G (2001) Prolactinomas and hyperprolactinemic syndromes. In Endocrinology, 329–342 (Eds De Groot LJ and Jameson JL) Philadelphia: WB Saunders

Bergh T et al. (2002) Hyperprolactinaemic anovulation. In Oxford Textbook of Endocrinology and Diabetes, 1130–1134 (Eds Wass J and Shalet S) Oxford: Oxford University Press

Mah PM et al. (2002) Hyperprolactinemia: etiology, diagnosis, and management. Semin Reprod Med 20: 365–374

Molitch ME (2002) Medical management of prolactin-secreting pituitary adenomas. Pituitary 5: 55–65

Luciano AA et al. (1985) Hyperprolactinemia and contraception: a prospective study. Obstet Gynecol 65: 506–510

Luciano AA et al. (1984) Hyperprolactinemia in polycystic ovary syndrome. Fertil Steril 41: 719–725

Melmed S et al. (2002) Anterior pituitary. In Williams Textbook of Endocrinology, 177–279 (Eds Williams RH et al.) Philadelphia: WB Saunders

Thorner MO et al. (1998) The anterior pituitary. In Williams Textbook of Endocrinology, 249–340 (Eds Wilson et al.) Philadelphia: WB Saunders

Sinha YN (1995) Structural variants of prolactin: occurrence and physiological significance. Endocr Rev 16: 354–369

Hattori N et al. (1992) A normal ovulatory woman with hyperprolactinemia: presence of anti-prolactin autoantibody and the regulation of prolactin secretion. Acta Endocrinol (Copenh) 126: 497–500

Leite V et al. (1992) Characterization of big, big prolactin in patients with hyperprolactinaemia. Clin Endocrinol (Oxf) 37: 365–372

Rosato F et al. (2002) Hyperprolactinemia: from diagnosis to treatment. Minerva Pediatr 54: 547–552

Sam S et al. (2005) The pituitary mass: diagnosis and management. Rev Endocr Metab Disord 6: 55–62

Smith T et al. (1998) Prevalence of macroprolactinemia in various hyperprolactinemic states [abstract]. Irish J Med Sci 167: 6

Klibanski A et al. (1988) Effects of prolactin and estrogen deficiency in amenorrheic bone loss. J Clin Endocrinol Metab 67: 124–130

Lewis UJ et al. (2000) Structure and properties of members of the hGH family: a review. Endocr J 47: S1–S8

Suliman AM et al. (2003) Frequent misdiagnosis and mismanagement of hyperprolactinemic patients before the introduction of macroprolactin screening: application of a new strict laboratory definition of macroprolactinemia. Clin Chem 49: 1504–1509

Freeman ME et al. (2000) Prolactin: structure, function, and regulation of secretion. Physiol Rev 80: 1523–1631

Bayrak A et al. (2005) Pituitary imaging is indicated for the evaluation of hyperprolactinemia. Fertil Steril 84: 181–185

Smith TP et al. (2002) Gross variability in the detection of prolactin in sera containing big big prolactin (macroprolactin) by commercial immunoassays. J Clin Endocrinol Metab 87: 5410–5415

Hattori N et al. (2006) Anti-prolactin (PRL) autoantibody-binding sites (epitopes) on PRL molecule in macroprolactinemia. J Endocrinol 190: 287–293

Rogol AD et al. (1974) Prolactin of apparent large molecular size: the major immunoactive prolactin component in plasma of a patient with a pituitary tumor. J Clin Endocrinol Metab 38: 714–717

Fahie-Wilson MN et al. (2005) Macroprolactin; high molecular mass forms of circulating prolactin. Ann Clin Biochem 42: 175–192

Tritos NA et al. (1998) Asymptomatic 'big' hyperprolactinemia in two men with pituitary adenomas. Eur J Endocrinol 138: 82–85

Ellis AR and Fahie-Wilson M (2005) Method recognition of big prolactin in serum and prolactin in amniotic fluid. In UK NEQAS for Peptide Hormones and Related Substances, Annual Review 2005, A1–A4 (Eds Ellis AR et al.) Edinburgh: United Kingdom National External Quality Assessment Service

Kavanagh L et al. (2006) Specificity and clinical utility of methods for the detection of macroprolactin. Clin Chem 52: 1366–1372

Schlechte JA (2002) The macroprolactin problem. J Clin Endocrinol Metab 87: 5408–5409

Fahie-Wilson M (2003) In hyperprolactinemia, testing for macroprolactin is essential. Clin Chem 49: 1434–1436

Olukoga AO et al. (1999) Three cases of macroprolactinaemia. J R Soc Med 92: 342–344

Heaney AP et al. (1999) Misleading hyperprolactinaemia in pregnancy. Lancet 353: 720

Guay AT et al. (1996) Delayed diagnosis of psychological erectile dysfunction because of the presence of macroprolactinemia. J Clin Endocrinol Metab 81: 2512–2514

Cattaneo FA et al. (2001) Concomitant occurrence of macroprolactin, exercise-induced amenorrhea, and a pituitary lesion: a diagnostic pitfall. Case report. J Neurosurg 95: 334–337

Gibney J et al. (2005) Clinical relevance of macroprolactin. Clin Endocrinol (Oxf) 62: 633–643

Hattori N et al. (1992) Autoantibody to human prolactin in patients with idiopathic hyperprolactinemia. J Clin Endocrinol Metab 75: 1226–1229

Vieira JG et al. (1998) Extensive experience and validation of polyethylene glycol precipitation as a screening method for macroprolactinemia. Clin Chem 44: 1758–1759

Haller BL et al. (1992) Two automated prolactin immunoassays evaluated with demonstration of a high-dose hook effect in one. Clin Chem 38: 437–438

Petakov MS et al. (1998) Pituitary adenomas secreting large amounts of prolactin may give false low values in immunoradiometric assays. The hook effect. J Endocrinol Invest 21: 184–188

St-Jean E et al. (1996) High prolactin levels may be missed by immunoradiometric assay in patients with macroprolactinomas. Clin Endocrinol (Oxf) 44: 305–309

Frieze TW et al. (2002) "Hook effect" in prolactinomas: case report and review of literature. Endocr Pract 8: 296–303

Schofl C et al. (2002) Falsely low serum prolactin in two cases of invasive macroprolactinoma. Pituitary 5: 261–265

Ismail AA (2005) A radical approach is needed to eliminate interference from endogenous antibodies in immunoassays. Clin Chem 51: 25–26

Kircka L (2000) Interferences in immunoassay—still a threat. Clin Chem 46: 1037–1038

Preissner CM et al. (2005) Prevalence of heterophilic antibody interference in eight automated tumor marker immunoassays. Clin Chem 51: 208–210

Bjerner J et al. (2005) Human heterophilic antibodies display specificity for murine IgG subclasses. Clin Biochem 38: 465–472

Bjerner J et al. (2005) The war on heterophilic antibody Interference. Clin Chem 51: 9–11

Sapin R and Simon C (2001) False hyperprolactinemia corrected by the use of heterophilic antibody-blocking agent. Clin Chem 47: 2184–2185

Kricka LJ et al. (1990) Interference by human anti-mouse antibody in two-site immunoassays. Clin Chem 36: 892–894

Madry N et al. (1997) Measures to overcome HAMA interferences in immunoassays. Anticancer Res 17: 2883–2886

Nussbaum S et al. (2000) Human anti-mouse antibodies: pitfalls in tumor marker measurement and strategies for enhanced assay robustness; including results with Elecsys CEA. Anticancer Res 20: 5249–5252

Webster J et al. (1994) A comparison of cabergoline and bromocriptine in the treatment of hyperprolactinemic amenorrhea. Cabergoline Comparative Study Group. N Engl J Med 331: 904–909

Molitch ME et al. (1985) Bromocriptine as primary therapy for prolactin-secreting macroadenomas: results of a prospective multicenter study. J Clin Endocrinol Metab 60: 698–705

Biller BM et al. (1996) Treatment of prolactin-secreting macroadenomas with the once-weekly dopamine agonist cabergoline. J Clin Endocrinol Metab 81: 2338–2343

Di Somma C et al. (1998) Bone marker and bone density responses to dopamine agonist therapy in hyperprolactinemic males. J Clin Endocrinol Metab 83: 807–813
Ethics declarations
Competing interests
The authors declare no competing financial interests.
About this article
Cite this article
Smith, T., Kavanagh, L., Healy, ML. et al. Technology Insight: measuring prolactin in clinical samples. Nat Rev Endocrinol 3, 279–289 (2007). https://doi.org/10.1038/ncpendmet0447
Received:

Accepted:

Issue Date:

DOI: https://doi.org/10.1038/ncpendmet0447
Further reading
Paola Fierabracci
Aldo Pinchera
Ferruccio Santini

Obesity Surgery (2011)