Abstract
Background A 25-year-old woman experienced three episodes of syncope over the course of 2 years. The attacks all occurred just after she had sat down, and two were accompanied by convulsions. She had no obvious prodromes and no personal or family history of cardiovascular disease.
Investigations Electrocardiography, chest radiography, echocardiography, cerebral and cardiac MRI, electroencephalography, 24 h Holter monitoring, electrophysiological study with drug provocation testing and heart-rate variability analysis.
Diagnosis Vagally mediated ventricular fibrillation initiated by premature ventricular complexes arising from the right ventricular outflow tract.
Management Catheter ablation was performed at the right ventricular outflow tract and an implantable cardioverter-defibrillator was fitted.
Your institute does not have access to this article
Relevant articles
Open Access articles citing this article.
Christiane Jungen

,

Katharina Scherschel

…

Christian Meyer

Nature Communications Open Access 27 January 2017
Access options
Subscribe to Journal
Get full journal access for 1 year
$59.00
only $4.92 per issue
All prices are NET prices.
VAT will be added later in the checkout.
Tax calculation will be finalised during checkout.
Buy article
Get time limited or full article access on ReadCube.
$32.00
All prices are NET prices.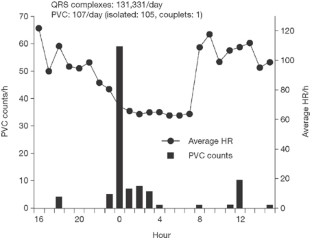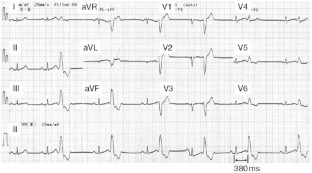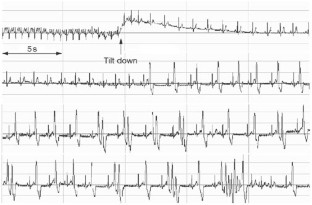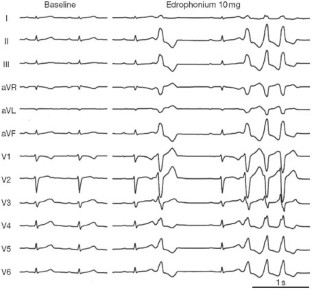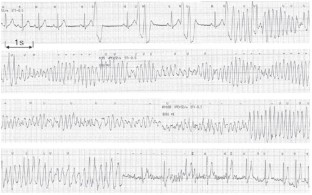 References
Mathias CJ et al. (2001) Observations on recurrent syncope and presyncope in 641 patients. Lancet 357: 348–353

Kennedy HL et al. (1985) Long-term follow-up of asymptomatic healthy subjects with frequent and complex ventricular ectopy. N Engl J Med 312: 193–197

Leenhardt A et al. (1994) Short-coupled variant of torsade de pointes: a new electrocardiographic entity in the spectrum of idiopathic ventricular tachyarrhythmias. Circulation 89: 206–215

Zipes DP et al. (2006) ACC/AHA/ESC 2006 Guidelines for Management of Patients With Ventricular Arrhythmias and the Prevention of Sudden Cardiac Death: a report of the American College of Cardiology/American Heart Association Task Force and the European Society of Cardiology Committee for Practice Guidelines (writing committee to develop Guidelines for Management of Patients With Ventricular Arrhythmias and the Prevention of Sudden Cardiac Death): developed in collaboration with the European Heart Rhythm Association and the Heart Rhythm Society. Circulation 114: e385–484

Viskin S et al. (2005) The "short-coupled" variant of right ventricular outflow ventricular tachycardia: a not-so-benign form of benign ventricular tachycardia. J Cardiovasc Electrophysiol 16: 912–916

Lerman BB et al. (1995) Mechanism of repetitive monomorphic ventricular tachycardia. Circulation 92: 421–429

Noda T et al. (2005) Malignant entity of idiopathic ventricular fibrillation and polymorphic ventricular tachycardia initiated by premature extrasystoles originating from the right ventricular outflow tract. J Am Coll Cardiol 46: 1288–1294

Takatsuki S et al. (2001) Catheter ablation of a monofocal premature ventricular complex triggering idiopathic ventricular fibrillation. Heart 86: e3

Haissaguerre M et al. (2002) Mapping and ablation of idiopathic ventricular fibrillation. Circulation 106: 962–967

Hachiya H et al. (2005) Edrophonium-induced right ventricular outflow tract tachycardia. Pacing Clin Electrophysiol 28 (Suppl): S158–S162

Bloch Thomsen PE et al. (2005) Phase 2 reentry in man. Heart Rhythm 2: 797–803

Litovsky SH and Antzelevitch C (1990) Differences in the electrophysiological response of canine ventricular subendocardium and subepicardium to acetylcholine and isoproterenol: a direct effect of acetylcholine in ventricular myocardium. Circ Res 67: 615–627
Acknowledgements
The authors would like to thank K Fukumoto for his cooperation in collecting data, and J Annis for his linguistic advice.
Ethics declarations
Competing interests
The authors declare no competing financial interests.
About this article
Cite this article
Kataoka, M., Takatsuki, S., Tanimoto, K. et al. A case of vagally mediated idiopathic ventricular fibrillation. Nat Rev Cardiol 5, 111–115 (2008). https://doi.org/10.1038/ncpcardio1082
Received:

Accepted:

Issue Date:

DOI: https://doi.org/10.1038/ncpcardio1082
Further reading
Christiane Jungen
Katharina Scherschel
Christian Meyer

Nature Communications (2017)

Jonathon C. Adams
Komandoor Srivathsan
Win K. Shen

Journal of Interventional Cardiac Electrophysiology (2012)