Abstract
The traditional view of the heart is of an organ incapable of self-renewal. Hypotheses on the genesis of pump dysfunction in heart failure include emerging concepts of myocyte deficiency due to attritional ischemia and chronic apoptotic cell loss. In the adult heart, inadequate regenerative capacity was presumed to exist to counterbalance such extensive myocyte depletion. Preliminary animal and human studies now challenge the paradigm of myocardial regenerative inadequacy, with findings suggesting that noncardiac cells implanted in the dysfunctional heart augment myocyte deficiency and contractile mass. Data from these studies remain inconclusive and have generated much debate in the basic science and clinical communities. Controversial issues center on the scientific basis for regeneration in the heart, the mechanism of cell-therapy benefit and the safety and appropriateness of clinical trials based on these concepts. This review will evaluate the scientific basis for myocardial-cell replacement, with emphasis on current experimental and human data. We will explore unresolved questions of experimental design, mechanism of action, therapeutic strategies and safety concerns in an era of rising numbers of human cell-therapy trials. Prospects for more widespread clinical application of myocardial-cell replacement and future hurdles to be overcome in this field will also be addressed.
Access options
Subscribe to Journal
Get full journal access for 1 year
$79.00
only $6.58 per issue
All prices are NET prices.
VAT will be added later in the checkout.
Tax calculation will be finalised during checkout.
Buy article
Get time limited or full article access on ReadCube.
$32.00
All prices are NET prices.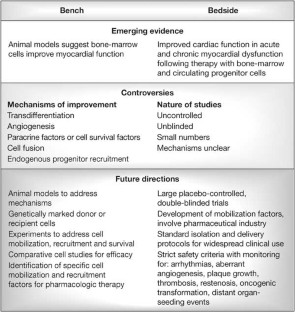 References
Fuster V et al. (1992) The pathogenesis of coronary artery disease and the acute coronary syndromes (1). N Engl J Med 326: 242–250

Nakamura T and Schneider MD (2003) The way to a human's heart is through the stomach: visceral endoderm-like cells drive human embryonic stem cells to a cardiac fate. Circulation 107: 2638–2639

Anversa P and Nadal-Ginard B (2002) Myocyte renewal and ventricular remodelling. Nature 415: 240–243

Melo LG et al. (2004) Molecular and cell-based therapies for protection, rescue, and repair of ischemic myocardium: reasons for cautious optimism. Circulation 109: 2386–2393

Wagers AJ and Weissman IL (2004) Plasticity of adult stem cells. Cell 116: 639–648

Orlic D et al. (2001) Bone marrow cells regenerate infarcted myocardium. Nature 410: 701–705

Orlic D et al. (2001) Transplanted adult bone marrow cells repair myocardial infarcts in mice. Ann N Y Acad Sci 938: 221–229

Orlic D et al. (2001) Mobilized bone marrow cells repair the infarcted heart, improving function and survival. Proc Natl Acad Sci U S A 98: 10344–10349

Saito T et al. (2003) Transcoronary implantation of bone marrow stromal cells ameliorates cardiac function after myocardial infarction. J Thorac Cardiovasc Surg 126: 114–123

Assmus B et al. (2002) Transplantation of Progenitor Cells and Regeneration Enhancement in Acute Myocardial Infarction (TOPCARE-AMI). Circulation 106: 3009–3017

Strauer BE et al. (2002) Repair of infarcted myocardium by autologous intracoronary mononuclear bone marrow cell transplantation in humans. Circulation 106: 1913–1918

Perin EC et al. (2003) Transendocardial, autologous bone marrow cell transplantation for severe, chronic ischemic heart failure. Circulation 107: 2294–2302

Soonpaa MH and Field LJ (1998) Survey of studies examining mammalian cardiomyocyte DNA synthesis. Circ Res 83: 15–26

Oh H and Schneider MD (2002) The emerging role of telomerase in cardiac muscle cell growth and survival. J Mol Cell Cardiol 34: 717–724

Jiang Y et al. (2002) Pluripotency of mesenchymal stem cells derived from adult marrow. Nature 418: 41–49

Badorff C et al. (2003) Transdifferentiation of blood-derived human adult endothelial progenitor cells into functionally active cardiomyocytes. Circulation 107: 1024–1032

Chiu RC et al. (1995) Cellular cardiomyoplasty: myocardial regeneration with satellite cell implantation. Ann Thorac Surg 60: 12–18

Taylor DA et al. (1998) Regenerating functional myocardium: improved performance after skeletal myoblast transplantation. Nat Med 4: 929–933

Menasche P (2003) Skeletal muscle satellite cell transplantation. Cardiovasc Res 58: 351–357

Reinecke H et al. (2002) Skeletal muscle stem cells do not transdifferentiate into cardiomyocytes after cardiac grafting. J Mol Cell Cardiol 34: 241–249

Reinecke H et al. (2000) Electromechanical coupling between skeletal and cardiac muscle. Implications for infarct repair. J Cell Biol 149: 731–740

Menasche P et al. (2003) Autologous skeletal myoblast transplantation for severe postinfarction left ventricular dysfunction. J Am Coll Cardiol 41: 1078–1083

Condorelli G et al. (2001) Cardiomyocytes induce endothelial cells to trans-differentiate into cardiac muscle: implications for myocardium regeneration. Proc Natl Acad Sci U S A 98: 10733–10738

Jackson KA et al. (2001) Regeneration of ischemic cardiac muscle and vascular endothelium by adult stem cells. J Clin Invest 107: 1395–1402

Murry CE et al. (2004) Haematopoietic stem cells do not transdifferentiate into cardiac myocytes in myocardial infarcts. Nature 428: 664–668

Balsam LB et al. (2004) Haematopoietic stem cells adopt mature haematopoietic fates in ischaemic myocardium. Nature 428: 668–673

Oh H et al. (2003) Cardiac progenitor cells from adult myocardium: homing, differentiation, and fusion after infarction. Proc Natl Acad Sci U S A 100: 12313–12318

Seale P et al. (2001) The potential of muscle stem cells. Dev Cell 1: 333–342

Beltrami AP et al. (2003) Adult cardiac stem cells are multipotent and support myocardial regeneration. Cell 114: 763–776

Muller P et al. (2002) Cardiomyocytes of noncardiac origin in myocardial biopsies of human transplanted hearts. Circulation 106: 31–35

Laflamme MA et al. (2002) Evidence for cardiomyocyte repopulation by extracardiac progenitors in transplanted human hearts. Circ Res 90: 634–640

Quaini F et al. (2002) Chimerism of the transplanted heart. N Engl J Med 346: 5–15

Hruban RH et al. (1993) Fluorescence in situ hybridization for the Y-chromosome can be used to detect cells of recipient origin in allografted hearts following cardiac transplantation. Am J Pathol 142: 975–980

Deb A et al. (2003) Bone marrow-derived cardiomyocytes are present in adult human heart: A study of gender-mismatched bone marrow transplantation patients. Circulation 107: 1247–1249

Simper D et al. (2003) Endothelial progenitor cells are decreased in blood of cardiac allograft patients with vasculopathy and endothelial cells of noncardiac origin are enriched in transplant atherosclerosis. Circulation 108: 143–149

Caplice NM et al. (2003) Smooth muscle cells in human coronary atherosclerosis can originate from cells administered at marrow transplantation. Proc Natl Acad Sci U S A 100: 4754–4759

Stamm C et al. (2003) Autologous bone-marrow stem-cell transplantation for myocardial regeneration. Lancet 361: 45–46

Hamano K et al. (2001) Local implantation of autologous bone marrow cells for therapeutic angiogenesis in patients with ischemic heart disease: clinical trial and preliminary results. Jpn Circ J 65: 845–847

Agbulut O et al. (2004) Comparison of human skeletal myoblasts and bone marrow-derived CD133+ progenitors for the repair of infarcted myocardium. J Am Coll Cardiol 44: 458–463

Couzin J and Vogel G (2004) Cell therapy. Renovating the heart. Science 304: 192–194

Pittenger MF and Martin BJ (2004) Mesenchymal stem cells and their potential as cardiac therapeutics. Circ Res 95: 9–20

Dimmeler S and Vasa-Nicotera M (2003) Aging of progenitor cells: limitation for regenerative capacity? J Am Coll Cardiol 42: 2081–2082

Rauscher FM et al. (2003) Aging, progenitor cell exhaustion, and atherosclerosis. Circulation 108: 457–463

Hill JM et al. (2003) Circulating endothelial progenitor cells, vascular function, and cardiovascular risk. N Engl J Med 348: 593–600

Yoon YS et al. (2004) Unexpected severe calcification after transplantation of bone marrow cells in acute myocardial infarction. Circulation 109: 3154–3157

Hu Y et al. (2003) Endothelial replacement and angiogenesis in arteriosclerotic lesions of allografts are contributed by circulating progenitor cells. Circulation 108: 3122–3127

Moulton KS et al. (2003) Inhibition of plaque neovascularization reduces macrophage accumulation and progression of advanced atherosclerosis. Proc Natl Acad Sci U S A 100: 4736–4741

Aicher A et al. (2003) Assessment of the tissue distribution of transplanted human endothelial progenitor cells by radioactive labeling. Circulation 107: 2134–2139

Singh SK et al. (2003) Identification of a cancer stem cell in human brain tumors. Cancer Res 63: 5821–5828

Vulliet PR et al. (2004) Intra-coronary arterial injection of mesenchymal stromal cells and microinfarction in dogs. Lancet 363: 783–784

Kang HJ et al. Effects of intracoronary infusion of peripheral blood stem-cells mobilised with granulocyte-colony stimulating factor on left ventricular systolic function and restenosis after coronary stenting in myocardial infarction: the MAGIC cell randomised clinical trial. Lancet 363: 751–756
Acknowledgements
We thank Toni Higgins for assitance in preparation of this manuscript.
Ethics declarations
Competing interests
The authors declined to provide information about competing interests.
About this article
Cite this article
Caplice, N., Deb, A. Myocardial-cell replacement: the science, the clinic and the future. Nat Rev Cardiol 1, 90–95 (2004). https://doi.org/10.1038/ncpcardio0051
Received:

Accepted:

Issue Date:

DOI: https://doi.org/10.1038/ncpcardio0051
This article is cited by
M. Nahrendorf
R. Weissleder

Der Radiologe (2007)

Bernard J Gersh
Robert D Simari

Nature Clinical Practice Cardiovascular Medicine (2006)