Abstract
Accumulating evidence has made it clear that not only does the renin–angiotensin–aldosterone system (RAAS) exist in the circulation where it is driven by renal renin, but it is also active in many tissues—and likely within cells as well. These systems might not be completely independent of each other, but rather interact. These local RAASs affect tissue and cellular angiotensin II concentrations and appear to be associated with clinically relevant physiologic and pathophysiologic actions in the cardiovascular system and elsewhere. Evidence in support of this possibility is reviewed here. In addition, direct (pro)renin action after binding to its specific receptor, the existence of renin transcripts, which apparently encode an intracellular renin, the discovery of an angiotensin-converting-enzyme homologue (ACE2), which leads to enhanced generation of angiotensin-(1–7) and the newly appreciated role of angiotensin-receptor dimerization in the regulation of angiotensin activity, all point to the conclusion that the RAASs are complexly regulated, multifunctional systems with important roles both within and outside the cardiovascular system.
Access options
Subscribe to this journal
Receive 12 print issues and online access
$189.00 per year
only $15.75 per issue
Rent or buy this article
Get just this article for as long as you need it
$39.95
Prices may be subject to local taxes which are calculated during checkout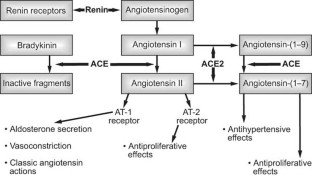 References
Re RN (1987) The renin-angiotensin systems. Med Clin North Am 71: 877–895

Brenner BM et al. and RENAAL Study Investigators (2001) Effects of losartan on renal and cardiovascular outcomes in patients with type 2 diabetes and nephropathy. N Engl J Med 345: 861–869

Lip GY and Beevers DG (2003) More evidence on blocking the renin-angiotensin-aldosterone system in cardiovascular disease and the long-term treatment of hypertension: data from recent clinical trials (CHARM, EUROPA, ValHEFT, HOPE-TOO and SYST-EUR2). J Hum Hypertens 17: 747–750

Poulsen PL (2003) ACE inhibitor intervention in type 1 diabetes with low grade microalbuminuria. J Renin Angiotensin Aldosterone Syst 4: 17–26

Rajagopalan S and Pitt B (2003) Aldosterone as a target in congestive heart failure. Med Clin North Am 87: 441–457

Re RN (2004) Tissue renin angiotensin systems. Med Clin N Am 88: 19–38

Von Lutterotti N et al. (1994) Renin is not synthesized by cardiac and extra renal vascular tissues: review of experimental evidence. Circulation 89: 458–470

Nguyen G et al. (1996) Pivotal role of the renin/prorenin receptor in angiotensin II production and cellular responses to renin. J Clin Invest 109: 1417–1427

Nguyen G et al. (1996) Specific receptor binding of renin on human mesangial cells in culture increases plasminogen activator inhibitor-1 antigen. Kidney Int 50: 1897–1903

Saris JJ et al. (2001) Cardiomyocytes bind and activate native prorenin: role of soluble mannose 6-phosphate receptors. Hypertension 37: 710–715

Peters J et al. (2002) Functional significance of prorenin internalization in the rat heart. Circ Res 90: 1135–1141

Clausmeyer S et al. (1999) An alternative transcript of the rat renin gene can result in a truncated prorenin that is transported into adrenal mitochondria. Circ Res 84: 337–344

Lee-Kirsch MA et al. (1999) Distinct renin isoforms generated by tissue-specific transcription initiation and alternative splicing. Circ Res 1999 84: 240–246

Sinn PL and Sigmund CD (2000) Identification of three human renin mRNA isoforms from alternative tissue-specific transcriptional initiation. Physiol Genomics 3: 25–3175

Peters J et al. (1999) Losatan and angiotensin II inhibit aldosterone production in anephric rats via different actions on the intraadrenal renin-angiotensin system. Endocrinology 140: 675–682

Dostal DE and Baker KM (1999) The cardiac renin-angiotensin system: conceptual, or regulator of cardiac function? Circ Res 85: 643–650

Nussberger J (2001) Circulating versus tissue angiotensin II. In Angiotensin II Receptor Antagonists, 69–78 (Eds, Epstein M and Brunner HR) Philadelphia: Hanley and Belfus

Serneri GGN et al. (1996) Evidence for the existence of a functional cardiac renin-angiotensin system in humans. Circulation 94: 1886–1896

Serneri GGN et al. (2001) Cardiac angiotensin II formation in the clinical course of heart failure and its relationship with left ventricular function. Circ Res 88: 961–971

Delcayre C et al. (2000) Cardiac aldosterone production and ventricular remodeling. Kidney Int 57: 1346–1351

Harada E et al. (2001) Aldosterone induces angiotensin-converting-enzyme gene expression in cultured neonatal rat cardiocytes. Circulation 104: 137–139

Mizuno Y, et al. (2001) Aldosterone production is activated in failing ventricle in humans. Circulation 103: 72–77

Yamamoto N et al. (2002) Aldosterone is produced from ventricles in patients with essential hypertension. Hypertension 39: 958–962

Robertson AI and Khairallah PA (1971) Angiotensin rapid localization in nuclei of smooth and cardiac muscle. Science 172: 1138–1140

Re RN (1989) The cellular biology of angiotensin: paracrine, autocrine and intracrine actions in cardiovascular tissues. J Mol Cell Cardiol 21 (suppl V): 63–69

De Mello WC (1995) Influence of intracellular renin on heart cell communication. Hypertension 25: 1172–1177

De Mello WC (2001) Cardiac arrhythmias: the possible role of the renin-angiotensin system. J Mol Med 79: 103–108

Haller H et al. (1999) Intracellular actions of angiotensin II in vascular smooth muscle cells. J Am Soc Nephrol 10 (suppl 11): S75–83

Erdmann B et al. (1996) Subcellular localization of angiotensin II immunoreactivity in the rat cerebellar cortex. Hypertension 28: 818–824

Chen R et al. (2000) A functional angiotensin II receptor-GFP fusion protein: evidence for agonist-dependent nuclear translocation. Am J Physiol Renal Physiol 279: F440–448

Re RN (2003) The intracrine hypothesis and intracellular peptide hormone action. Bio Essays 25: 401–409

Re RN and Bryan SE (1984) Functional intracellular renin- angiotensin systems may exist in multiple tissues. Clin Exp Hyperten A 6 (10–11): 1739–1742

Re RN (2003) Intracellular renin and the nature of intracrine enzymes. Hypertension 42: 117–122

Mercure C et al. (1998) Evidence for intracellular generation of angiotensin II in rat juxtaglomerular cells. FEBS Lett 422: 395–399

Bunnemann B et al. (1993) The renin angiotensin system in the brain: an update 1993. Regul Pept 46: 487–509

Lavoie JL et al. (2004) Adjacent expression of renin and angiotensinogen in the rostral ventrolateral medulla using a dual-reporter transgenic model. Hypertension 43: 1116–1119

Steckelings UM et al. (2004) Human skin: source of and target organ for angiotensin II. Exp Dermatol 13: 148–154

Okada H et al. (2002) Interstitial fibroblast-like cells express renin-angiotensin system components in a fibrosing murine kidney. Am J Pathol 160: 765–772

Frustaci A et al. (2000) Myocardial cell death in human diabetes. Circ Res 87: 1123–1132

Re RN (2001) The clinical implication of tissue renin angiotensin systems. Curr Opin Cardiol 16: 317–327

Mazzolai L et al. (1998) Blood pressure-independent cardiac hypertrophy induced by locally activated renin-angiotensin system. Hypertension 31: 1324–1330

Scholkens BA and Landgraf W (2002) ACE inhibition and atherogenesis. Can J Physiol Pharmacol 80: 354–359

Morishita R et al. (2000) Antisense oligodeoxy-nucleotide inhibition of vascular angiotensin-converting enzyme expression attenuates neointimal formation: evidence for tissue angiotensin-converting enzyme function. Arterioscler Thromb Vasc Biol 20: 915–922

Wang CH et al. (2003) C-reactive protein upregulates angiotensin type 1 receptors in vascular smooth muscle. Circulation 107: 1783–1790

AbdAlla S et al. (2001) Increased AT(1) receptor heterodimers in preeclampsia medicate enhanced angiotensin II responsiveness. Nat Med 7: 1003–1009

AdbAlla S et al. (2001) The angiotensin II AT2 receptor is an AT1 receptor antagonist. J Biol Chem 276: 39721–39726

Singh BM and Mehta JL (2003) Interactions between the renin-angiotensin system and dyslipidemia: relevance in the therapy of hypertension and coronary heart disease. Arch Intern Med 163: 1296–1304

Brosnihan KB et al. (1998) Angiotensin-(1-7): a novel vasodilator of the coronary circulation. Biol Res 31: 227–234

Crackower MA et al. (2002) Angiotensin-converting enzyme 2 is an essential regulator of heart function. Nature 417: 799–802

Kida T et al. (2003) Renin-angiotensin system in proliferative diabetic retinopathy and its gene expression in cultured human muller cells. Jpn J Ophthalmol 47: 36–41

Juillerat-Jeanneret L et al. (2004) Renin and angiotensinogen expression and functions in growth and apoptosis of human glioblastoma. Br J Cancer 90: 1059–1068

Cook J et al. (1992) The use of antisense oligonucleotides to establish autocrine angiotensin growth effects in human neuroblastoma and mesangial cells. Antisense Nucleic Acid Drug Dev 2: 199–210

Strawn WB et al. (2004) Renin-angiotensin system expression in rat bone marrow haematopoietic and stromal cells. Br J Haematol 126: 120–12655
Ethics declarations
Competing interests
The author declares no competing financial interests.
About this article
Cite this article
Re, R. Mechanisms of Disease: local renin–angiotensin–aldosterone systems and the pathogenesis and treatment of cardiovascular disease. Nat Rev Cardiol 1, 42–47 (2004). https://doi.org/10.1038/ncpcardio0012
Received:

Accepted:

Issue Date:

DOI: https://doi.org/10.1038/ncpcardio0012