In Figure 3 of this Article, marrow adipose tissue volumes (in panels b and c) and adipocyte numbers (in panel g) were calculated incorrectly. In Fig. 3b,c, regional MAT volumes in the 'GP to T/F J' group were normalized incorrectly to both regional marrow volume and total marrow volume instead of normalizing to total marrow volume only. As a result, the correct MAT/marrow percentages in the 'GP to T/F J' group are higher than those published. Furthermore, in Fig. 3g, the formula used for calculating adipocyte volumes was [(4/3) × pi × (radius)2], and this should have read [(4/3) × pi × (radius)3]. As a result, the correct absolute adipocyte numbers are higher than those published. However, relative differences between all groups in this panel remain the same. None of these alterations change the original conclusions. The correct version of the figure appears below as Fig. 1.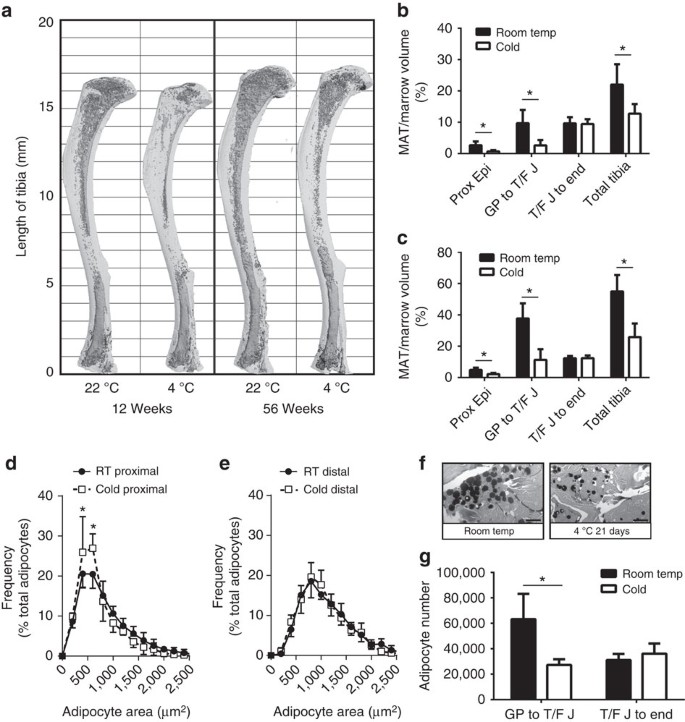 Rights and permissions
This work is licensed under a Creative Commons Attribution 4.0 International License. The images or other third party material in this article are included in the article's Creative Commons license, unless indicated otherwise in the credit line; if the material is not included under the Creative Commons license, users will need to obtain permission from the license holder to reproduce the material. To view a copy of this license, visit http://creativecommons.org/licenses/by/4.0/
About this article
Cite this article
Scheller, E., Doucette, C., Learman, B. et al. Correction: Corrigendum: Region-specific variation in the properties of skeletal adipocytes reveals regulated and constitutive marrow adipose tissues. Nat Commun 7, 13775 (2016). https://doi.org/10.1038/ncomms13775
Published:

DOI: https://doi.org/10.1038/ncomms13775
This article is cited by
Vihitaben S. Patel
M. Ete Chan
Clinton T. Rubin

Current Osteoporosis Reports (2018)
Comments
By submitting a comment you agree to abide by our Terms and Community Guidelines. If you find something abusive or that does not comply with our terms or guidelines please flag it as inappropriate.