In this Article, there is an error in the labelling of the western blot in Fig. 3f. The labels indicating the presence of pterosin B in each lane should read '−++ +'. The correct version of Fig. 3 appears below.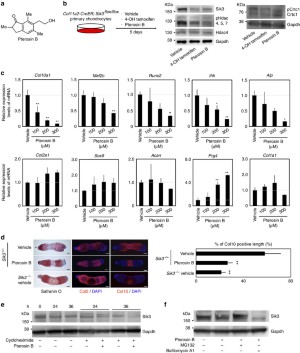 Rights and permissions
This work is licensed under a Creative Commons Attribution 4.0 International License. The images or other third party material in this article are included in the article's Creative Commons license, unless indicated otherwise in the credit line; if the material is not included under the Creative Commons license, users will need to obtain permission from the license holder to reproduce the material. To view a copy of this license, visit http://creativecommons.org/licenses/by/4.0/
About this article
Cite this article
Yahara, Y., Takemori, H., Okada, M. et al. Correction: Corrigendum: Pterosin B prevents chondrocyte hypertrophy and osteoarthritis in mice by inhibiting Sik3. Nat Commun 7, 12117 (2016). https://doi.org/10.1038/ncomms12117
Further reading
Serhiy Shilin

,

Olga Shablykina

,

Igor Levkov

,

Oleksandra Bugera

&

Zoia Voitenko

French-Ukrainian Journal of Chemistry (2019)

Ellen G. J. Ripmeester

,

Ufuk Tan Timur

,

Marjolein M. J. Caron

&

Tim J. M. Welting

Frontiers in Bioengineering and Biotechnology (2018)
Comments
By submitting a comment you agree to abide by our Terms and Community Guidelines. If you find something abusive or that does not comply with our terms or guidelines please flag it as inappropriate.