Abstract
The annual UN climate summits receive intense global media coverage1,2,3, and as such could engage local publics around the world, stimulate debate and knowledge about climate politics, and, ultimately, mobilize people to combat climate change. Here we show that, in contrast to these hopes, although the German public were exposed to news about the 2015 Paris summit, they did not engage with it in a more active way. Comparing knowledge and attitudes before, during and after the summit using a three-wave online panel survey (quota sample, N = 1,121), we find that respondents learnt a few basic facts about the conference but they continue to lack basic background knowledge about climate policy. Trust in global climate policy increased a little, but citizens were less inclined to support a leading role for Germany in climate politics. Moreover, they were not more likely to engage personally in climate protection. These results suggest that this global media event had a modest appeasing rather than mobilizing effect.
Access options
Subscribe to Nature+
Get immediate online access to Nature and 55 other Nature journal
Subscribe to Journal
Get full journal access for 1 year
$99.00
only $8.25 per issue
All prices are NET prices.
VAT will be added later in the checkout.
Tax calculation will be finalised during checkout.
Buy article
Get time limited or full article access on ReadCube.
$32.00
All prices are NET prices.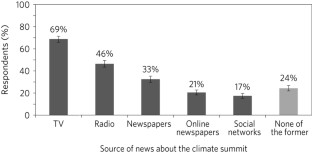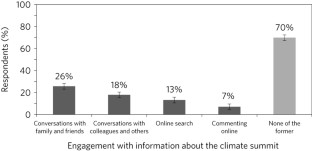 References
Schmidt, A., Ivanova, A. & Schäfer, M. S. Media attention for climate change around the world. A comparative analysis of newspaper coverage in 27 countries. Glob. Environ. Change 23, 1233–1248 (2013).

Liu, X., Lindquist, E. & Vedlitz, A. Explaining media and congressional attention to global climate change, 1969—2005: an empirical test of agenda-setting theory. Polit. Res. Quart. 64, 405–419 (2011).

Wessler, H., Wozniak, A., Hofer, L. & Lück, J. Global multimodal news frames on climate change. A comparison of five democracies around the world. Int. J. Press/Polit. 21, 423–445 (2016).

Painter, J. in Something Old, Something New: Digital Media and the Coverage of Climate Change (eds Painter, J. et al.) 37–46 (Reuters Institute for the Study of Journalism, 2016).

Schäfer, M. S., Kristiansen, S. & Ouakrat, A. in Something Old, Something New: Digital Media and the Coverage of Climate Change (eds Painter, J. et al.) 47–62 (Reuters Institute for the Study of Journalism, 2016).

Boykoff, M. et al. World Newspaper Coverage of Climate Change or Global Warming, 2004–2016 (2016); http://sciencepolicy.colorado.edu/media_coverage

List of Participants (UNFCCC, 2015); http://unfccc.int/documentation/documents/advanced_search/items/6911.php?priref=600008750

Dayan, D. & Katz, E. Media Events. The Live Broadcasting of History (Harvard Univ., 1992).

Kunelius, R. & Eide, E. in Media and Global Climate Knowledge: Journalism and the IPCC (eds Kunelius, R., Eide, E., Tegelberg, M. & Yagodin, D.) 1–32 (Palgrave, 2016).

Couldry, N., Hepp, A. & Krotz, F. (eds) Media Events in a Global Age (Routledge, 2009).

Brüggemann, M. & Wessler, H. Transnational communication as deliberation, ritual, and strategy. Commun. Theory 24, 394–414 (2014).

Lück, J., Wozniak, A. & Wessler, H. Networks of coproduction: how journalists and environmental NGOs create common interpretations of the UN climate change conferences. Int. J. Press/Polit. 21, 25–47 (2016).

Kunelius, R. & Eide, E. Moment of hope, mode of realism: on the dynamics of a transnational journalistic field during UN climate change summits. Int. J. Commun. 6, 266–285 (2012).

Adolphsen, M. & Lück, J. in Non-Routine Interactions Behind the Scenes of a Global Media Event: How Journalists and Political PR Professionals Coproduced the 2010 UN Climate Conference in Cancún (eds Wessler, H. & Averbeck-Lietz, S.) 141–158 (Medien & Kommunikationswissenschaft, Sonderband Nr. 2, 2012).

Roser-Renouf, C., Maibach, E. W., Leiserowitz, A. & Zhao, X. The genesis of climate change activism. From key beliefs to political action. Climatic Change 125, 163–178 (2014).

O' Neill, S. & Nicholson-Cole, S. "Fear Won't Do It": promoting positive engagement with climate change through visual and iconic representations. Sci. Commun. 30, 355–379 (2009).

Arlt, D., Hoppe, I. & Wolling, J. Climate change and media usage. Effects on problem awareness and behavioural intentions. Int. Commun. Gazette 73, 45–63 (2011).

Boykoff, M. T. Who Speaks for the Climate? Making Sense of Media Reporting on Climate Change (Cambridge Univ. Press, 2011).

Stamm, K. R., Clark, F. & Eblacas, P. R. Mass communication and public understanding of environmental problems: the case of global warming. Publ. Understand. Sci. 9, 219–237 (2000).

Taddicken, M. Climate change from the user's perspective. The impact of mass media and internet use and individual and moderating variables on knowledge and attitudes. J. Media Psychol. 25, 39–52 (2013).

Feldman, L., Maibach, E. W., Roser-Renouf, C. & Leiserowitz, A. Climate on cable. The nature and impact of global warming coverage on Fox News, CNN, and MSNBC. Int. J. Press/Polit. 17, 3–31 (2012).

Schäfer, M. S. in International Encyclopedia of the Social & Behavioral Sciences (ed. Wright, J.) 853–859 (Elsevier, 2015).

Wu, D. H. Systemic determinants of international news coverage. A comparison of 38 countries. J. Commun. 50, 110–130 (2000).

Cabecinhas, R., Lázaro, A. & Carvalho, A. in Communicating Climate Change: Discourses, Mediations and Perceptions (ed. Carvalho, A.) 170–189 (Centro de Estudos de Comunicação e Sociedade – Universidade do Minho, 2008).

Binder, A. R. Routes to attention or shortcuts to apathy? Exploring domain-specific communication pathways and their implications for public perceptions of controversial science. Sci. Commun. 32, 383–411 (2010).

Brulle, R. J., Carmichael, J. & Jenkins, J. C. Shifting public opinion on climate change: an empirical assessment of factors influencing concern over climate change in the US, 2002–2010. Climatic Change 114, 169–188 (2012).

Leiserowitz, A., Maibach, E., Roser-Renouf, C., Feinberg, G. & Rosenthal, S. Climate Change in the American Mind (2016); http://climatecommunication.yale.edu/wp-content/uploads/2016/06/Climate-Change-American-Mind-March-2016-FINAL.pdf

Stokes, B., Wike, R. & Carle, J. Global Concern about Climate Change, Broad Support for Limiting Emissions (2015); http://www.pewglobal.org/2015/11/05/1-concern-about-climate-change-and-its-consequences

Price, V. in Measures of Political Attitudes (eds Robinson, J. P., Shaver, P. R. & Wrightsman, L. S.) 591–639 (Academic, 1999).

Whitmarsh, L. & O'Neill, S. Green identity, green living? The role of pro-environmental self-identity in determining consistency across diverse pro-environmental behaviours. J. Environ. Psychol. 30, 305–314 (2010).

Hays, R. D., Liu, H. & Kapteyn, A. Use of internet panels to conduct surveys. Behav. Res. Methods 47, 685–690 (2015).

Zhao, X. Media use and global warming perceptions. A snapshot of the reinforcing spirals. Commun. Res. 36, 698–723 (2009).

Brüggemann, M. & Engesser, S. Between consensus and denial: climate journalists as interpretive community. Sci. Commun. 36, 399–427 (2014).

Tobler, C., Visschers, V. H. M. & Siegrist, M. Consumers' knowledge about climate change. Climatic Change 114, 189–209 (2012).

Shi, J., Visschers, V. H. M., Siegrist, M. & Arvai, J. Knowledge as a driver of public perceptions about climate change reassessed. Nat. Clim. Change 6, 759–762 (2016).

Sundblad, E.-L., Biel, A. & Garling, T. Knowledge and confidence in knowledge about climate change among experts, journalists, politicians, and laypersons. Environ. Behav. 41, 281–302 (2009).

Reynolds, T. W., Bostrom, A., Read, D. & Morgan, M. G. Now what do people know about global climate change? Survey studies of educated laypeople. Risk Anal. 30, 1520–1538 (2010).

Trepte, S., Loy, L. S., Schmitt, J. B. & Otto, S. Hohenheimer Inventar zum Politikwissen (HIP): Konstruktion und Skalierung. Diagnostica http://dx.doi.org/10.1026/0012-1924/a000180 (2017).

Kellstedt, P. M., Zahran, S. & Vedlitz, A. Personal efficacy, the information environment, and attitudes toward global warming and climate change in the United States. Risk Anal. 28, 113–126 (2008).

Chen, M.-F. Self-efficacy or collective efficacy within the cognitive theory of stress model. Which more effectively explains people's self-reported pro-environmental behavior? J. Environ. Psychol. 42, 66–75 (2015).

Bundesministerium für Umwelt, Naturschutz und Reaktorsicherheit. Umweltbewusstsein in Deutschland 2008. Ergebnisse einer repräsentativen Bevölkerungsumfrage (2008).

Europäische Kommission. Eurobarometer 72.1 (Aug–Sep 2009) (2012).

Hoppe, I. Klimaschutz als Medienwirkung. Eine kommunikationswissenschaftliche Studie zur Konzeption, Rezeption und Wirkung eines Online-Spiels zum Stromsparen (Universitätsverlag Ilmenau, Ilmenau, 2016).
Acknowledgements
This paper presents findings from the research project 'Down to Earth' directed by M. Brüggemann and funded by the German Research Foundations' cluster of Excellence 'Integrated Climate System Analysis and Prediction' (CliSAP), Universität Hamburg. Further information: http://www.climatematters.hamburg/down-to-earth.
Ethics declarations
Competing interests
The authors declare no competing financial interests.
Supplementary information
About this article
Cite this article
Brüggemann, M., De Silva-Schmidt, F., Hoppe, I. et al. The appeasement effect of a United Nations climate summit on the German public. Nature Clim Change 7, 783–787 (2017). https://doi.org/10.1038/nclimate3409
Received:

Accepted:

Published:

Issue Date:

DOI: https://doi.org/10.1038/nclimate3409