The 4‰ initiative to sequester carbon in soils has the potential to connect sustainable development goals, enhance food security and mitigate climate change by utilizing waste organic residues.
Access options
Subscribe to Journal
Get full journal access for 1 year
$59.00
only $4.92 per issue
All prices are NET prices.
VAT will be added later in the checkout.
Tax calculation will be finalised during checkout.
Rent or Buy article
Get time limited or full article access on ReadCube.
from$8.99
All prices are NET prices.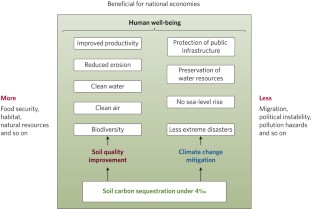 References
1

Rogelj, J. et al. Nat. Clim. Change 1, 413–418 (2011).

2

Lal, R. Geoderma 123, 1–22 (2004).

3

Smith, P. Global Change Biol. 22, 1315–1324 (2016).

4

Smith, P. et al. Journal of Applied Ecology 50, 812–829 (2013).

5

Pan, G., Smith, P. & Pan, W. Agric. Ecosyst. Environ. 129, 344–348 (2009).

6

Diacono, M. & Montemurro, F. Agron. Sustain. Dev. 30, 401–422 (2010).

7

Minasny, B. et al. Geoderma 292, 59–86 (2017).

8

Hijbeek, R. et al. Plant Soil 411, 293–303 (2017).

9

Bai, Z., Dent, D., Wu, Y. & de Jong, R. In Ecosystem Services and Carbon Sequestration in the Biosphere (eds Lal, R. et al.) 357–381 (Springer, 2013).

10

Wischnath, G. & Buhaug, H. Political Geogr. 43, 6–15 (2014).

11

Etzold, B. et al. Advances in Global Change Research 61, 27–41 (2016).

12

Lehmann, J. & Kleber, M. Nature 528, 60–68 (2015).

13

Paustian, K. et al. Nature 532, 49–57 (2016).

14

Marelli, L., Ramos, F., Hiederer, R. & Koeble, R. Estimate of GHG Emissions from Global Land Use Change Scenarios 1018–5593 (European Commission Joint Research Centre Institute for Energy, 2011).

15

Le Quéré, C. et al. Earth Syst. Sci. Data 7, 349–396 (2015).
Acknowledgements
This work was supported by and benefited from the European Commission through FP7 projects, Distributed Infrastructure for Experimentation in Ecosystem Research (ExpeER) grant agreement number 262060 and Analysis and Experimentation in Ecosystems (AnaEE) grant agreement number 312690, and the CLAND Convergence Institute funded by ANR. The input of P.S. contributes to U-GRASS (grant number NE/M016900/1) and the Belmont Forum/FACCE-JPI DEVIL project (grant number NE/M021327/1). C.R. received funding from INSU/CNRS (Lombricom project) and ADEME (Vermisol project) and from ANR (MOSAIK, grant agreement no: ANR-12-AGRO-0005). Contributions from L.S. and A.C. were supported by GPLER, contract number SOW12-GPLER-LCR-PM. H.W.L. and M.S.C. acknowledge the National Science Foundation for ongoing support of NEON. The manuscript contributes toward results of the ARC discovery grant 'Carbon Conundrum' (DP140100323).
About this article
Cite this article
Chabbi, A., Lehmann, J., Ciais, P. et al. Aligning agriculture and climate policy. Nature Clim Change 7, 307–309 (2017). https://doi.org/10.1038/nclimate3286