Abstract
Predictions of crop yield under future climate change are predicated on historical yield trends1,2,3, hence it is important to identify the contributors to historical yield gains and their potential for continued increase. The large gains in maize yield in the US Corn Belt have been attributed to agricultural technologies4, ignoring the potential contribution of solar brightening (decadal-scale increases in incident solar radiation) reported for much of the globe since the mid-1980s. In this study, using a novel biophysical/empirical approach, we show that solar brightening contributed approximately 27% of the US Corn Belt yield trend from 1984 to 2013. Accumulated solar brightening during the post-flowering phase of development of maize increased during the past three decades, causing the yield increase that previously had been attributed to agricultural technology. Several factors are believed to cause solar brightening, but their relative importance and future outlook are unknown5,6,7,8,9, making prediction of continued solar brightening and its future contribution to yield gain uncertain. Consequently, results of this study call into question the implicit use of historical yield trends in predicting yields under future climate change scenarios.
Relevant articles
Open Access articles citing this article.
Rihuan Cong

,

Tao Liu

…

Jianwei Lu

Scientific Reports Open Access 04 March 2020

Paolo Agnolucci

&

Vincenzo De Lipsis

Climatic Change Open Access 07 December 2019
Access options
Access Nature and 54 other Nature Portfolio journals
Get Nature+, our best-value online-access subscription
$29.99 / 30 days
cancel any time
Subscribe to this journal
Receive 12 print issues and online access
$209.00 per year
only $17.42 per issue
Rent or buy this article
Prices vary by article type
from$1.95
to$39.95
Prices may be subject to local taxes which are calculated during checkout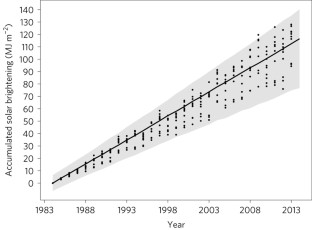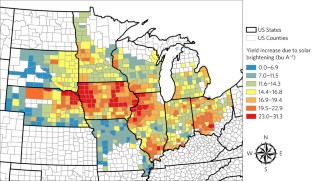 References
Schlenker, W. & Roberts, M. J. Nonlinear temperature effects indicate severe damages to U.S. crop yields under climate change. Proc. Natl Acad. Sci. USA 106, 15594–15598 (2009).

Butler, E. E. & Huybers, P. Adaptation of US maize to temperature variations. Nat. Clim. Change 3, 68–72 (2013).

Hawkins, E. et al. Increasing influence of heat stress on French maize yields from the 1960s to the 2030s. Glob. Change Biol. 19, 937–947 (2013).

Fuglie, K. O., Macdonald, J. M. & Ball, E. Productivity Growth in US Agriculture (USDA Economic Research Service, 2007); http://dx.doi.org/10.2139/ssrn.1084980

Hinkelman, L. M., Stackhouse, P. W. Jr, Wielicki, B. A., Zhang, T. & Wilson, S. R. Surface insolation trends from satellite and ground measurements: comparisons and challenges. J. Geophys. Res. 114, D00D20 (2009).

Wild, M. Global dimming and brightening: a review. J. Geophys. Res. 114, D00D16 (2009).

Ruckstuhl, C. et al. Aerosol and cloud effects on solar brightening and the recent rapid warming. Geophys. Res. Lett. 35, L12708 (2008).

Streets, D. G. et al. Anthropogenic and natural contributions to regional trends in aerosol optical depth 1980–2006. J. Geophys. Res. 114, D00D18 (2009).

Jiang, J. H. et al. Evaluation of cloud and water vapor simulations in CMIP5 climate models using NASA 'A-Train' satellite observations. J. Geophys. Res. 117, D14105 (2012).

Duvick, D. N. Contribution of breeding to yield advances in maize (Zea mays L.). Adv. Agron. 86, 83–145 (2005).

Tollenaar, M. & Lee, E. A. Strategies for enhancing grain yield in maize. Plant Breed. Rev. 34, 37–82 (2011).

Kunkel, K. et al. NOAA Technical Report NESDIS 142-3 Regional Climate Trends and Scenarios for the US National Climate Assessment NOAA Technical Report NESDIS 142-3 (2013).

Lobell, D. B. et al. The critical role of extreme heat for maize production in the United States. Nat. Clim. Change 3, 497–501 (2013).

Dlugokencky, E. & Tans, P. Trends in Atmospheric Carbon Dioxide (NOAA/ESRL, 2017); www.esrl.noaa.gov/gmd/ccgg/trends

Leakey, A. D. B. et al. Photosynthesis, productivity, and yield of maize are not affected by open-air elevation of CO2 concentration in the absence of drought. Plant Physiol. 140, 779–790 (2006).

McGrath, J. M. & Lobell, D. B. An independent method of deriving the carbon dioxide fertilization effect in dry conditions using historical yield data from wet and dry years. Glob. Change Biol. 17, 2689–2696 (2011).

Manderscheid, R., Erbs, M. & Weigel, H. J. Interactive effects of free-air CO2 enrichment and drought stress on maize growth. Eur. J. Agron. 52, 11–21 (2014).

Pinker, R. T., Zhang, B. & Dutton, E. G. Do satellites detect trends in surface solar radiation? Science 308, 850–854 (2005).

Wild, M. et al. Global dimming and brightening: an update beyond 2000. J. Geophys. Res. 114, D00D13 (2009).

Wild, M. et al. From dimming to brightening: decadal changes in solar radiation at Earth's surface. Science 308, 847–850 (2005).

Long, C. N. et al. Significant decadal brightening of downwelling shortwave in the continental United States. J. Geophys. Res. 114, D00D06 (2009).

Hatzianastassiou, N. et al. Recent regional surface solar radiation dimming and brightening patterns: inter-hemispherical asymmetry and a dimming in the Southern Hemisphere. Atmos. Sci. Lett. 13, 43–48 (2012).

Augustine, J. A. & Dutton, E. G. Variability of the surface radiation budget over the United States from 1996 through 2011 from high-quality measurements. J. Geophys. Res. 118, 43–53 (2013).

Dutton, E. G. et al. Decadal variations in surface solar irradiance as observed in a globally remote network. J. Geophys. Res. 111, D19101 (2006).

Monteith, J. L. Climate and the efficiency of crop production in Britain. Phil. Trans. R. Soc. Lond. B. 281, 277–294 (1977).

Stackhouse, P. W. Jr, Westberg, D., Hoell, J. M., Chandler, W. S. & Zang, T. Prediction Of Worldwide Energy Resource (POWER) Agroclimatology Methodology: 1o × 1o Spatial Data (2015); http://power.larc.nasa.gov/documents/Agroclimatology_Methodology.pdf

White, J. W., Hoogenboom, G., Wilkens, P. W., Stackhouse, P. W. & Hoel, J. M. Evaluation of satellite-based, modeled-derived daily solar radiation data for the continental United States. Agron. J. 103, 1242–1251 (2011).

Cardwell, V. B. Fifty years of Minnesota corn production: sources of yield increase. Agron. J. 74, 984–990 (1982).

Edgerton, M. D. et al. Transgenic insect resistance traits increase corn yield and yield stability. Nat. Biotechnol. 30, 493–496 (2012).

Castleberry, R. M., Crum, C. W. & Krull, C. F. Genetic yield improvement of US maize cultivars under varying fertility and climatic environments. Crop Sci. 24, 33–36 (1984).

Wild, M. Enlightening global dimming and brightening. Bull. Am. Meteorol. Soc. 93, 27–37 (2012).

Philipona, R., Behrens, K. & Ruckstuhl, C. How declining aerosols and rising greenhouse gases forced rapid warming in Europe since the 1980s. Geophys. Res. Lett. 36, L02806 (2009).

Daynard, T. B. & Duncan, W. G. The black layer and grain maturity in corn. Crop Sci. 9, 473–476 (1969).

Van Wart, J., Grassini, P. & Cassman, K. G. Impact of derived global weather data on simulated crop yields. Glob. Change Biol. 19, 3822–3834 (2013).

Shaw, R. H. Agrometeorology Maize (Corn) Crop Vol. 481, 119–134 (World Meteorological Organization, 1977).

Ker, A. A. P. & Goodwin, B. B. K. Nonparametric estimation of crop insurance rates revisited. Am. J. Agric. Econ. 82, 463–478 (2000).

Atwood, J., Shaik, S. & Watts, M. Are crop yields normally distributed? A reexamination. Am. J. Agric. Econ. 85, 888–891 (2003).

Miranda, M. J. & Glauber, J. W. Systemic risk, reinsurance, and the failure of crop insurance markets. Am. J. Agric. Econ. 79, 206–215 (1997).

Tollenaar, M., Aguilera, A. & Nissanka, S. P. Grain yield is reduced more by weed interference in an old than in a new maize hybrid. Agron. J. 89, 239–246 (1997).

Rajcan, I. & Tollenaar, M. Source:sink ratio and leaf senescence in maize: II. Nitrogen metabolism during grain filling. F. Crop. Res. 60, 255–265 (1999).

Tollenaar, M., Ahmadzadeh, A. & Lee, E. A. Physiological basis of heterosis for grain yield in maize. Crop Sci. 44, 2086–2094 (2004).

Ciampitti, I. A. et al. Physiological dynamics of maize nitrogen uptake and partitioning in response to plant density and N stress factors: I. Vegetative phase. Crop Sci. 53, 2105–2119 (2013).

Tollenaar, M., Nissanka, S. P., Aguilera, A., Weise, S. F. & Swanton, C. J. Effect of weed interference and soil-nitrogen on 4 maize hybrids. Agron. J. 86, 596–601 (1994).

Tollenaar, M., Dibo, A. A., Aguilera, A., Weise, S. F. & Swanton, C. J. Effect of crop density on weed interference in maize. Agron. J. 86, 591–594 (1994).

Mueller, S. M. & Vyn, T. J. Maize plant resilience to N stress and post-silking N capacity changes over time: a review. Front. Plant Sci. 7, 53 (2016).

Evans, L. T. Crop Evolution, Adaptation and Yield (Cambridge Univ. Press, 1993).

Knowles, J. & Frederick, C. merTools: Tools for Analyzing Mixed Effect Regression Models (The Comprehensive R Archive Network (CRAN), 2016); at https://cran.r-project.org/package=merTools

Team, R. C. R: A Language and Environment for Statistical Computing (R Foundation for Statistical Computing, 2016).

Bates, D., Mächler, M., Bolker, B. M. & Walker, S. C. Fitting linear mixed-effects models using lme4. J. Stat. Softw. 67, 1–48 (2015).
Acknowledgements
We are grateful to all our colleagues participating in the AgMIP Maize Model Improvement group who contributed to the quantification of maize phenology that inspired the current study. Special thanks to W.B. Leeds (The Climate Corp, USA) for filtering and interpolating public weather data sets (POWER and GHCN data sets) for use in the current study.
Ethics declarations
Competing interests
The authors declare no competing financial interests.
Supplementary information
Supplementary Information (PDF 309 kb)
Supplementary Information (XLSX 5477 kb)
About this article
Cite this article
Tollenaar, M., Fridgen, J., Tyagi, P. et al. The contribution of solar brightening to the US maize yield trend. Nature Clim Change 7, 275–278 (2017). https://doi.org/10.1038/nclimate3234
Received:

Accepted:

Published:

Issue Date:

DOI: https://doi.org/10.1038/nclimate3234