Abstract
Recent studies have vividly emphasized the lack of consensus on the degree of vulnerability (see ref. 1) of European societies to current and future winter temperatures. Here we consider several climate factors, influenza incidence and daily numbers of deaths to characterize the relationship between winter temperature and mortality in a very large ensemble of European regions representing more than 400 million people. Analyses highlight the strong association between the year-to-year fluctuations in winter mean temperature and mortality, with higher seasonal cases during harsh winters, in all of the countries except the United Kingdom, the Netherlands and Belgium. This spatial distribution contrasts with the well-documented latitudinal orientation of the dependency between daily temperature and mortality within the season. A theoretical framework is proposed to reconcile the apparent contradictions between recent studies, offering an interpretation to regional differences in the vulnerability to daily, seasonal and long-term winter temperature variability. Despite the lack of a strong year-to-year association between winter mean values in some countries, it can be concluded that warmer winters will contribute to the decrease in winter mortality everywhere in Europe.
Relevant articles
Open Access articles citing this article.
Joan Ballester

,

Marcos Quijal-Zamorano

…

Hicham Achebak

Nature Medicine Open Access 10 July 2023

Assaf Hochman

,

Sebastian Scher

…

Gabriele Messori

Climate Dynamics Open Access 10 October 2020

Joan Ballester

,

Jean-Marie Robine

…

Xavier Rodó

Nature Communications Open Access 08 February 2019
Access options
Subscribe to this journal
Receive 12 print issues and online access
$209.00 per year
only $17.42 per issue
Rent or buy this article
Prices vary by article type
from$1.95
to$39.95
Prices may be subject to local taxes which are calculated during checkout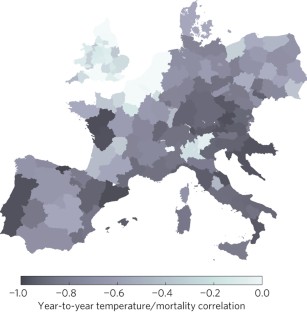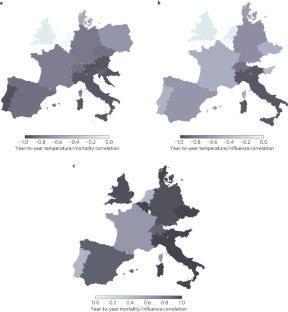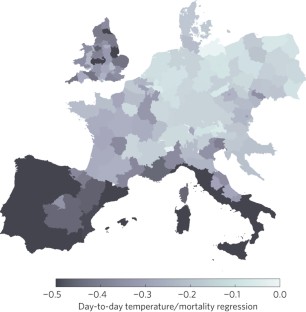 References
IPCC Climate Change 2001: Impacts, Adaptation and Vulnerability (Cambridge Univ. Press, 2001).

Patz, J. A., Campbell-Lendrum, D., Holloway, T. & Foley, J. A. Impact of regional climate change on human health. Nature 438, 310–317 (2005).

Costello, A. et al. Managing the health effects of climate change. Lancet 373, 1693–1733 (2009).

IPCC Climate Change 2014: Impacts, Adaptation, and Vulnerability (Cambridge Univ. Press, 2014).

Ballester, J., Lowe, R., Diggle, P. & Rodó, X. Modelling and prediction of climate and health impacts: challenges and opportunities. Ann. NY Acad. Sci.http://dx.doi.org/10.1111/nyas.13129 (in the press).

Ballester, J., Douville, H. & Chauvin, F. Present-day climatology and projected changes of warm and cold days in the CNRM-CM3 global climate model. Clim. Dynam. 32, 35–54 (2009).

Ballester, J., Rodó, X. & Giorgi, F. Future changes in Central Europe heat waves expected to mostly follow summer mean warming. Clim. Dynam. 35, 1191–1205 (2010).

Ballester, J., Giorgi, F. & Rodó, X. Changes in European temperature extremes can be predicted from changes in PDF central statistics. Climatic Change 98, 277–284 (2010).

IPCC Climate Change 2013: The Physical Science Basis (Cambridge Univ. Press, 2013).

Robine, J. M. et al. Death toll exceeded 70,000 in Europe during the summer of 2003. C. R. Biol. 331, 171–178 (2008).

Ballester, J., Robine, J. M., Herrmann, F. R. & Rodó, X. Long-term projections and acclimatization scenarios of temperature-related mortality in Europe. Nature Commun. 2, 358 (2011).

Hajat, S., Vardoulakis, S., Heaviside, C. & Eggen, B. Climate change effects on human health: projections of temperature-related mortality for the UK during the 2020s, 2050s and 2080s. J. Epidemiol. Commun. Health 68, 641–648 (2014).

The Eurowinter Group. Cold exposure and winter mortality from ischaemic heart disease, cerebrovascular disease, respiratory disease, and all causes in warm and cold regions of Europe. Lancet 349, 1341–1346 (1997).

Healy, J. D. Excess winter mortality in Europe: a cross country analysis identifying key risk factors. J. Epidemiol. Commun. Health 57, 784–789 (2003).

Carson, C., Hajat, S., Armstrong, B. & Wilkinson, P. Declining vulnerability to temperature-related mortality in London over the 20th century. Am. J. Epidemiol. 164, 77–84 (2006).

Simonsen, L., Taylor, R. J., Viboud, C., Miller, M. A. & Jackson, L. A. Mortality benefits of influenza vaccination in elderly people: an ongoing controversy. Lancet Infect. Dis. 7, 658–666 (2007).

Christidis, N., Donaldson, G. C. & Stott, P. A. Causes for the recent changes in cold- and heat-related mortality in England and Wales. Climatic Change 102, 539–553 (2010).

Robine, J. M., Michel, J. P. & Herrmann, F. R. Excess male mortality and age-specific mortality trajectories under different mortality conditions: a lesson from the heat wave of summer 2003. Mech. Ageing Dev. 133, 378–386 (2012).

Bennett, J. E., Blangiardo, M., Fecht, D., Elliott, P. & Ezzati, M. Vulnerability to the mortality effects of warm temperature in the districts of England and Wales. Nature Clim. Change 4, 269–273 (2014).

Lowe, R. et al. Evaluating the performance of a climate-driven mortality model during heat waves and cold spells in Europe. Int. J. Environ. Res. Publ. Health 12, 1279–1294 (2015).

Kettaneh, A. et al. The 2003 heat wave in France: hydratation status changes in older inpatients. Eur. J. Epidemiol. 25, 517–524 (2010).

McMichael, T., Montgomery, H. & Costello, A. Health risks, present and future, from global climate change. Br. Med. J. 344, e1359 (2012).

Marmot Review Team The Health Impacts of Cold Homes and Fuel Poverty (Friends of the Earth, 2011).

Kunst, A. E., Looman, C. W. N. & Mackenbach, J. P. Socio-economic mortality differences in the Netherlands in 1950–1984: a regional study of cause-specific mortality. Soc. Sci. Med. 31, 141–152 (1990).

McMichael, A. J., Woodruff, R. E. & Hales, S. Climate change and human health: present and future risks. Lancet 367, 859–869 (2006).

Staddon, P. L., Montgomer, H. E. & Depledge, M. H. Climate warming will not decrease winter mortality. Nature Clim. Change 4, 190–194 (2014).

Hajat, S. & Kovats, S. A note of caution about the excess winter deaths measure. Nature Clim. Change 4, 647 (2014).

Reichert, T. A. et al. Influenza and the winter increase in mortality in the United States, 1959–1999. Am. J. Epidemiol. 160, 492–502 (2004).

Todd, N. & Valleron, A. J. Space-time covariation of mortality with temperature: a systematic study of deaths in France, 1968–2009. Environ. Health Perspect. 123, 659–664 (2015).

Wilkinson, P. et al. Cold Comfort: The Social and Environmental Determinants of Excess Winter Deaths in England, 1986–96 (Joseph Rowntree Foundation, 2001).

Paget, J., Marquet, R., Meijer, A. & van der Velden, K. Influenza activity in Europe during eight seasons (1999–2007): an evaluation of the indicators used to measure activity and an assessment of the timing, length and course of peak activity (spread) across Europe. BMC Infect. Dis. 7, 141 (2007).

Haylock, M. R. et al. A European daily high-resolution gridded dataset of surface temperature and precipitation. J. Geophys. Res. 113, D20119 (2008).

Dee, D. et al. The ERA-Interim reanalysis: configuration and performance of the data assimilation system. Q. J. R. Meteorol. Soc. 137, 553–597 (2011).
Acknowledgements
J.B. acknowledges funding from the European Commission and the Catalan Government (projects MEMENTO and 00068 from the FP7-PEOPLE-2011-IOF and BP-DGR-2014-B calls, respectively), and X.R. from the project EUPORIAS. We acknowledge climate data from the project ENSEMBLES, mortality data from the EU Community Action Programme on Public Health (grant agreement 2005114), and influenza data from The European Surveillance System of the European Centre for Disease Prevention and Control.
Ethics declarations
Competing interests
The authors declare no competing financial interests.
Supplementary information
About this article
Cite this article
Ballester, J., Rodó, X., Robine, JM. et al. European seasonal mortality and influenza incidence due to winter temperature variability. Nature Clim Change 6, 927–930 (2016). https://doi.org/10.1038/nclimate3070
Received:

Accepted:

Published:

Issue Date:

DOI: https://doi.org/10.1038/nclimate3070