Strong positive selection on cold hardiness and relaxed selection on heat hardiness experienced by range-expanding populations may help to explain why ectothermic animals generally have broader thermal tolerance towards the poles, and shed new light on their climate vulnerabilities.
Access options
Subscribe to Journal
Get full journal access for 1 year
$99.00
only $8.25 per issue
All prices are NET prices.
VAT will be added later in the checkout.
Tax calculation will be finalised during checkout.
Buy article
Get time limited or full article access on ReadCube.
$32.00
All prices are NET prices.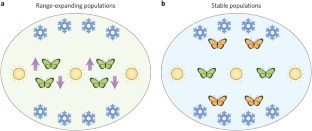 References
Parmesan, C. Annu. Rev. Ecol. Evol. Syst. 37, 637–669 (2006).

Lancaster, L. T. Nature Clim. Change 6, 618–621 (2016).

Chen, I.-C., Hill, J. K., Ohlemüller, R., Roy, D. B. & Thomas, C. D. Science 333, 1024–1026 (2011).

Sunday, J. M., Bates, A. E. & Dulvy, N. K. Proc. Roy. Soc. Lond. B Bio. 278, 1823–1830 (2011).

Deutsch, C. A. et al. Proc. Natl Acad. Sci. USA 105, 6668–6672 (2008).

Ghalambor, C. K., Huey, R. B., Martin, P. R., Tewksbury, J. J. & Wang, G. Integr. Comp. Biol. 46, 5–17 (2006).

Araújo, M. B. et al. Ecol. Lett. 16, 1206–1219 (2013).

Sunday, J. M. et al. Proc. Natl Acad. Sci. USA (2014).

Hoffmann, A. A. J. Exp. Biol. 213, 870–880 (2010).

Lancaster, L. T., Dudaniec, R. Y., Hansson, B. & Svensson, E. I. J. Biogeogr. 52, 1953–1963 (2015).
Acknowledgements
The author thanks Mary Power for helpful comments.
About this article
Cite this article
Williams, C. Insect thermal baggage. Nature Clim Change 6, 543–544 (2016). https://doi.org/10.1038/nclimate3042
Published:

Issue Date:

DOI: https://doi.org/10.1038/nclimate3042