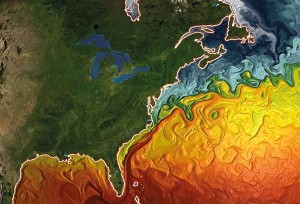 Global climate models are too coarse to accurately represent the Gulf Stream position in the Northwest Atlantic, thus temperature projections in this region are based on unrealistic regional ocean circulation data. A high-resolution global climate model is now capable of accurately resolving water mass circulation in this area, increasing confidence in warming projections of the Northwest Atlantic Ocean.
Vincent S. Saba, from the National Oceanic and Atmospheric Administration, USA, and colleagues examined the effect of increasing atmospheric CO2 on ocean temperature in the Northwest Atlantic using four models with varying resolutions. They found the highest-resolution model agreed best with the observed regional circulation and fine-scale topographic features of the ocean floor. Under a doubling of atmospheric CO2, this model showed enhanced oceanic warming (3 °C) at a rate twice as fast as the coarsest climate model. Furthermore, the highest-resolution model also shows a northerly shift of the Gulf Stream and a retreat of the fresh polar current, contributing to the increase in temperature over the region.
Warming on the Northwest Atlantic Shelf over the past decade has already resulted in species redistribution in the area. The faster projected warming in this study will have even more pronounced effects on this rich marine ecosystem.
About this article
Cite this article
Tynan, E. Northwest Atlantic. Nature Clim Change 6, 127 (2016). https://doi.org/10.1038/nclimate2929
Published:

Issue Date:

DOI: https://doi.org/10.1038/nclimate2929