Abstract
The Transient Climate Response to cumulative carbon Emissions (TCRE) measures the response of global temperatures to cumulative CO2 emissions1,2,3,4. Although the TCRE is a global quantity, climate impacts manifest predominantly in response to local climate changes. Here we quantify the link between CO2 emissions and regional temperature change, showing that regional temperatures also respond approximately linearly to cumulative CO2 emissions. Using an ensemble of twelve Earth system models, we present a novel application of pattern scaling5,6 to define the regional pattern of temperature change per emission of CO2. Ensemble mean regional TCRE values range from less than 1 °C per TtC for some ocean regions, to more than 5 °C per TtC in the Arctic, with a pattern of higher values over land and at high northern latitudes. We find also that high-latitude ocean regions deviate more strongly from linearity as compared to land and lower-latitude oceans. This suggests that ice-albedo and ocean circulation feedbacks are important contributors to the overall negative deviation from linearity of the global temperature response to high levels of cumulative emissions. The strong linearity of the regional climate response over most land regions provides a robust way to quantitatively link anthropogenic CO2 emissions to local-scale climate impacts.
Relevant articles
Open Access articles citing this article.
Ramdane Alkama

,

Giovanni Forzieri

…

Alessandro Cescatti

Nature Communications Open Access 01 February 2022

Francisco Estrada

,

Dukpa Kim

&

Pierre Perron

Communications Earth & Environment Open Access 12 February 2021

H. Damon Matthews

,

Katarzyna B. Tokarska

…

Reto Knutti

Communications Earth & Environment Open Access 18 January 2021
Access options
Subscribe to Journal
Get full journal access for 1 year
$99.00
only $8.25 per issue
All prices are NET prices.
VAT will be added later in the checkout.
Tax calculation will be finalised during checkout.
Buy article
Get time limited or full article access on ReadCube.
$32.00
All prices are NET prices.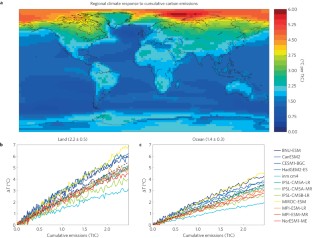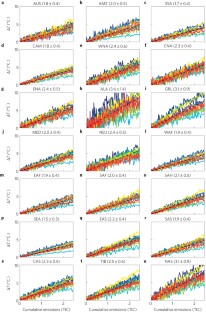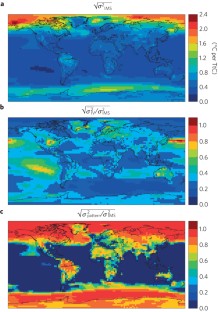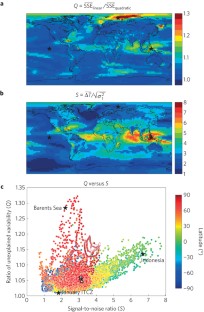 References
Matthews, H. D., Gillett, N. P., Stott, P. A. & Zickfeld, K. The proportionality of global warming to cumulative carbon emissions. Nature 459, 829–832 (2009).

Allen, M. R. et al. Warming caused by cumulative carbon emissions towards the trillionth tonne. Nature 458, 1163–1166 (2009).

Gillett, N. P., Arora, V. K., Matthews, H. D. & Allen, M. R. Constraining the ratio of global warming to cumulative CO2 emissions using CMIP5 simulations. J. Clim. 26, 6844–6858 (2013).

Collins, M. et al. in Climate Change 2013: The Physical Science Basis (eds Stocker, T. F. et al.) 1029–1136 (IPCC, Cambridge Univ. Press, 2013).

Santer, B., Wigley, T., Schlesinger, M. & Mitchell, J. Developing Climate Scenarios from Equilibrium GCM Results 47 (Hamburg, Germany, 1990).

Tebaldi, C. & Arblaster, J. M. Pattern scaling: its strengths and limitations, and an update on the latest model simulations. Climatic Change 122, 459–471 (2014).

Matthews, H. D., Solomon, S. & Pierrehumbert, R. Cumulative carbon as a policy framework for achieving climate stabilization. Phil. Trans. R. Soc. A 370, 4365–4379 (2012).

Zickfeld, K., Arora, V. K. & Gillett, N. P. Is the climate response to CO2 emissions path dependent? Geophys. Res. Lett. 39, L05703 (2012).

Leduc, M., Matthews, H. D. & de Elía, R. Quantifying the limits of a linear temperature response to cumulative CO2 emissions. J. Clim. 28, 9955–9968 (2015).

Mitchell, T. D. Pattern scaling: an examination of the accuracy of the technique for describing future climates. Climatic Change 60, 217–242 (2003).

Solomon, S. et al. Climate Stabilization Targets: Emissions, Concentrations, and Impacts over Decades to Millennia (National Academies, 2011).

Giorgi, F. & Francisco, R. Uncertainties in regional climate change prediction: a regional analysis of ensemble simulations with the HADCM2 coupled AOGCM. Clim. Dynam. 16, 169–182 (2000).

Deser, C., Phillips, A., Bourdette, V. & Teng, H. Uncertainty in climate change projections: the role of internal variability. Clim. Dynam. 38, 527–546 (2012).

Goodwin, P., Williams, R. G. & Ridgwell, A. Sensitivity of climate to cumulative carbon emissions due to compensation of ocean heat and carbon uptake. Nature Geosci. 8, 29–34 (2015).

Good, P. et al. Nonlinear regional warming with increasing CO2 concentrations. Nature Clim. Change 5, 138–142 (2015).

Jonko, A. K., Shell, K. M., Sanderson, B. M. & Danabasoglu, G. Climate feedbacks in CCSM3 under changing CO2 forcing. Part II: variation of climate feedbacks and sensitivity with forcing. J. Clim. 26, 2784–2795 (2013).

Colman, R. & McAvaney, B. Climate feedbacks under a very broad range of forcing. Geophys. Res. Lett. 36, l01702 (2009).

Hansen, J. et al. Earth's energy imbalance: confirmation and implications. Science 308, 1431–1435 (2005).

Boer, G. & Yu, B. Climate sensitivity and climate state. Clim. Dynam. 21, 167–176 (2003).

Ruosteenoja, K., Tuomenvirta, H. & Jylhä, K. GCM-based regional temperature and precipitation change estimates for Europe under four SRES scenarios applying a super-ensemble pattern-scaling method. Climatic Change 81, 193–208 (2007).

Hawkins, E. & Sutton, R. The potential to narrow uncertainty in regional climate predictions. Bull. Am. Meteorol. Soc. 90, 1095–1107 (2009).
Acknowledgements
The authors recognize the financial contribution of the Concordia Institute for Water, Energy and Sustainable Systems (NSERC CREATE grant), HDM's NSERC Discovery Grant and Concordia University Research Chair research grant, the Ouranos Consortium, the 'Fonds de recherche en sciences du climat d'Ouranos' (FRSCO) programme, the Office of the Vice-President, Research and Graduate Studies at Concordia University and the Global Environmental and Climate Change Centre (GEC3). The authors also wish to thank N. Gillett and B. G. St-Denis for their technical help and P. Goodwin and the Concordia Climate Science, Impacts and Mitigation Studies (C2SIMS) group for insightful discussions. We finally acknowledge the World Climate Research Programme's Working Group on Coupled Modelling, which is responsible for CMIP, and we thank the climate modelling groups for producing and making available their model output. For CMIP, the US Department of Energy's Program for Climate Model Diagnosis and Inter-comparison provides coordinating support and led development of software infrastructure in partnership with the Global Organization for Earth System Science Portals.
Ethics declarations
Competing interests
The authors declare no competing financial interests.
Supplementary information
About this article
Cite this article
Leduc, M., Matthews, H. & de Elía, R. Regional estimates of the transient climate response to cumulative CO2 emissions. Nature Clim Change 6, 474–478 (2016). https://doi.org/10.1038/nclimate2913
Received:

Accepted:

Published:

Issue Date:

DOI: https://doi.org/10.1038/nclimate2913