Abstract
To evaluate policies to reduce greenhouse-gas emissions, economic models require estimates of how future climate change will affect well-being. So far, nearly all estimates of the economic impacts of future warming have been developed by combining estimates of impacts in individual sectors of the economy1,2. Recent work has used variation in warming over time and space to produce top-down estimates of how past climate and weather shocks have affected economic output3,4,5. Here we propose a statistical framework for converting these top-down estimates of past economic costs of regional warming into projections of the economic cost of future global warming. Combining the latest physical climate models, socioeconomic projections, and economic estimates of past impacts, we find that future warming could raise the expected rate of economic growth in richer countries, reduce the expected rate of economic growth in poorer countries, and increase the variability of growth by increasing the climate's variability. This study suggests we should rethink the focus on global impacts and the use of deterministic frameworks for modelling impacts and policy.
Relevant articles
Open Access articles citing this article.
Benjamin M. Sanderson

&

Brian C. O'Neill

Scientific Reports Open Access 08 June 2020

Nicole Glanemann

,

Sven N. Willner

&

Anders Levermann

Nature Communications Open Access 27 January 2020
Access options
Subscribe to this journal
Receive 12 print issues and online access
$209.00 per year
only $17.42 per issue
Rent or buy this article
Prices vary by article type
from$1.95
to$39.95
Prices may be subject to local taxes which are calculated during checkout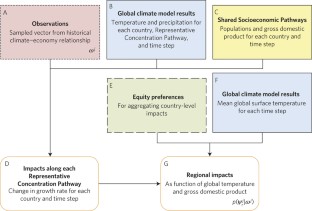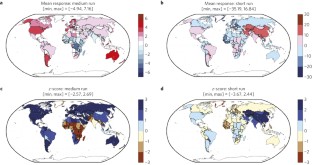 References
Nordhaus, W. D. & Boyer, J. Warming the World: Economic Models of Global Warming (MIT Press, 2000).

Tol, R. S. J. The economic effects of climate change. J. Econ. Perspect. 23, 29–51 (2009).

Nordhaus, W. D. Geography and macroeconomics: New data and new findings. Proc. Natl Acad. Sci. USA 103, 3510–3517 (2006).

Dell, M., Jones, B. F. & Olken, B. A. Temperature and income: Reconciling new cross-sectional and panel estimates. Am. Econ. Rev. 99, 198–204 (2009).

Dell, M., Jones, B. F. & Olken, B. A. Temperature shocks and economic growth: Evidence from the last half century. Am. Econ. J. 4, 66–95 (2012).

Nordhaus, W. D. Cowles Foundation Discussion Paper 565 (Cowles Foundation for Research in Economics, Yale University, 1980).

Nordhaus, W. D. To slow or not to slow: The economics of the greenhouse effect. Econ. J. 101, 920–937 (1991).

Nordhaus, W. D. An optimal transition path for controlling greenhouse gases. Science 258, 1315–1319 (1992).

Warren, R. et al. Tyndall Centre Working Paper 91 (Tyndall Centre for Climate Change Research, Univ. East Anglia, 2006).

Hanemann, M. in Climate Change Science and Policy (eds Schneider, S. H., Rosencranz, A., Mastrandrea, M. D. & Kuntz-Duriseti, K.) 185–193 (Island Press, 2010).

Roughgarden, T. & Schneider, S. H. Climate change policy: Quantifying uncertainties for damages and optimal carbon taxes. Energy Policy 27, 415–429 (1999).

Newbold, S. C. & Daigneault, A. Climate response uncertainty and the benefits of greenhouse gas emissions reductions. Environ. Res. Econ. 44, 351–377 (2009).

Ackerman, F., Stanton, E. A. & Bueno, R. Fat tails, exponents, extreme uncertainty: Simulating catastrophe in DICE. Ecol. Econ. 69, 1657–1665 (2010).

Ackerman, F. & Stanton, E. A. Climate risks and carbon prices: Revising the social cost of carbon. Economics 6, 2012-10 (2012).

Botzen, W. W. & van den Bergh, J. C. How sensitive is Nordhaus to Weitzman? Climate policy in DICE with an alternative damage function. Econ. Lett. 117, 372–374 (2012).

Kopp, R. E., Golub, A., Keohane, N. O. & Onda, C. The influence of the specification of climate change damages on the social cost of carbon. Economics 6, 2012-13 (2012).

Weitzman, M. L. GHG targets as insurance against catastrophic climate damages. J. Public Econ. Theory 14, 221–244 (2012).

Lemoine, D. & McJeon, H. C. Trapped between two tails: Trading off scientific uncertainties via climate targets. Environ. Res. Lett. 8, 034019 (2013).

Pindyck, R. S. Climate change policy: What do the models tell us? J. Econ. Lit. 51, 860–872 (2013).

Stern, N. The structure of economic modelling of the potential impacts of climate change: Grafting gross underestimation of risk onto already narrow science models. J. Econ. Lit. 51, 838–859 (2013).

Horowitz, J. K. The income-temperature relationship in a cross-section of countries and its implications for predicting the effects of global warming. Environ. Resour. Econ. 44, 475–493 (2009).

Bansal, R. & Ochoa, M. Working Paper 17575 (National Bureau of Economic Research, 2011).

Dell, M., Jones, B. F. & Olken, B. A. What do we learn from the weather? The new climate–economy literature. J. Econ. Lit. 52, 740–798 (2014).

Moore, F. C. & Diaz, D. B. Temperature impacts on economic growth warrant stringent mitigation policy. Nature Clim. Change 5, 127–131 (2015).

Lee, J.-Y. & Wang, B. Future change of global monsoon in the CMIP5. Clim. Dynam. 42, 101–119 (2014).

Fankhauser, S., Tol, R. S. J. & Pearce, D. W. The aggregation of climate change damages: A welfare theoretic approach. Environ. Resour. Econ. 10, 249–266 (1997).

Azar, C. Weight factors in cost-benefit analysis of climate change. Environ. Resour. Econ. 13, 249–268 (1999).

Gollier, C. & Hammitt, J. K. The long-run discount rate controversy. Annu. Rev. Resour. Econ. 6, 273–295 (2014).

Anthoff, D., Hepburn, C. & Tol, R. S. J. Equity weighting and the marginal damage costs of climate change. Ecol. Econ. 68, 836–849 (2009).

van Vuuren, D. P. et al. The representative concentration pathways: An overview. Climatic Change 109, 5–31 (2011).

Delworth, T. L. et al. Simulated climate and climate change in the GFDL CM2.5 high-resolution coupled climate model. J. Clim. 25, 2755–2781 (2012).

O'Neill, B. C. et al. A new scenario framework for climate change research: The concept of shared socioeconomic pathways. Climatic Change 122, 387–400 (2014).

Schär, C. et al. The role of increasing temperature variability in European summer heatwaves. Nature 427, 332–336 (2004).

Seager, R., Naik, N. & Vogel, L. Does global warming cause intensified interannual hydroclimate variability? J. Clim. 25, 3355–3372 (2011).

Hansen, J., Sato, M. & Ruedy, R. Perception of climate change. Proc. Natl Acad. Sci. USA 109, E2415–E2423 (2012).

Huntingford, C., Jones, P. D., Livina, V. N., Lenton, T. M. & Cox, P. M. No increase in global temperature variability despite changing regional patterns. Nature 500, 327–330 (2013).

Nordhaus, W. D. A Question of Balance: Weighing the Options on Global Warming Policies (Yale University Press, 2008).

Nordhaus, W. Estimates of the social cost of carbon: Concepts and results from the DICE-2013R model and alternative approaches. J. Assoc. Environ. Res. Econ. 1, 273–312 (2014).

Weitzman, M. L. A review of the Stern Review on the Economics of Climate Change. J. Econ. Lit. 45, 703–724 (2007).

Dasgupta, P. Discounting climate change. J. Risk Uncertain. 37, 141–169 (2008).

Lemoine, D. M. Climate sensitivity distributions depend on the possibility that models share biases. J. Clim. 23, 4395–4415 (2010).
Acknowledgements
D.L. is grateful for support from Resources for the Future's John V. Krutilla Research Stipend and the University of Arizona's Institute of the Environment. S.K.'s research was supported by the National Science Foundation under award No. 1331373. The Dissertations Initiative for the Advancement of Climate Change Research (DISCCRS) played a crucial role in connecting the authors and stimulating the project. G. Moreno and C. Raphael provided research and graphical design assistance, respectively.
Ethics declarations
Competing interests
The authors declare no competing financial interests.
About this article
Cite this article
Lemoine, D., Kapnick, S. A top-down approach to projecting market impacts of climate change. Nature Clim Change 6, 51–55 (2016). https://doi.org/10.1038/nclimate2759
Received:

Accepted:

Published:

Issue Date:

DOI: https://doi.org/10.1038/nclimate2759