Abstract
Climate change is a threat to human societies and natural ecosystems, yet public opinion research finds that public awareness and concern vary greatly. Here, using an unprecedented survey of 119 countries, we determine the relative influence of socio-demographic characteristics, geography, perceived well-being, and beliefs on public climate change awareness and risk perceptions at national scales. Worldwide, educational attainment is the single strongest predictor of climate change awareness. Understanding the anthropogenic cause of climate change is the strongest predictor of climate change risk perceptions, particularly in Latin America and Europe, whereas perception of local temperature change is the strongest predictor in many African and Asian countries. However, other key factors associated with public awareness and risk perceptions highlight the need to develop tailored climate communication strategies for individual nations. The results suggest that improving basic education, climate literacy, and public understanding of the local dimensions of climate change are vital to public engagement and support for climate action.
Access options
Subscribe to this journal
Receive 12 print issues and online access
$209.00 per year
only $17.42 per issue
Rent or buy this article
Prices vary by article type
from$1.95
to$39.95
Prices may be subject to local taxes which are calculated during checkout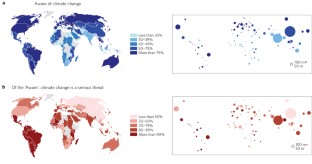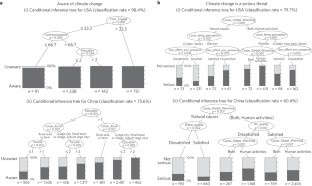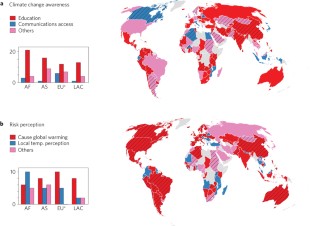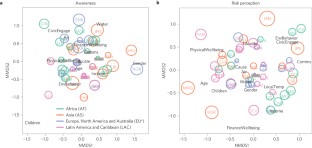 Similar content being viewed by others
References
Leiserowitz, A. A. Human Development Report 2007/2008 (Human Development Office, 2007).

Brechin, S. R. & Bhandari, M. Perceptions of climate change worldwide. WIREs-Clim. Change 2, 871–885 (2011).

Bord, R. J., Fisher, A. & O'Connor, R. E. Public perceptions of global warming: United States and international perspectives. Clim. Res. 11, 75–84 (1998).

Bord, R. J., O'Connor, R. E. & Fisher, A. In what sense does the public need to understand global climate change? Public Underst. Sci. 9, 205–218 (2000).

Nisbet, M. C. & Myers, T. The polls—Trends—Twenty years of public opinion about global warming. Public Opin. Q. 71, 444–470 (2007).

Brulle, R. J., Carmichael, J. & Jenkins, J. C. Shifting public opinion on climate change: An empirical assessment of factors influencing concern over climate change in the U.S. 2002–2010. Climatic Change 114, 169–188 (2012).

Weber, E. U. & Stern, P. C. Public understanding of climate change in the United States. Am. Psychol. 66, 315–328 (2011).

Wolf, J. & Moser, S. C. Individual understandings, perceptions, and engagement with climate change: Insights from in-depth studies across the world. WIREs-Clim. Change 2, 547–569 (2011).

Borick, C. P. & Rabe, B. G. A reason to believe: Examining the factors that determine individual views on global warming. Soc. Sci. Q. 91, 777–800 (2010).

Leiserowitz, A. A. American risk perceptions: Is climate change dangerous? Risk Anal. 25, 1433–1442 (2005).

Grothmann, T. & Patt, A. Adaptive capacity and human cognition: The process of individual adaptation to climate change. Glob. Environ. Change 15, 199–213 (2005).

Lorenzoni, I. & Pidgeon, N. F. Public views on climate change: European and USA perspectives. Climatic Change 77, 73–95 (2006).

Whitmarsh, L. Scepticism and uncertainty about climate change: Dimensions, determinants and change over time. Glob. Environ. Change-Hum. Policy Dimens. 21, 690–700 (2011).

Kvaloy, B., Finseraas, H. & Listhaug, O. The publics' concern for global warming: A cross-national study of 47 countries. J. Peace Res. 49, 11–22 (2012).

Norgaard, K. M. Living in Denial: Climate Change, Emotions and Everyday Life (MIT Press, 2011).

Pugliese, A. & Ray, J. A heated debate: Global attitudes toward climate change. Hav. Int. Rev. 31, 64 (2009).

Schultz, P. W., Zelezny, L. & Dalrymple, N. J. A multinational perspective on the relation between Judeo-Christian religious beliefs and attitudes of environmental concern. Environ. Behav. 32, 576–591 (2000).

Doherty, T. J. & Clayton, S. The psychological impacts of global climate change. Am. Psychol. 66, 265–276 (2011).

Scruggs, L. & Benegal, S. Declining public concern about climate change: Can we blame the great recession? Glob. Environ. Change-Hum. Policy Dimens. 22, 505–515 (2012).

O'Connor, R. E., Bord, R. J. & Fisher, A. Risk perceptions, general environmental beliefs, and willingness to address climate change. Risk Anal. 19, 461–471 (1999).

Maibach, E. W. et al. Identifying like-minded audiences for global warming public engagement campaigns: An audience segmentation analysis and tool development. PLoS ONE 6 (2011).

Dunlap, R. E. Lay perceptions of global risk—Public views of global warming in cross-national context. Int. Sociol. 13, 473–498 (1998).

Howe, P. D. et al. Global perceptions of local temperature change. Nature Clim. Change 3, 352–356 (2013).

Li, Y., Johnson, E. J. & Zaval, L. Local warming: Daily temperature change influences belief in global warming. Psychol. Sci. 22, 454–459 (2011).

Zaval, L. et al. How warm days increase belief in global warming. Nature Clim. Change 4, 143–147 (2014).

Slovic, P. Trust, emotion, sex, politics, and science: Surveying the risk-assessment battlefield. Risk Anal. 19, 689–701 (1999).

Barkan, S. E. Explaining public support for the environmental movement: A civic voluntarism model. Soc. Sci. Q. 85, 913–937 (2004).

Tschakert, P. Views from the vulnerable: Understanding climatic and other stressors in the Sahel. Glob. Environ. Change-Hum. Policy Dimens. 17, 381–396 (2007).

Hapfelmeier, A., Hothorn, T. & Ulm, K. Recursive partitioning on incomplete data using surrogate decisions and multiple imputation. Comput. Stat. Data Anal. 56, 1552–1565 (2012).

Strobl, C., Malley, J. & Tutz, G. An introduction to recursive partitioning: Rationale, application, and characteristics of classification and regression trees, bagging, and random forests. Psychol. Methods 14, 323–348 (2009).

Strobl, C. et al. Conditional variable importance for random forests. BMC Bioinform. 9 (2008).

Hamilton, L. C. & Keim, B. D. Regional variation in perceptions about climate change. Int. J. Climatol. 29, 2348–2352 (2009).

McCright, A. M. & Dunlap, R. E. The politicization of climate change and polarization in the American public's views of global warming, 2001–2010. Sociol. Q. 52, 155–194 (2011).

Worldwide Research Methodology and Codebook (January issue) (Gallup, 2012).

Liu, J. C.-E. & Leiserowitz, A. A. From red to green? Environmental attitudes and behavior in urban China. Environment 51, 32–45 (2009).

Bostrom, A. et al. What do people know about global climate-change. 1. Mental models. Risk Anal. 14, 959–970 (1994).

Anderson, A. & Strecker, M. Sustainable development: A case for education. Environment 54, 3–15 (2012).

Lutz, W., Muttarak, R. & Striessnig, E. Universal education is key to enhanced climate adaptation. Science 346, 1061–1062 (2014).

Kaufmann, D., Kraay, A. & Mastruzzi, M. World Bank Policy Research Working Paper No. 5430 (World Bank, 2010).

Dreher, A. Does globalization affect growth? Evidence from a new index of globalization. Appl. Econ. 38, 1091–1110 (2006).

Wackernagel, M. et al. Tracking the ecological overshoot of the human economy. Proc. Natl Acad. Sci. USA 99, 9266–9271 (2002).

Wheeler, D. CGD Working Paper 240 (Center for Global Development, 2011).

Kruskal, J. B. Nonmetric multidimensional scaling: A numerical method. Psychometrika 29, 115–129 (1964).

Dixon, P. VEGAN, a package of R functions for community ecology. J. Veg. Sci. 14, 927–930 (2003).

Faith, D. P., Minchin, P. R. & Belbin, L. Compositional dissimilarity as a robust measure of ecological distance. Vegetatio 69, 57–68 (1987).

Anderson, M. J. A new method for non-parametric multivariate analysis of variance. Aust. Ecol. 26, 32–46 (2001).

Bowman, T. E. et al. Time to take action on climate communication. Science 330, 1044 (2010).

Kahneman, D. & Deaton, A. High income improves evaluation of life but not emotional well-being. Proc. Natl Acad. Sci. USA 107, 16489–16493 (2010).

Tortora, R. D., Srinivasan, R. & Esipova, N. in Survey Methods in Multinational, Multiregional, and Multicultural Contexts (eds Harkness, J. A. et al.) 535–543 (John Wiley, 2010).

GFN Global Footprint Network: The 2010 National Footprint Accounts (Global Footprint Network, 2010).

Dietz, T., Rosa, E. A. & York, R. Driving the human ecological footprint. Front. Ecol. Environ. 5, 13–18 (2007).

Jorgenson, A. K. & Clark, B. Societies consuming nature. A panel study of the ecological footprints of nations, 1960–2003. Soc. Sci. Res. 40, 226–244 (2010).

Füssel, H.-M. Review and Quantitative Analysis of Indices of Climate Change Exposure, Adaptive Capacity, Sensitivity, and Impacts (World Bank, 2009).

Ehrlich, P. R., Kareiva, P. M. & Daily, G. C. Securing natural capital and expanding equity to rescale civilization. Nature 486, 68–73 (2012).

Hothorn, T., Hornik, K. & Zeileis, A. Unbiased recursive partitioning: A conditional inference framework. J. Comput. Graph. Stat. 15, 651–674 (2006).

Breiman, L. et al. Classification and Regression Trees (CRC Press, 1984).

Breiman, L. Random forests. Machine Learning 45, 5–32 (2001).

Janitza, S., Strobl, C. & Boulesteix, A.-L. An AUC-based permutation variable importance measure for random forests. BMC Bioinform. 14, 119 (2013).

Gauch, H. G. Jr Multivariate Analysis and Community Structure (Cambridge Univ. Press, 1982).

Minchin, P. R. An evaluation of the relative robustness of techniques for ecological ordination. Vegetatio 69, 89–107 (1987).

Zapala, M. A. & Schork, N. J. Multivariate regression analysis of distance matrices for testing associations between gene expression patterns and related variables. Proc. Natl Acad. Sci. USA 103, 19430–19435 (2006).

Legendre, P. & Legendre, L. Numerical Ecology 2nd edn (Elsevier, 1998).

R Development Core Team, R: A Language and Environment for Statistical Computing (R Foundation for Statistical Computing, 2008).
Acknowledgements
This research was supported in part by the Earth Institute Fellows Program, Columbia University and the Yale Project on Climate Change Communication (T.M.L.). The authors wish to thank A. Pugliese (Gallup World Poll) for assistance with the survey data and D. Budescu (Fordham University) for comments on the manuscript.
Ethics declarations
Competing interests
The authors declare no competing financial interests.
About this article
Cite this article
Lee, T., Markowitz, E., Howe, P. et al. Predictors of public climate change awareness and risk perception around the world. Nature Clim Change 5, 1014–1020 (2015). https://doi.org/10.1038/nclimate2728
Received:

Accepted:

Published:

Issue Date:

DOI: https://doi.org/10.1038/nclimate2728