Abstract
The deep sea hosts some of the world's largest, oldest, and most sensitive ecosystems. Climate change and ocean acidification are likely to have severe implications for many deep-sea ecosystems and communities, but what, if anything, can be done to mitigate these threats is poorly understood. To begin to bridge this gap, we convened a stakeholder workshop to assess and prioritize options for conserving legislatively protected deep-sea coral reefs off southeast Australia that, without management intervention, are likely to be severely degraded within decades as a result of climate change. Seventeen possible options were explored that span biological, engineering and regulatory domains and that differed widely in their perceived costs, benefits, time to implementation, and risks. In the short term, the highest priority identified is the need to urgently locate and protect sites globally that are, or will become, refugia areas for the coral and its associated community as climate change progresses.
Relevant articles
Open Access articles citing this article.
L. H. De Clippele

,

L. Rovelli

…

J. M. Roberts

Coral Reefs Open Access 04 December 2020

Juliette Delavenne

,

Louise Keszler

…

Sarah Samadi

Scientific Reports Open Access 06 May 2019
Access options
Subscribe to Journal
Get full journal access for 1 year
$99.00
only $8.25 per issue
All prices are NET prices.
VAT will be added later in the checkout.
Tax calculation will be finalised during checkout.
Buy article
Get time limited or full article access on ReadCube.
$32.00
All prices are NET prices.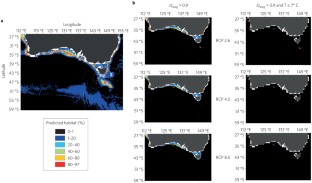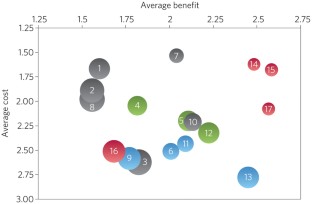 References
Purkey, S. G. & Johnson, G. C. Warming of global abyssal and deep Southern Ocean waters between the 1990s and 2000s: contributions to global heat and sea level rise budgets. J. Clim. 25, 5830–5844 (2012).

Wong, A. P. S., Bindoff, N. L. & Church, J. A. Freshwater and heat changes in the North and South Pacific Oceans between the 1960s and 1985–94. J. Clim. 14, 1613–1633 (2001).

Smith, C. R., De Leo, F. C., Bernadino, A. F., Sweetman, A. K. & Arbizu, P. M. Abyssal food limitation, ecosystem function and climate change. Trends Ecol. Evol. 23, 518–528 (2008).

Schmidtko, S. & Johnson, G. C. Multidecadal warming and shoaling of Antarctic Intermediate Water. J. Clim. 25, 207–221 (2012).

Smith, C. R. et al. Abyssal food limitation, ecosystem function and climate change. Trends Ecol. Evol. 23, 518–528 (2008).

Resplandy, L., Bopp, L., Orr, J. C. & Dunne, J. P. Role of mode and intermediate waters in future ocean acidification: analysis of CMIP5 models. Geophys. Res. Lett. 40, 3091–3095 (2013).

Glover, A. G. & Smith, C. R. The deep-sea floor ecosystem: current status and prospects of anthropogenic change by the year 2025. Env. Cons. 30, 219–241 (2003).

Koslow, J. A. The Silent Deep (Univ. Chicago Press, 2007).

Thresher, R. E., Tilbrook, B., Fallon, S., Wilson, N. C. & Adkins, J. Effects of chronic low carbonate saturation levels on the distribution, growth and skeletal chemistry of deep-sea corals and other seamount megabenthos. Mar. Ecol. Prog. Ser. 442, 87–99 (2011).

McCulloch, M., Falter, J., Trotter, J. & Montagna, P. Coral resilience to ocean acidification and global warming through pH up-regulation. Nature Clim. Change 2, 1–5 (2012).

Guinotte, J. M., Cairns, S., Freiwald, A., Morgan, L. & George, R. Will human-induced changes in seawater chemistry alter the distribution of deep-sea scleractinian corals. Front. Ecol. Environ. 4, 141–146 (2006).

Davies, A. J. & Guinotte, J. M. Global habitat suitability for framework-forming cold-water corals. PLoS ONE 6, e18483 (2011).

Roberts, J. M. & Cairns, S. D. Cold-water corals in a changing ocean. Curr. Opin. Env. Sustain. 7, 118–126 (2014).

Thresher, R. E. et al. Strong depth-related zonation of megabenthos on a rocky continental margin (≈700–4000m) off southern Tasmania, Australia. PLoS One 9, e85872 (2014).

Fallon, S. J., Thresher, R. E. & Adkins, J. Age and growth of the cold-water scleractinian Solenosmilia variabilis and its reef on SW Pacific seamounts. Coral Reefs 33, 31–38 (2014).

Downes S. M., Bindoff, N. L. & Rintoul, S. Changes in the subduction of Southern Ocean water masses at the end of the twenty-first century in eight IPCC models. J. Clim. 23, 6526–6541 (2010).

Crook, E. D. et al. Impacts of food availability and pCO2 on planulation, juvenile survival, and calcification of the a zooxanthellate scleractinian coral Balanophyllia elegans. Biogeosciences 10, 7599–7608 (2013).

IPCC Summary for Policymakers in Climate Change 2007: Impacts, Adaptation and Vulnerability (eds Parry, M. L. et al.) (Cambridge Univ. Press, 2007).

Marshall, N. A., Tobin, R. C., Marshall, P. A., Gooch, M. & Hobday, A. J. Vulnerability of marine resource users to extreme weather events. Ecosystems 16, 797–809 (2013).

Hobday, A. J., Chambers, L. E. & Arnould, J. P. Y. in Applied Studies in Climate Adaptation (eds Palutikof, J. P. et al.) 77–94 (Wiley and Sons, 2015).

Thresher, R. E., Adkins, J. & Thiagarajan, N. Modal analysis of the deep-water solitary scleractinian, Desmophyllum dianthus, on SW Pacific seamounts: inferred recruitment periodicity, growth and mortality rates. Coral Reefs 30, 1063–1070 (2011).

O'Hara, T. D., Rowden, A. A. & Williams, A. Cold-water coral habitats on seamounts: do they have a specialist fauna? Divers. Distrib. 14, 925–934 (2008).

Morgan, M. G. Use (and abuse) of expert elicitation in support of decision making for public policy. Proc. Natl Acad. Sci. USA 111, 7176–7184 (2014).

Donlan, C. J., Wingfield, D. K., Crowder, L. B. & Wilcox, C. Using expert opinion surveys to rank threats to endangered species: A case study with sea turtles. Conserv. Biol. 24, 1586–1595 (2010).

Martin, T. G. et al. Eliciting expert knowledge in conservation science. Conserv. Biol. 26, 29–38 (2012).

Brooke S. & Young, C. M. In situ measurement of survival and growth of Lophelia pertusa in the northern Gulf of Mexico. Mar. Ecol. Prog. Ser. 397, 153–161 (2009).

Jackson, E. L., Davies, A. J., Howell, K. L., Kershaw, P. J. & Hall-Spencer, J. M. Future-proofing marine protected area networks for cold water coral reefs. ICES J. Mar. Sci. 71, 2621–2629 (2014).

Ardron, J. A., Rayfuse R., Gjerde, K. & Warner, R. The sustainable use and conservation on biodiversity in ABNJ: what can be achieved using existing international agreements. Mar. Policy 49, 98–108 (2014).

At last some good news for the high seas: Progress towards a legally binding treaty to safeguard the ocean beyond national boundaries. IUCN (26 January 2015); http://go.nature.com/4YfOlb
Acknowledgements
We thank the participants in the options workshop, and both the participants and non-participants who scored the options, for their invaluable and thoughtful contributions. We also thank N. Bax for comments on the manuscript. This work was supported by the Australian National Climate Change Adaptation Research Program.
Ethics declarations
Competing interests
The authors declare no competing financial interests.
Supplementary information
About this article
Cite this article
Thresher, R., Guinotte, J., Matear, R. et al. Options for managing impacts of climate change on a deep-sea community. Nature Clim Change 5, 635–639 (2015). https://doi.org/10.1038/nclimate2611
Received:

Accepted:

Published:

Issue Date:

DOI: https://doi.org/10.1038/nclimate2611