Reform of carbon trading in Europe could help claw back its credibility as an instrument to cut emissions. Sonja van Renssen reports.
Access options
Subscribe to Journal
Get full journal access for 1 year
$99.00
only $8.25 per issue
All prices are NET prices.
VAT will be added later in the checkout.
Tax calculation will be finalised during checkout.
Buy article
Get time limited or full article access on ReadCube.
$32.00
All prices are NET prices.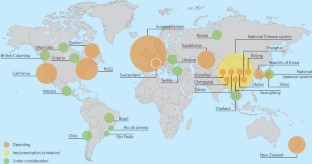 References
Energy, Climate Change and Environment: 2014 Insights Ch. 2 (OECD/IEA, 2014).

Proposal for a Decision of the European Parliament and of the Council Concerning the Establishment and Operation of a Market Stability Reserve for the Union Greenhouse Gas Emission Trading Scheme and Amending Directive 2003/87/EC COM(2014) 20/2 (European Commission, 2014); http://go.nature.com/nDyx78

Morris, D. Avoiding the Avalanche: Tackling Unused Free Allowances with the MSR (Sandbag, 2015); http://www.sandbag.org.uk/site_media/uploads/Avoiding_the_avalanche.pdf

Zachmann, G. You'd better bet on the ETS. Bruegel Institute (9 April 2013); http://go.nature.com/n71Cbu

van Renssen, S. Nature Clim. Change 4, 8–9 (2014).

Cowart, R., Bayer, E., Keay-Bright, S. & Lees, E. Carbon Caps and Efficiency Resources: Launching a "Virtuous Circle" for Europe (Regulatory Assistance Project, 2015); http://go.nature.com/PQzhwI

Progress towards Achieving the Kyoto and EU 2020 Objectives COM(2014) 689 Final (European Commission, 28 October 2014); http://go.nature.com/65djm2

China to cap emissions from six sectors, ETS to launch 2016. ICAP (9 February 2015); http://go.nature.com/XmxMHY

Serre, C. et al. Emissions Trading Worldwide: ICAP Status Report 2015 (ICAP, 2015); http://go.nature.com/r1vOC4

Neuhoff, K. et al. Is a Market Stability Reserve Likely to Improve the Functioning of the EU ETS? Evidence from a Model Comparison Exercise (Climate Strategies, 2015); http://go.nature.com/1KPMKX
About this article
Cite this article
van Renssen, S. Carbon market rescue. Nature Clim Change 5, 297–299 (2015). https://doi.org/10.1038/nclimate2588
Published:

Issue Date:

DOI: https://doi.org/10.1038/nclimate2588