Abstract
National greenhouse-gas accounting should reflect how countries' policies and behaviours affect global emissions. Actions that contribute to reduced global emissions should be credited, and actions that increase them should be penalized. This is essential if accounting is to serve as accurate guidance for climate policy. Yet this principle is not satisfied by the two most common accounting methods. Production-based accounting used under the Kyoto Protocol does not account for carbon leakage—the phenomenon of countries reducing their domestic emissions by shifting carbon-intensive production abroad1. Consumption-based accounting2,3 (also called carbon footprinting) does not credit countries for cleaning up their export industries, and it also punishes some types of trade that could contribute to more carbon efficient production worldwide. We propose an improvement to consumption-based carbon accounting that takes technology differences in export sectors into account and thereby tends to more correctly reflect how national policy changes affect total global emissions. We also present empirical results showing how this new measure redraws the global emissions map.
Access options
Subscribe to this journal
Receive 12 print issues and online access
$209.00 per year
only $17.42 per issue
Rent or buy this article
Prices vary by article type
from$1.95
to$39.95
Prices may be subject to local taxes which are calculated during checkout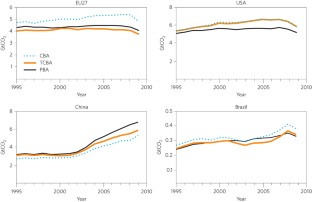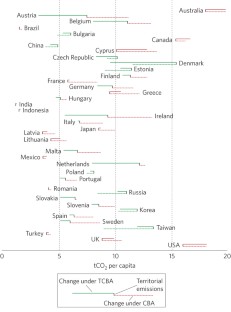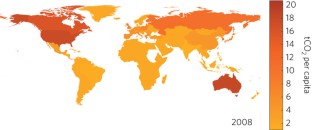 Similar content being viewed by others
References
Peters, G. P., Minx, J. C., Weber, C. L. & Edenhofer, O. Growth in emission transfers via international trade from 1990 to 2008. Proc. Natl Acad. Sci. USA 108, 8903–8908 (2011).

Peters, G. P. & Hertwich, E. G. Post-Kyoto greenhouse gas inventories: Production versus consumption. Climatic Change 86, 51–66 (2008).

Davis, S. J. & Caldeira, K. Consumption-based accounting of CO2 emissions. Proc. Natl Acad. Sci. USA 107, 5687–5692 (2010).

Steininger, K. et al. Justice and cost effectiveness of consumption-based versus production-based approaches in the case of unilateral climate policies. Glob. Environ. Change 24, 75–87 (2014).

Jakob, M. & Marschinski, R. Interpreting trade-related CO2 emission transfers. Nature Clim. Change 3, 19–23 (2013).

Zhou, X., Yano, T. & Kojima, S. Proposal for a national inventory adjustment for trade in the presence of border carbon adjustment: Assessing carbon tax policy in Japan. Energy Policy 63, 1098–1110 (2013).

Wyckoff, A. W. & Roop, J. M. The embodiment of carbon in imports of manufactured products: Implications for international agreements on greenhouse gas emissions. Energy Policy 22, 187 (1994).

Böhringer, C., Balistreri, E. J. & Rutherford, T. F. The role of border carbon adjustment in unilateral climate policy: Overview of an energy modeling forum study (EMF 29). Energy Econom. 34 (Supplement 2), S97–S110 (2012).

McAusland, C. & Najjar, N. Carbon Footprint Taxes. Environ. Resour. Econ. 1–34 (2014).

Helm, D., Hepburn, C. & Ruta, G. Trade, climate change, and the political game theory of border carbon adjustments. Oxford Rev. Econ. Policy 28, 368–394 (2012).

Springmann, M. Integrating emissions transfers into policy-making. Nature Clim. Change 4, 177–181 (2014).

Yunfeng, Y. & Laike, Y. China's foreign trade and climate change: A case study of CO2 emissions. Energy Policy 38, 350–356 (2010).

Weber, C. L., Peters, G. P., Guan, D. & Hubacek, K. The contribution of Chinese exports to climate change. Energy Policy 36, 3572–3577 (2008).

Liu, Y., Jayanthakumaran, K. & Neri, F. Who is responsible for the CO2 emissions that China produces? Energy Policy 62, 1412–1419 (2013).

Dietzenbacher, E., Los, B., Stehrer, R., Timmer, M. & de Vries, G. The construction of world input–output tables in the WIOD project. Econ. Syst. Res. 25, 71–98 (2013).

Tukker, A. & Dietzenbacher, E. Global multiregional input–output frameworks: An introduction and outlook. Econ. Syst. Res. 25, 1–19 (2013).

Lenzen, M., Kanemoto, K., Moran, D. & Geschke, A. Mapping the structure of the world economy. Environ. Sci. Technol. 46, 8374–8381 (2012).

Lenzen, M. Aggregation versus disaggregation in input–output analysis of the environment. Econ. Syst. Res. 23, 73–89 (2011).

Alexeeva-Talebi, V., Böhringer, C., Löschel, A. & Voigt, S. The value-added of sectoral disaggregation: Implications on competitive consequences of climate change policies. Energy Econom. 34 (Supplement 2), S127–S142 (2012).

Caron, J. Estimating carbon leakage and the efficiency of border adjustments in general equilibrium—Does sectoral aggregation matter? Energy Econom. 34 (Supplement 2), S111–S126 (2012).

Lenzen, M., Moran, D., Kanemoto, K. & Geschke, A. Building eora: A global multi-region input–output database at high country and sector resolution. Econ. Syst. Res. 25, 20–49 (2013).

Tukker, A. et al. EXIOPOL—Development and illustrative analyses of a detailed global MR EE SUT/IOT. Econ. Syst. Res. 25, 50–70 (2013).

Kanemoto, K., Lenzen, M., Peters, G. P., Moran, D. D. & Geschke, A. Frameworks for comparing emissions associated with production, consumption, and international trade. Environ. Sci. Technol. 46, 172–179 (2012).

Hertwich, E. G. & Peters, G. P. Carbon footprint of nations: A global, trade-linked analysis. Environ. Sci. Technol. 43, 6414–6420 (2009).

Leontief, W. Structure of the world economy: Outline of a simple input–output formulation. Am. Econ. Rev. 64, 823–834 (1974).
Acknowledgements
This research has been supported by the Swedish Energy Agency and Handelsbankens forskningsstiftelser.
Ethics declarations
Competing interests
The authors declare no competing financial interests.
About this article
Cite this article
Kander, A., Jiborn, M., Moran, D. et al. National greenhouse-gas accounting for effective climate policy on international trade. Nature Clim Change 5, 431–435 (2015). https://doi.org/10.1038/nclimate2555
Received:

Accepted:

Published:

Issue Date:

DOI: https://doi.org/10.1038/nclimate2555