Abstract
Recent major flood disasters have shown that single extreme events can affect multiple countries simultaneously1,2,3, which puts high pressure on trans-national risk reduction and risk transfer mechanisms4,5,6. So far, little is known about such flood hazard interdependencies across regions7,8 and the corresponding joint risks at regional to continental scales1,9. Reliable information on correlated loss probabilities is crucial for developing robust insurance schemes5 and public adaptation funds10, and for enhancing our understanding of climate change impacts9,11,12. Here we show that extreme discharges are strongly correlated across European river basins. We present probabilistic trends in continental flood risk, and demonstrate that observed extreme flood losses could more than double in frequency by 2050 under future climate change and socio-economic development. We suggest that risk management for these increasing losses is largely feasible, and we demonstrate that risk can be shared by expanding risk transfer financing, reduced by investing in flood protection, or absorbed by enhanced solidarity between countries. We conclude that these measures have vastly different efficiency, equity and acceptability implications, which need to be taken into account in broader consultation, for which our analysis provides a basis.
Relevant articles
Open Access articles citing this article.
Ruitao Zhou

,

Hang Zheng

…

Wenhua Wan

Scientific Reports Open Access 07 October 2022

Andreas Witt

,

Cedric Sachser

&

Jörg M. Fegert

European Child & Adolescent Psychiatry Open Access 15 April 2022

Tian Liu

,

Peijun Shi

&

Jian Fang

Natural Hazards Open Access 01 January 2022
Access options
Subscribe to Journal
Get full journal access for 1 year
$99.00
only $8.25 per issue
All prices are NET prices.
VAT will be added later in the checkout.
Tax calculation will be finalised during checkout.
Buy article
Get time limited or full article access on ReadCube.
$32.00
All prices are NET prices.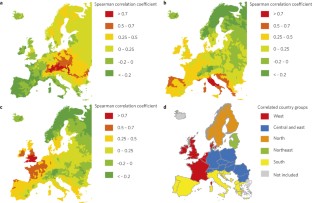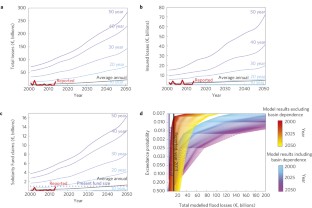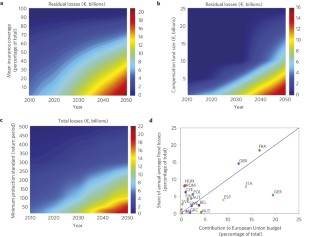 References
Becker, A. & Grünewald, U. Flood risk in central Europe. Science 300, 1099–1099 (2003).

Wake, B. Flooding costs. Nature Clim. Change 3, 778 (2013).

Kundzewicz, Z. W., Pińskwar, I. & Brakenridge, G. R. Large floods in Europe, 1985–2009. Hydrol. Sci. J. 58, 1–7 (2013).

Michel-Kerjan, E. & Kunreuther, H. Redesigning flood insurance. Science 333, 408–409 (2011).

Mills, E. Insurance in a climate of change. Science 309, 1040–1044 (2005).

Bouwer, L. M., Crompton, R. P., Faust, E., Höppe, P. & Pielke, R. A. Jr Confronting disaster losses. Science 318, 753 (2007).

Uhlemann, S., Thieken, A. H. & Merz, B. A consistent set of trans-basin floods in Germany between 1952–2002. Hydrol. Earth Syst. Sci. 14, 1277–1295 (2010).

Prudhomme, C. & Genevier, M. Can atmospheric circulation be linked to flooding in Europe?. Hydrol. Process. 25, 1180–1190 (2011).

Knox, J. C. Large increases in flood magnitude in response to modest changes in climate. Nature 361, 430–432 (1993).

Hochrainer, S., Linnerooth-Bayer, J. & Mechler, R. The European Union Solidarity Fund. Mitigation Adapt. Strat. Glob. Change 15, 797–810 (2010).

Allen, M. R. Liability for climate change. Nature 421, 891–892 (2003).

Kundzewicz, Z. W. et al. Flood risk and climate change—global and regional perspectives. Hydrol. Sci. J. 59, 1–28 (2014).

Lavers, D. A. et al. Future changes in atmospheric rivers and their implications for winter flooding in Britain. Environ. Res. Lett. 8, 034010 (2013).

Ward, P. J., Eisner, S., Flörke, M., Dettinger, M. D. & Kummu, M. Annual flood sensitivities to El Niño Southern Oscillation at the global scale. Hydrol. Earth Syst. Sci. 18, 47–66 (2014).

Munich Re, Munich Reinsurance Company Geo Risks Research, NatCatSERVICE Database. (2013)

Jongman, B., Ward, P. J. & Aerts, J. C. J. H. Global exposure to river and coastal flooding: Long term trends and changes. Glob. Environ. Change 22, 823–835 (2012).

Milly, P. C. D., Wetherald, R., Dunne, K. A. & Delworth, T. L. Increasing risk of great floods in a changing climate. Nature 415, 514–517 (2002).

IPCC, in Managing the Risks of Extreme Events and Disasters to Advance Climate Change Adaptation (eds Field, C. B.et al.) (Cambridge Univ. Press, 2012).

Mechler, R., Hochrainer, S., Aaheim, A., Salen, H. & Wreford, A. Modelling economic impacts and adaptation to extreme events: Insights from European case studies. Mitigation Adapt. Strat. Glob. Change 15, 737–762 (2010).

van Renssen, S. EU adaptation policy sputters and starts. Nature Clim. Change 3, 614–615 (2013).

Botzen, W. J. W. Managing Extreme Climate Change Risks through Insurance (Cambridge Univ. Press, 2013).

Ward, P. J. et al. Assessing flood risk at the global scale: Model setup, results, and sensitivity. Environ. Res. Lett. 8, 044019 (2013).

Hirabayashi, et al. Global flood risk under climate change. Nature Clim. Change 3, 816–821 (2013).

Rojas, R., Feyen, L. & Watkiss, P. Climate change and river floods in the European Union: Socio-economic consequences and the costs and benefits of adaptation. Glob. Environ. Change 23, 1737–1751 (2013).

Glaser, R. et al. The variability of European floods since AD 1500. Clim. Change 101, 235–256 (2010).

Camuffo, D., Sturaro, G. & Benito, G. in Palaeofloods and Climatic Variability: Applications in Flood Risk Management (eds Thorndycraft, V. R., Benito, G., Barriendos, M. & Llasat, M. C.) 295–300 (CSIC-CCM, 2003).

Feyen, L., Dankers, R., Bódis, K., Salamon, P. & Barredo, J. I. Fluvial flood risk in Europe in present and future climates. Clim. Change 112, 47–62 (2012).

Hallegatte, S., Green, C., Nicholls, R. J. & Corfee-Morlot, J. Future flood losses in major coastal cities. Nature Clim. Change 3, 802–806 (2013).

Palmer, L. Providing aid before climate disasters strike. Nature Clim. Change 3, 857–858 (2013).

van der Knijff, J., Younis, J. & de Roo, A. LISFLOOD: A GIS-based distributed model for river basin scale water balance and flood simulation International. J. Geogr. Inform. Sci. 24, 189–212 (2010).
Acknowledgements
This research was funded by the European Commission through the ENHANCE project (grant agreement number 308438). P.J.W. and W.J.W.B. received additional financial support from VENI grants from the Netherlands Organisation for Scientific Research (NWO). We are grateful to Munich Reinsurance Company for supplying data on flood losses from their NatCatSERVICE database.
Supplementary information
About this article
Cite this article
Jongman, B., Hochrainer-Stigler, S., Feyen, L. et al. Increasing stress on disaster-risk finance due to large floods. Nature Clim Change 4, 264–268 (2014). https://doi.org/10.1038/nclimate2124
Received:

Accepted:

Published:

Issue Date:

DOI: https://doi.org/10.1038/nclimate2124