Use of state-of-the-art statistical methods could substantially improve the quantification of uncertainty in assessments of climate change.
Access options
Subscribe to Journal
Get full journal access for 1 year
$209.00
only $17.42 per issue
All prices are NET prices.
VAT will be added later in the checkout.
Rent or Buy article
Get time limited or full article access on ReadCube.
from$8.99
All prices are NET prices.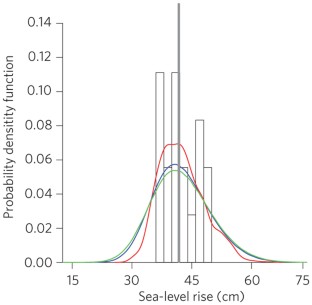 References
1

Knutti, R. & Hegerl, G. C. Nature Geosci. 1, 735–743 (2008).

2

Guttorp, P. Stat. Polit. Policy 3 http://dx.doi.org/10.1515/2151-7509.1055 (2012).

3

Mastrandrea, M. D. et al. Guidance Note for Lead Authors of the IPCC Fifth Assessment Report on Consistent Treatment of Uncertainties (IPCC, 2010); available via http://go.nature.com/PvUJbk

4

Moss, R. H. & Yohe, G. Assessing and Communicating Confidence Levels and Uncertainties in the Main Conclusions of the NCA 2013 Report: Guidance for Authors and Contributors (National Climate Assessment Development and Advisory Committee, 2011); available via http://go.nature.com/AdQeGO

5

Katz, R. W. Stat. Sci. 17, 97–122 (2002).

6

Cressie, N. & Wikle, C. K. Statistics for Spatio-Temporal Data (Wiley, 2011).

7

Gelfand, A. E., Zhu, L. & Carlin, B. P. Biostatistics 2, 31–45 (2001).

8

Berrocal, V. J., Craigmile, P. F. & Guttorp, P. Environmetrics 23, 482–492 (2012).

9

Mearns, L. O. et al. Bull. Am. Meteorol. Soc. 93, 1337–1362 (2012).

10

IPCC Managing the Risks of Extreme Events and Disasters to Advance Climate Change Adaptation (eds Field, C. B. et al.) (Cambridge Univ. Press, 2012); available at http://www.ipcc-wg2.gov/SREX

11

Coles, S. An Introduction to Statistical Modeling of Extreme Values (Springer, 2001).

12

Milly, P. C. D. et al. Science 319, 573–574 (2008).

13

Donat, M. G. & Alexander, L. V. Geophys. Res. Lett. 39, L14707 (2012).

14

Hansen, J., Sato, M. & Ruedy, R. Proc. Natl Acad. Sci. USA 109, E2415–E2423 (2012).

15

Brown, S. J., Caesar, J. & Ferro, C. A. T. J. Geophys.Res. 113, D05115 (2008).

16

Karl, T. R. & Katz, R. W. Proc. Natl Acad. Sci. USA 109, 14720–14721 (2012).

17

Spiegelhalter, D., Pearson, M. & Short, I. Science 333, 1393–1400 (2011).
About this article
Cite this article
Katz, R., Craigmile, P., Guttorp, P. et al. Uncertainty analysis in climate change assessments. Nature Clim Change 3, 769–771 (2013). https://doi.org/10.1038/nclimate1980