Abstract
Climate change mitigation in the materials sector faces a twin challenge: satisfying rapidly rising global demand for materials while significantly curbing greenhouse-gas emissions1,2. Process efficiency improvement and recycling can contribute to reducing emissions per material output; however, long-term material demand and scrap availability for recycling depend fundamentally on the dynamics of societies' stocks of products in use3,4,5,6, an issue that has been largely neglected in climate science. Here, we show that aluminium in-use stock patterns set essential boundary conditions for future emission pathways, which has significant implications for mitigation priority setting. If developing countries follow industrialized countries in their aluminium stock patterns, a 50% emission reduction by 2050 below 2000 levels cannot be reached even under very optimistic recycling and technology assumptions. The target can be reached only if future global per-capita aluminium stocks saturate at a level much lower than that in present major industrialized countries. As long as global in-use stocks are growing rapidly, radical new technologies in primary production (for example, inert anode and carbon capture and storage) have the greatest impact in emission reduction; however, their window of opportunity is closing once the stocks begin to saturate and the largest reduction potential shifts to post-consumer scrap recycling.
Relevant articles
Open Access articles citing this article.
Anqi Zeng

,

Wu Chen

…

Gang Liu

Nature Communications Open Access 15 March 2022

Lulu Song

,

Ji Han

…

Wei-Qiang Chen

Scientific Data Open Access 25 November 2021

Xiaoyang Zhong

,

Mingming Hu

…

Paul Behrens

Nature Communications Open Access 21 October 2021
Access options
Subscribe to Journal
Get full journal access for 1 year
$99.00
only $8.25 per issue
All prices are NET prices.
VAT will be added later in the checkout.
Tax calculation will be finalised during checkout.
Buy article
Get time limited or full article access on ReadCube.
$32.00
All prices are NET prices.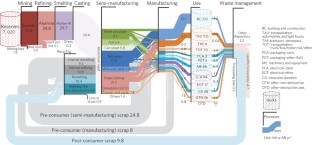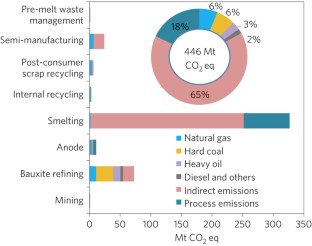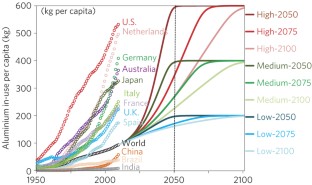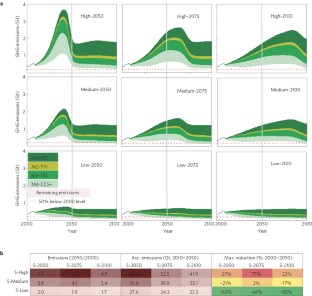 References
IPCC Climate Change 2007: Mitigation of Climate Change (eds Metz, B., Davidson, O. R., Bosch, P. R., Dave, R. & Meyer, L. A.) (Cambridge Univ. Press, 2007).

IEA Energy Technology Transitions for Industry: Strategies for the Next Industrial Revolution (The International Energy Agency (IEA), 2009).

Müller, D. B., Wang, T., Duval, B. & Graedel, T. E. Exploring the engine of anthropogenic iron cycles. Proc. Natl Acad. Sci. USA 103, 16111–16116 (2006).

Gordon, R. B., Bertram, M. & Graedel, T. E. Metal stocks and sustainability. Proc. Natl Acad. Sci. USA 103, 1209–1214 (2006).

Müller, D. B., Wang, T. & Duval, B. Patterns of iron use in societal evolution. Environ. Sci. Technol. 45, 182–188 (2011).

Liu, G., Bangs, C. E. & Müller, D. B. Unearthing potentials for decarbonizing the U.S. aluminum cycle. Environ. Sci. Technol. 45, 9515–9522 (2011).

UNFCCC The Cancun Agreements: Outcome of the Work of the Ad Hoc Working Group on Long-term Cooperative Action under the Convention (CP16/CMP6) (United Nations Framework Convention on Climate Change, 2011).

USDOE US Energy Requirements for Aluminum Production: Historical Perspective, Theoretical Limits and Current Practices (US Department of Energy, 2007).

Oliver, A. N. & Rothman, H. The value of recycling: A framework for analysis. Ind. Market Manag. 4, 133–141 (1975).

Schwarz, H. G., Briem, S. & Zapp, P. Future carbon dioxide, emissions in the global material flow of primary aluminium. Energy 26, 775–795 (2001).

Luo, Z. & Soria, A. Prospective Study of the World Aluminium Industry (Institute for Prospective Technological Studies, European Commission Joint Research Centre, 2007).

Menzie, B. W. D. et al. The Global Flow of Aluminum From 2006 Through 2025 73 (US Department of the Interior and US Geological Survey, 2010).

Allwood, J. M., Cullen, J. M. & Milford, R. L. Options for achieving a 50% cut in industrial carbon emissions by 2050. Environ. Sci. Technol. 44, 1888–1894 (2010).

GARC. Global Aluminium Recycling Model (Global Aluminium Recycling Committee, International Aluminium Institute, 2011).

Hatayama, H., Daigo, I., Matsuno, Y. & Adachi, Y. Assessment of the recycling potential of aluminum in Japan, the United States, Europe and China. Mater. Trans. 50, 650–656 (2009).

Milford, R. L., Allwood, J. M. & Cullen, J. M. Assessing the potential of yield improvements, through process scrap reduction, for energy and CO2 abatement in the steel and aluminium sectors. Resour. Conserv. Recycl. 55, 1185–1195 (2011).

Müller, D. B. Stock dynamics for forecasting material flows: Case study for housing in The Netherlands. Ecol. Econ. 59, 142–156 (2006).

Bader, H. P., Scheidegger, R., Wittmer, D. & Lichtensteiger, T. Copper flows in buildings, infrastructure and mobiles: A dynamic model and its application to Switzerland. Clean Technol. Environ. 13, 87–101 (2011).

Pauliuk, S., Wang, T. & Müller, D. Moving toward the circular economy: The role of stocks in the Chinese steel cycle. Environ. Sci. Technol. 46, 148–154 (2012).

Pacala, S. & Socolow, R. Stabilization wedges: Solving the climate problem for the next 50 years with current technologies. Science 305, 968–972 (2004).

Sinden, G. E., Peters, G. P., Minx, J. & Weber, C. L. International Carbon Flows: Aluminium (The Carbon Trust, 2011).

Norgate, T. & Jahanshahi, S Reducing the greenhouse gas footprint of primary metal production: Where should the focus be? Miner. Eng. 24, 1563–1570 (2011).

Das, S. & Green, J. Aluminum industry and climate change: Assessment and responses. JOM J. Min. Met. Mater. Sci. 62, 27–31 (2010).

Modaresi, R. & Müller, D. B. The role of automobiles for the future of aluminium recycling. Environ. Sci. Technol. 46, 8587–8594 (2012).

Van Renssen, S. Making more with less. Nature Clim. Change 1, 137–138 (2011).

Allwood, J. M. et al. Sustainable Materials: With Both Eyes Open (UIT, 2012).

Carruth, M. A., Allwood, J. M. & Moynihan, M. C. The technical potential for reducing metal requirements through lightweight product design. Resour. Conserv. Recycl. 57, 48–60 (2011).

Heard, R., Hendrickson, C. & McMichael, F. C. Sustainable development and physical infrastructure materials. MRS Bull. 37, 389–394 (2012).

Schmidt, J., Helme, N. E. D., Lee, J. I. N. & Houdashelt, M. Sector-based approach to the post-2012 climate change policy architecture. Clim. Policy 8, 494–515 (2008).

IAI Pioneering A Voluntary Global Industry Sectoral Approach (International Aluminium Institute, 2008).
Acknowledgements
We gratefully acknowledge G. Rombach from Norsk Hydro and C. Bayliss from the International Aluminium Institute for valuable inputs with the GARC model and S. Pauliuk from the Norwegian University of Science and Technology for help with programming techniques.
Ethics declarations
Competing interests
The authors declare no competing financial interests.
Supplementary information
About this article
Cite this article
Liu, G., Bangs, C. & Müller, D. Stock dynamics and emission pathways of the global aluminium cycle. Nature Clim Change 3, 338–342 (2013). https://doi.org/10.1038/nclimate1698
Received:

Accepted:

Published:

Issue Date:

DOI: https://doi.org/10.1038/nclimate1698