The claimed economic benefits of exploiting the vast Alberta oil-sand deposits need to be weighed against the need to limit global warming caused by carbon dioxide emissions.
Access options
Subscribe to Journal
Get full journal access for 1 year
$59.00
only $4.92 per issue
All prices are NET prices.
VAT will be added later in the checkout.
Tax calculation will be finalised during checkout.
Rent or Buy article
Get time limited or full article access on ReadCube.
from$8.99
All prices are NET prices.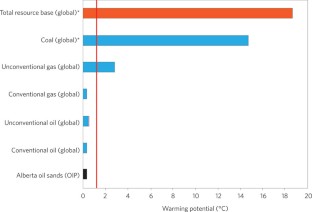 References
3

Energy Resources Conservation Board ST98–2011 Alberta's Energy Reserves 2010 and Supply/Demand Outlook 2011–2020 (ERCB, 2011).

4

BP Statistical Review of World Energy (BP, 2011); available at http://www.bp.com/statisticalreview.

5

Environment Canada National Inventory Report 1990–2009 (Environment Canada, 2011).

6

Charpentier, A. D., Bergerson, J. A. & MacLean, H. L. Environ. Res. Lett. 4, 1–11 (2009).

7

Mathews, H. D., Gillett, N. P., Stott, P. A. & Zickfeld, K. Nature 459, 829–832 (2009).

8

Kelly, E. N. et al. Proc. Natl Acad. Sci. USA 107, 16178–16183 (2010).

9

Zickfeld, K., Eby, M., Matthews, H. D. & Weaver, A. J. Proc. Natl Acad. Sci. USA 106, 16129–16134 (2009).

11

Rogner, H. H. et al. in Global Energy Assessment Ch. 7 (International Institute for Applied Systems Analysis & Cambridge Univ. Press, in the press).

12

Davis, J., Caldeira, K. & Mathews, H. D. Science 329, 1330–1333 (2010).
Supplementary information
About this article
Cite this article
Swart, N., Weaver, A. The Alberta oil sands and climate. Nature Clim Change 2, 134–136 (2012). https://doi.org/10.1038/nclimate1421