Abstract
Several important cofactors are adenine nucleotides with a vitamin as the catalytic moiety. Here, we report the discovery of the first adenine nucleotide containing vitamin B1: adenosine thiamine triphosphate (AThTP, 1), or thiaminylated ATP. We discovered AThTP in Escherichia coli and found that it accumulates specifically in response to carbon starvation, thereby acting as a signal rather than a cofactor. We detected smaller amounts in yeast and in plant and animal tissues.
This is a preview of subscription content
Access options
Subscribe to Journal
Get full journal access for 1 year
$119.00
only $9.92 per issue
All prices are NET prices.
VAT will be added later in the checkout.
Tax calculation will be finalised during checkout.
Rent or Buy article
Get time limited or full article access on ReadCube.
from$8.99
All prices are NET prices.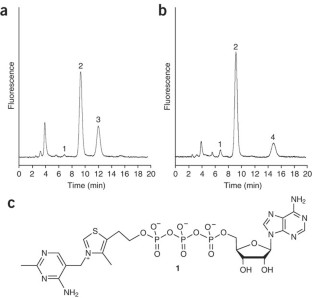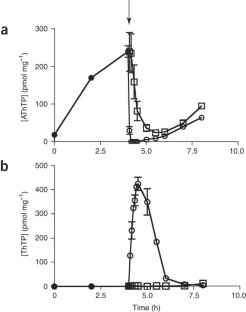 References
1

Makarchikov, A.F. et al. Cell. Mol. Life Sci. 60, 1477–1488 (2003).

2

Wille, G. et al. Nat. Chem. Biol. 2, 324–328 (2006).

3

Lakaye, B., Wirtzfeld, B., Wins, P., Grisar, T. & Bettendorff, L. J. Biol. Chem. 279, 17142–17147 (2004).

4

Bettendorff, L., Nghiêm, H.O., Wins, P. & Lakaye, B. Anal. Biochem. 322, 190–197 (2003).

5

Cashel, M. & Gallant, J. Nature 221, 838–841 (1969).

6

Artsimovitch, I. et al. Cell 117, 299–310 (2004).

7

Chatterjee, A., Jurgenson, C.T., Schroeder, F., Ealick, S.E. & Begley, T.P. J. Am. Chem. Soc. 128, 7158–7159 (2006).

8

Bettendorff, L., Peeters, M., Jouan, C., Wins, P. & Schoffeniels, E. Anal. Biochem. 198, 52–59 (1991).
Acknowledgements
This work was supported by grant 2.4558.04 from the Fonds de la Recherche Fondamentale Collective and by grants from the Fonds pour la Formation à la Recherche dans l'Industrie et dans l'Agriculture to B.W. and M.G. M.F. and L.B. are respectively Research Associate and Senior Research Associate at the Fonds de la Recherche Scientifique–FNRS. The authors thank D. Baiwir for help with MS and I. Margineanu for helpful comments on the manuscript.
Ethics declarations
Competing interests
The authors declare no competing financial interests.
Supplementary information
About this article
Cite this article
Bettendorff, L., Wirtzfeld, B., Makarchikov, A. et al. Discovery of a natural thiamine adenine nucleotide. Nat Chem Biol 3, 211–212 (2007). https://doi.org/10.1038/nchembio867
Received:

Accepted:

Published:

Issue Date: