Assigning function to uncharacterized enzymes discovered through genome projects has provided a great challenge to the fields of informatics, enzymology and structural biology. Docking potential ligands into flexible models of protein structures and docking potential high-energy intermediates, rather than substrates, into known structures are two new computational approaches that have provided a much-needed boost to the field.
Access options
Subscribe to Journal
Get full journal access for 1 year
$119.00
only $9.92 per issue
All prices are NET prices.
VAT will be added later in the checkout.
Tax calculation will be finalised during checkout.
Buy article
Get time limited or full article access on ReadCube.
$32.00
All prices are NET prices.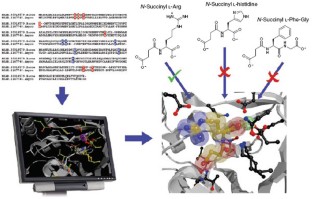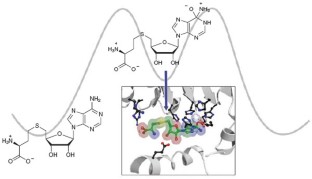 References
Frazier, M.E. et al. Science 300, 290–293 (2003).

Song, L. et al. Nat. Chem. Biol. 3, 486–491 (2007).

Hermann, J.C. et al. Nature, published online 1 July 2007 (doi: 10.1038/nature05981).

Babbitt, P.C. et al. Biochemistry 35, 16489–16501 (1996).

Pauling, L. Chem. Eng. News 24, 1375–1377 (1946).

Norvell, J.C. & Machalek, A.Z. Nat. Struct. Biol. 7 (Suppl.), 931 (2000).
Ethics declarations
Competing interests
The author declares no competing financial interests.
About this article
Cite this article
Allen, K. Form finds function. Nat Chem Biol 3, 452–453 (2007). https://doi.org/10.1038/nchembio0807-452
Issue Date:

DOI: https://doi.org/10.1038/nchembio0807-452