Peptidases are enzymes that trim small protein fragments called peptides to regulate their biological functions. A new method opens the door to chasing down and identifying important cutting events mediated by peptidases involved in metabolic regulation.
Access options
Subscribe to Journal
Get full journal access for 1 year
$59.00
only $4.92 per issue
All prices are NET prices.
VAT will be added later in the checkout.
Tax calculation will be finalised during checkout.
Rent or Buy article
Get time limited or full article access on ReadCube.
from$8.99
All prices are NET prices.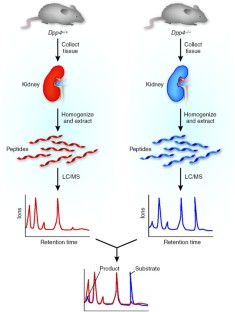 References
1

Quesada, V., Ordonez, G.R., Sanchez, L.M., Puente, X.S. & Lopez-Otin, C. Nucleic Acids Res. published online, doi:10.1093/nar/gkn570 (6 September 2008).

2

Rawlings, N.D., Morton, F.R., Kok, C.Y., Kong, J. & Barrett, A.J. Nucleic Acids Res. 36, D320–D325 (2008).

3

Tagore, D.M. et al. Nat. Chem. Biol. 5, 23–25 (2009).

4

Holst, J.J. Physiol. Rev. 87, 1409–1439 (2007).

5

Deacon, C.F., Carr, R.D. & Holst, J.J. Front. Biosci. 13, 1780–1794 (2008).
About this article
Cite this article
Bogyo, M. Metabolomics cuts to the chase to chase the cuts. Nat Chem Biol 5, 5–6 (2009). https://doi.org/10.1038/nchembio0109-5
Further reading
Cornelis J.F. Van Noorden

Journal of Histochemistry & Cytochemistry (2010)