Abstract
More than 100 cyclic peptides harboring heterocyclized residues are known from marine ascidians, sponges and different genera of cyanobacteria. Here, we report an assembly line responsible for the biosynthesis of these diverse peptides, now called cyanobactins, both in symbiotic and free-living cyanobacteria. By comparing five new cyanobactin biosynthetic clusters, we produced the prenylated antitumor preclinical candidate trunkamide in Escherichia coli culture using genetic engineering.
Access options
Subscribe to Journal
Get full journal access for 1 year
$169.00
only $14.08 per issue
All prices are NET prices.
VAT will be added later in the checkout.
Rent or Buy article
Get time limited or full article access on ReadCube.
from$8.99
All prices are NET prices.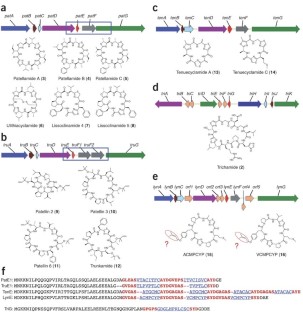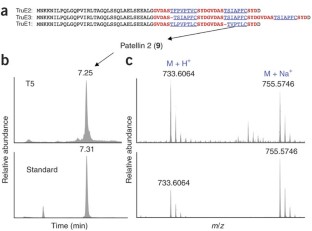 References
1

Davidson, B.S. Chem. Rev. 93, 1771–1791 (1993).

2

Schmidt, E.W. et al. Proc. Natl. Acad. Sci. USA 102, 7315–7320 (2005).

3

Long, P.F., Dunlap, W.C., Battershill, C.N. & Jaspars, M. ChemBioChem 6, 1760–1765 (2005).

4

Ireland, C.M., Durso, A.R., Newman, R.A. & Hacker, M.P. J. Org. Chem. 47, 1807–1811 (1982).

5

Degnan, B.M. et al. J. Med. Chem. 32, 1349–1354 (1989).

6

Donia, M.S. et al. Nat. Chem. Biol. 2, 729–735 (2006).

7

Sudek, S., Haygood, M.G., Youssef, D.T. & Schmidt, E.W. Appl. Environ. Microbiol. 72, 4382–4387 (2006).

8

Li, Y.-M., Milne, J.C., Madison, L.L., Kolter, R. & Walsh, C.T. Science 274, 1188–1193 (1996).

9

Milne, B.F., Long, P.F., Starcevic, A., Hranueli, D. & Jaspars, M. Org. Biomol. Chem. 4, 631–638 (2006).

10

Carroll, A.R. et al. Aust. J. Chem. 49, 659–667 (1996).

11

Zabriskie, T.M., Foster, M.P., Stout, T.J., Clardy, J. & Ireland, C.M. J. Am. Chem. Soc. 112, 8080–8084 (1990).

12

Salvatella, X., Caba, J.M., Albericio, F. & Giralt, E. J. Org. Chem. 68, 211–215 (2003).

13

Tan, L.T. Phytochemistry 68, 954–979 (2007).

14

Banker, R. & Carmeli, S. J. Nat. Prod. 61, 1248–1251 (1998).

15

Ziemert, N. et al. Appl. Environ. Microbiol. 74, 1791–1797 (2008).
Acknowledgements
This work was supported by grants from the US National Institutes of Health (GM071425) and the National Science Foundation (EF-0412226). We thank C. Ireland (University of Utah), the University of the South Pacific, the Solomon Islands and the Republic of the Fiji Islands for providing opportunities to collect marine animal samples. S. Meo (University of the South Pacific) aided with the collection of L. patella in Fiji. S. Carmeli (Tel-Aviv University) provided the N. spongiaeforme culture. J.G. Muller and T. Bugni (University of Utah) helped with mass spectrometry experiments. A. Bird and D. Winge (University of Utah) helped with yeast recombination. C. Ireland provided ascidian photos.
Ethics declarations
Competing interests
E.W.S. is an inventor on a patent application at the University of Utah for the practical application of cyclic peptide library synthesis. Some of the claims are supported by this work.
Supplementary information
Supplementary Figures 1–6, Supplementary Tables 1 and 2, and Supplementary Methods (PDF 9093 kb)
About this article
Cite this article
Donia, M., Ravel, J. & Schmidt, E. A global assembly line for cyanobactins. Nat Chem Biol 4, 341–343 (2008). https://doi.org/10.1038/nchembio.84
Received:

Accepted:

Published:

Issue Date: