Mucopolysaccharidoses are inherited disorders in which inactivation of lysosomal enzymes results in accumulation of glycosaminoglycans within cells, causing tissue and organ dysfunction. A method to determine the unique end structures of the accumulated glycosaminoglycans offers a new way for diagnosis.
Access options
Subscribe to Journal
Get full journal access for 1 year
$119.00
only $9.92 per issue
All prices are NET prices.
VAT will be added later in the checkout.
Tax calculation will be finalised during checkout.
Rent or Buy article
Get time limited or full article access on ReadCube.
from$8.99
All prices are NET prices.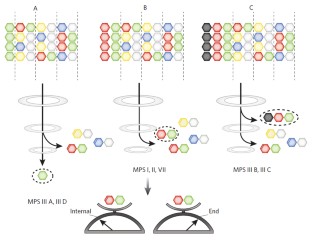 References
1

Freeze, H.H. Genetic disorders of glycan degradation. in Essentials of Glycobiology (eds. Varki, A. et al.) 567–583 (Cold Spring Harbor Laboratory Press, 2009)

2

Neufeld, E.F. & Muenzer, J. The mucopolysaccharidoses. in The Metabolic and Molecular Bases of Inherited Disease Vol. 3 (eds. Scriver, C.R., Beaudet, A.L., Sly, W.S. & Valle, D.) (McGraw-Hill, 2001).

3

Hemsley, K.M. & Hopwood, J.J. J. Inherit. Metab. Dis. 34, 1003–1012 (2011).

4

Lawrence, R. et al. Nat. Chem. Biol. 8, 197–204 (2011).

5

Lawrence, R. et al. J. Biol. Chem. 283, 33674–33684 (2008).

6

Kreuger, J., Spillmann, D., Li, J.P. & Lindahl, U. J. Cell Biol. 174, 323–327 (2006).
Ethics declarations
Competing interests
The author declares no competing financial interests.
About this article
Cite this article
Kjellén, L. Enzyme deficiencies deciphered. Nat Chem Biol 8, 137–138 (2012). https://doi.org/10.1038/nchembio.778