Abstract
In biology-oriented synthesis, the scaffolds of biologically relevant compound classes inspire the synthesis of focused compound collections enriched in bioactivity. This criterion is, in particular, met by the scaffolds of natural products selected in evolution. The synthesis of natural product–inspired compound collections calls for efficient reaction sequences that preferably combine multiple individual transformations in one operation. Here we report the development of a one-pot, twelve-step cascade reaction sequence that includes nine different reactions and two opposing kinds of organocatalysis. The cascade sequence proceeds within 10–30 min and transforms readily available substrates into complex indoloquinolizines that resemble the core tetracyclic scaffold of numerous polycyclic indole alkaloids. Biological investigation of a corresponding focused compound collection revealed modulators of centrosome integrity, termed centrocountins, which caused fragmented and supernumerary centrosomes, chromosome congression defects, multipolar mitotic spindles, acentrosomal spindle poles and multipolar cell division by targeting the centrosome-associated proteins nucleophosmin and Crm1.
Relevant articles
Open Access articles citing this article.
Kai Yang

,

Ming Wang

…

Jing Yi

Nature Communications Open Access 25 November 2016
Access options
Subscribe to this journal
Receive 12 print issues and online access
$259.00 per year
only $21.58 per issue
Rent or buy this article
Get just this article for as long as you need it
$39.95
Prices may be subject to local taxes which are calculated during checkout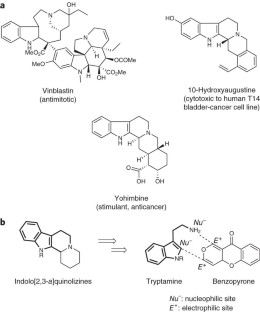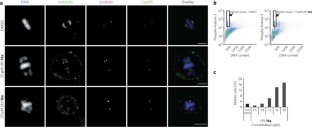 References
Kumar, K. & Waldmann, H. Synthesis of natural product inspired compound collections. Angew. Chem. Int. Ed. Engl. 48, 3224–3242 (2009).

Nören-Muller, A. et al. Discovery of protein phosphatase inhibitor classes by biology-oriented synthesis. Proc. Natl. Acad. Sci. USA 103, 10606–10611 (2006).

Antonchick, A.P. et al. Highly enantioselective synthesis and cellular evaluation of spirooxindoles inspired by natural products. Nat. Chem. 2, 735–740 (2010).

Wetzel, S., Bon, R.S., Kumar, K. & Waldmann, H. Biology oriented synthesis. Angew. Chem. Int. Ed. Engl. 50, 10800–10826 (2011).

Bon, R.S. & Waldmann, H. Bioactivity-guided navigation of chemical space. Acc. Chem. Res. 43, 1103–1114 (2010).

Newman, D.J. & Cragg, G.M. Natural products as sources of new drugs over the last 25 years. J. Nat. Prod. 70, 461–477 (2007).

Carlson, E.E. Natural products as chemical probes. ACS Chem. Biol. 5, 639–653 (2010).

Peterson, J.R. & Mitchison, T.J. Small molecules, big impact: a history of chemical inhibitors and the cytoskeleton. Chem. Biol. 9, 1275–1285 (2002).

Islam, K. et al. A myosin V inhibitor based on privileged chemical scaffolds. Angew. Chem. Int. Ed. Engl. 49, 8484–8488 (2010).

Mayer, T.U. et al. Small molecule inhibitor of mitotic spindle bipolarity identified in a phenotype-based screen. Science 286, 971–974 (1999).

Orosz, F., Horváth, I. & Ovádi, J. New anti-mitotic drugs with distinct anti-calmodulin activity. Mini Rev. Med. Chem. 6, 1145–1157 (2006).

Duflos, A., Kruczynski, A. & Barret, J.M. Novel aspects of natural and modified vinca alkaloids. Curr. Med. Chem. Anticancer Agents 2, 55–70 (2002).

Tietze, L.F. Domino reactions in organic synthesis. Chem. Rev. 96, 115–136 (1996).

Nicolaou, K.C. & Chen, J.S. The art of total synthesis through cascade reactions. Chem. Soc. Rev. 38, 2993–3009 (2009).

Elders, N. et al. The efficient one-pot reaction of up to eight components by the union of multicomponent reactions. Angew. Chem. Int. Ed. Engl. 48, 5856–5859 (2009).

Liu, W., Khedkar, V., Baskar, B., Schurmann, M. & Kumar, K. Branching cascades: a concise synthetic strategy targeting diverse and complex molecular frameworks. Angew. Chem. Int. Ed. Engl. 50, 6900–6905 (2011).

Ishikura, M., Yamada, K. & Abe, T. Simple indole alkaloids and those with a nonrearranged monoterpenoid unit. Nat. Prod. Rep. 27, 1630–1680 (2010).

Lim, M.J. & Wang, X.W. Nucleophosmin and human cancer. Cancer Detect. Prev. 30, 481–490 (2006).

Hutten, S. & Kehlenbach, R.H. CRM1-mediated nuclear export: to the pore and beyond. Trends Cell Biol. 17, 193–201 (2007).

Waldmann, H. et al. Asymmetric synthesis of natural product inspired tricyclic benzopyrones by an organocatalyzed annulation reaction. Angew. Chem. Int. Ed. Engl. 47, 6869–6872 (2008).

Khedkar, V., Liu, W., Duckert, H. & Kumar, K. Efficient and atom-economic synthesis of α-substituted β-chromonyl-α,β-unsaturated carbonyls through molecular rearrangement. Synlett. 2010, 403–406; erratum 2010, 1576 (2010).

Lavilla, R., Gotsens, T., Rodriguez, S. & Bosch, J. Studies on the nucleophilic-addition to 3,5-disubstituted pyridinium salts. Tetrahedron 48, 6445–6454 (1992).

Wenkert, E. et al. General methods of synthesis of indole alkaloids. 14. Short routes of construction of yohimboid and ajmalicinoid alkaloid systems and their C-13 nuclear magnetic-resonance spectral analysis. J. Am. Chem. Soc. 98, 3645–3655 (1976).

Hung, D.T., Jamison, T.F. & Schreiber, S.L. Understanding and controlling the cell cycle with natural products. Chem. Biol. 3, 623–639 (1996).

Amin, M.A., Matsunaga, S., Uchiyama, S. & Fukui, K. Nucleophosmin is required for chromosome congression, proper mitotic spindle formation, and kinetochore-microtubule attachment in HeLa cells. FEBS Lett. 582, 3839–3844 (2008).

Wang, W., Budhu, A., Forgues, M. & Wang, X.W. Temporal and spatial control of nucleophosmin by the Ran-Crm1 complex in centrosome duplication. Nat. Cell Biol. 7, 823–830 (2005).

Liu, Q., Jiang, Q. & Zhang, C. A fraction of Crm1 locates at centrosomes by its CRIME domain and regulates the centrosomal localization of pericentrin. Biochem. Biophys. Res. Commun. 384, 383–388 (2009).

Plafker, K. & Macara, I.G. Facilitated nucleocytoplasmic shuttling of the Ran binding protein RanBP1. Mol. Cell Biol. 20, 3510–3521 (2000).

Roberts, B.J., Hamelehle, K.L., Sebolt, J.S. & Leopold, W.R. In vivo and in vitro anticancer activity of the structurally novel and highly potent antibiotic CI-940 and its hydroxy analog (PD-114,721). Cancer Chemother. Pharmacol. 16, 95–101 (1986).

Yashiroda, Y. & Yoshida, M. Nucleo-cytoplasmic transport of proteins as a target for therapeutic drugs. Curr. Med. Chem. 10, 741–748 (2003).

Wulff, J.E., Siegrist, R. & Myers, A.G. The natural product avrainvillamide binds to the oncoprotein nucleophosmin. J. Am. Chem. Soc. 129, 14444–14451 (2007).

Grisendi, S., Mecucci, C., Falini, B. & Pandolfi, P.P. Nucleophosmin and cancer. Nat. Rev. Cancer 6, 493–505 (2006).
Acknowledgements
We would like to thank T.U. Mayer (Universität Konstanz) for helpful discussions, S. Müller and T. Klüßendorf (Max-Planck-Institut Dortmund) for assistance with the fluorescence lifetime imaging microscopy measurements, C. Nowak for technical assistance, S.J. Martin (Smurfit Institute of Genetics, Trinity College Dublin) for the pET19b-NPM plasmid, A. Wittinghofer (Max-Planck-Institut Dortmund) for the pET3a–Crm1 vector and the Dortmund Protein Facility for cloning NPM-citrine. This work was supported by the European Research Council under the European Union's Seventh Framework Programme (FP7/2007-2013)/ERC Grant agreement no. 268309 to H.W.) and by the Max Planck Gesellschaft.
Ethics declarations
Competing interests
The authors declare no competing financial interests.
Supplementary information
About this article
Cite this article
Dückert, H., Pries, V., Khedkar, V. et al. Natural product–inspired cascade synthesis yields modulators of centrosome integrity. Nat Chem Biol 8, 179–184 (2012). https://doi.org/10.1038/nchembio.758
Received:

Accepted:

Published:

Issue Date:

DOI: https://doi.org/10.1038/nchembio.758