The radical SAM superfamily of enzymes provides, yet again, fertile ground for the discovery of amazing new biochemical transformations. Strong evidence is now presented for an unprecedented radical fragmentation-recombination of L-tryptophan to a derivative that is incorporated into the complex antibiotic nosiheptide, highlighting the versatility of radical mechanisms for complex biochemical reactions.
Access options
Subscribe to Journal
Get full journal access for 1 year
$119.00
only $9.92 per issue
All prices are NET prices.
VAT will be added later in the checkout.
Tax calculation will be finalised during checkout.
Buy article
Get time limited or full article access on ReadCube.
$32.00
All prices are NET prices.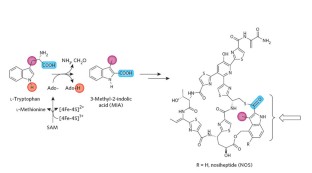 References
Sofia, H.J., Chen, G., Hetzler, B.G., Reyes-Spindola, J.F. & Miller, N.E. Nucleic Acids Res. 29, 1097–1106 (2001).

Frey, P.A., Hegeman, A.D. & Ruzicka, F.J. Crit. Rev. Biochem. Mol. Biol. 43, 63–88 (2008).

Chatterjee, A. et al. Nat. Chem. Biol. 4, 758–765 (2008).

Martinez-Gomez, N.C. & Downs, D.M. Biochemistry 47, 9054–9056 (2008).

Zhang, Q. et al. Nat. Chem. Biol. 7, 154–160 (2011).

Hänzelmann, P. & Schindelin, H. Proc. Natl. Acad. Sci. USA 101, 12870–12875 (2004).

McCarty, R.M., Somogyi, Á., Lin, G., Jacobsen, N.E. & Bandarian, V. Biochemistry 48, 3847–3852.

Yu, Y. et al. ACS Chem. Biol. 4, 855–864 (2009).

Kriek, M., Martins, F., Challand, M.R., Croft, A. & Roach, P.L. Angew. Chem. Int. Edn. Engl. 46, 9223–9226 (2007).

Driesener, R.C. et al. Angew. Chem. Int. Edn. Engl. 49, 1687–1690 (2010).
Ethics declarations
Competing interests
The authors declare no competing financial interests.
About this article
Cite this article
Arcinas, A., Booker, S. Radical break-up, blissful make-up. Nat Chem Biol 7, 133–134 (2011). https://doi.org/10.1038/nchembio.528
Published:

Issue Date:

DOI: https://doi.org/10.1038/nchembio.528