Abstract
Antibiotics are often unstable and can decay into various compounds with potential biological activities. We found that as tetracycline degrades, the competitive advantage conferred to bacteria by resistance not only diminishes but actually reverses to become a prolonged disadvantage due to the activities of more stable degradation products. Tetracycline decay can lead to net selection against resistance, which may help explain the puzzling coexistence of sensitive and resistant strains in natural environments.
Relevant articles
Open Access articles citing this article.
Feng Liu

,

Junwen Mao

…

Ting Lu

Nature Communications Open Access 16 January 2020

Alex Echeverría-Vega

,

Pablo Morales-Vicencio

…

Rubén Araya

Standards in Genomic Sciences Open Access 04 July 2016

Remy Chait

,

Adam C. Palmer

…

Roy Kishony

Nature Communications Open Access 20 January 2016
Access options
Subscribe to Journal
Get full journal access for 1 year
$119.00
only $9.92 per issue
All prices are NET prices.
VAT will be added later in the checkout.
Tax calculation will be finalised during checkout.
Buy article
Get time limited or full article access on ReadCube.
$32.00
All prices are NET prices.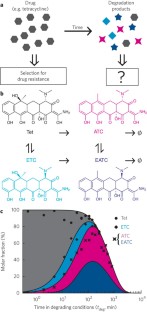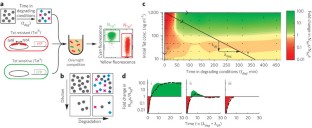 References
Kieser, T, Bibb, M.J., Buttner, M.J., Chater, K.F. & Hopwood, D.A. Practical Streptomyces Genetics (John Innes Foundation, Norwich, UK, 2000).

Yim, G., Wang, H.H. & Davies, J. Phil. Trans. R. Soc. Lond. B 362, 1195–1200 (2007).

Linares, J.F., Gustafsson, I., Baquero, F. & Martinez, J.L. Proc. Natl. Acad. Sci. USA 103, 19484–19489 (2006).

Price-Whelan, A., Dietrich, L.E. & Newman, D.K. Nat. Chem. Biol. 2, 71–78 (2006).

Dantas, G., Sommer, M.O., Oluwasegun, R.D. & Church, G.M. Science 320, 100–103 (2008).

Walsh, C. Antibiotics: Actions, Origins, Resistance (American Society for Microbiology Press, Washington, DC, 2003).

D'Costa, V.M., McGrann, K.M., Hughes, D.W. & Wright, G.D. Science 311, 374–377 (2006).

Halling-Sorensen, B., Sengelov, G. & Tjornelund, J. Arch. Environ. Contam. Toxicol. 42, 263–271 (2002).

Bochner, B.R., Huang, H.C., Schieven, G.L. & Ames, B.N. J. Bacteriol. 143, 926–933 (1980).

Chopra, I., Hawkey, P.M. & Hinton, M. J. Antimicrob. Chemother. 29, 245–277 (1992).

Sarmah, A.K., Meyer, M.T. & Boxall, A.B. Chemosphere 65, 725–759 (2006).

Yuen, P.H. & Sokoloski, T.D. J. Pharm. Sci. 66, 1648–1650 (1977).

Jia, A., Xiao, Y., Hu, J., Asami, M. & Kunikane, S. J. Chromatogr. A 1216, 4655–4662 (2009).

Moyed, H.S., Nguyen, T.T. & Bertrand, K.P. J. Bacteriol. 155, 549–556 (1983).

Eckert, B. & Beck, C.F. J. Bacteriol. 171, 3557–3559 (1989).

Lederer, T. et al. Biochemistry 35, 7439–7446 (1996).

Nguyen, T.N., Phan, Q.G., Duong, L.P., Bertrand, K.P. & Lenski, R.E. Mol. Biol. Evol. 6, 213–225 (1989).

Hegreness, M., Shoresh, N., Hartl, D. & Kishony, R. Science 311, 1615–1617 (2006).

Chait, R., Craney, A. & Kishony, R. Nature 446, 668–671 (2007).

Lenski, R.E. et al. Mol. Ecol. 3, 127–135 (1994).

Kishony, R. & Leibler, S. J. Biol. 2, 14 (2003).

Kelly, R.G. & Buyske, D.A. J. Pharmacol. Exp. Ther. 130, 144–149 (1960).

Levy, S.B., FitzGerald, G.B. & Macone, A.B. N. Engl. J. Med. 295, 583–588 (1976).

Bliss, C.I. Ann. Appl. Biol. 26, 585–615 (1939).

McCormick, J.R., Jensen, E.R., Johnson, S. & Sjolander, N.O. J. Am. Chem. Soc. 90, 2201–2202 (1968).
Acknowledgements
We thank R. Lenski (Michigan State University) for the gift of plasmids, and we thank R. Chait, D. Kahne and F. Solomon for helpful insights and R. Ward and M. Elowitz for comments on the manuscript. This work was supported in part by the Bill and Melinda Gates Foundation through the Grand Challenges Exploration Initiative, US National Institutes of Health grant R01 GM081617 (to R.K.) and a George Murray Scholarship (to A.C.P.).
Supplementary information
About this article
Cite this article
Palmer, A., Angelino, E. & Kishony, R. Chemical decay of an antibiotic inverts selection for resistance. Nat Chem Biol 6, 105–107 (2010). https://doi.org/10.1038/nchembio.289
Received:

Accepted:

Published:

Issue Date:

DOI: https://doi.org/10.1038/nchembio.289