Abstract
Biochemical combinatorial techniques such as phage display, RNA display and oligonucleotide aptamers have proven to be reliable methods for generation of ligands to protein targets. Adapting these techniques to small synthetic molecules has been a long-sought goal. We report the synthesis and interrogation of an 800-million-member DNA-encoded library in which small molecules are covalently attached to an encoding oligonucleotide. The library was assembled by a combination of chemical and enzymatic synthesis, and interrogated by affinity selection. We describe methods for the selection and deconvolution of the chemical display library, and the discovery of inhibitors for two enzymes: Aurora A kinase and p38 MAP kinase.
Access options
Subscribe to Journal
Get full journal access for 1 year
$119.00
only $9.92 per issue
All prices are NET prices.
VAT will be added later in the checkout.
Tax calculation will be finalised during checkout.
Buy article
Get time limited or full article access on ReadCube.
$32.00
All prices are NET prices.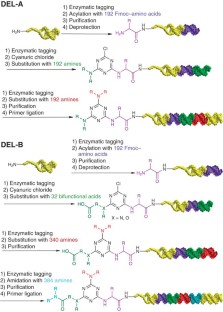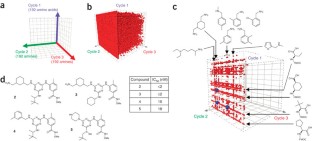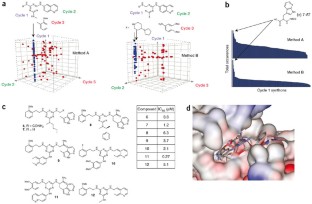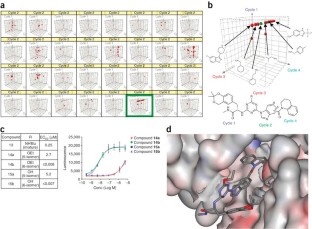 References
Smith, G.P. Filamentous fusion phage: novel expression vectors that display cloned antigens on the virion surface. Science 228, 1315–1317 (1985).

Barbas, C.F. III. Recent advances in phage display. Curr. Opin. Biotechnol. 4, 526–530 (1993).

Wilson, D.S., Keefe, A.D. & Szostak, J.W. The use of mRNA display to select high-affinity protein-binding peptides. Proc. Natl. Acad. Sci. USA 98, 3750–3755 (2001).

Frankel, A., Li, S., Starck, S.R. & Roberts, R.W. Unnatural RNA display libraries. Curr. Opin. Struct. Biol. 13, 506–512 (2003).

Ellington, A.D. & Szostak, J.W. In vitro selection of RNA molecules that bind specific ligands. Nature 346, 818–822 (1990).

Joyce, G.F. Amplification, mutation and selection of catalytic RNA. Gene 82, 83–87 (1989).

Tuerk, C. & Gold, L. Systematic evolution of ligands by exponential enrichment: RNA ligands to bacteriophage T4 DNA polymerase. Science 249, 505–510 (1990).

Brenner, S. & Lerner, R.A. Encoded combinatorial chemistry. Proc. Natl. Acad. Sci. USA 89, 5381–5383 (1992).

Melkko, S., Dumelin, C.E., Scheuermann, J. & Neri, D. Lead discovery by DNA-encoded chemical libraries. Drug Discov. Today 12, 465–471 (2007).

Li, X. & Liu, D.R. DNA-templated organic synthesis: nature's strategy for controlling chemical reactivity applied to synthetic molecules. Angew. Chem. Int. Ed. 43, 4848–4870 (2004).

Halpin, D.R., Lee, J.A., Wrenn, S.J. & Harbury, P.B. DNA display. III. Solid-phase organic synthesis on unprotected DNA. PLoS Biol. 2, 1031–1038 (2004).

Wrenn, S.J., Weisinger, R.W., Halpin, D.R. & Harbury, P.B. Synthetic ligands discovered by in vitro selection. J. Am. Chem. Soc. 129, 13137–13143 (2007).

Melkko, S., Scheurmann, J., Dumelin, C.E. & Neri, D. Encoded self-assembling chemical libraries. Nat. Biotechnol. 22, 568–574 (2004).

Buller, F. et al. Design and synthesis of a novel DNA-encoded chemical library using Diels-Alder cycloadditions. Bioorg. Med. Chem. Lett. 18, 5926–5931 (2008).

Hansen, M.H. et al. A Yoctoliter-scale DNA reactor for small-molecule evolution. J. Am. Chem. Soc. 131, 1322–1327 (2009).

Morgan, B. et al. Synthesis of combinatorial libraries containing encoding oligonucleotide tags. WO patent application 2007/053358 (2007).

Kinoshita, Y. & Nishigaki, K. Enzymic synthesis of code regions for encoded combinational chemistry (ECC). in Nucleic Acids Symposium Series No. 34, 201–202 (Oxford University Press, Oxford, 1995).

Leftheris, K. et al. The discovery of orally active triaminotriazine aniline amides as inhibitors of p38 MAP kinase. J. Med. Chem. 47, 6283–6291 (2004).

Margulies, M. et al. Genome sequencing in microfabricated high-density picolitre reactors. Nature 437, 376–380 (2005).

Mannoci, L. et al. High-throughput sequencing allows the identification of binding molecules isolated from DNA-encoded chemical libraries. Proc. Natl. Acad. Sci. USA 105, 17670–17675 (2008).

Harrington, E. et al. VX-680, a potent and selective small-molecule inhibitor of the Aurora kinases, suppresses tumor growth in vivo. Nat. Med. 10, 262–267 (2004).

Mortlock, A.A. et al. Progress in the development of selective inhibitors of Aurora Kinases. Curr. Top. Med. Chem. 5, 807–821 (2005).

Burns, C.J., Wilks, A.F. & Bu, X. Preparation of pyrazine derivatives as kinase inhibitors. WO patent 2005/054230 (2005).

Western, E.C., Daft, J.R., Johnson, E.M., II, Gannett, P.M. & Shaughnessy, K.H. Efficient one-step Suzuki arylation of unprotected halonucleosides, using water-soluble palladium catalysts. J. Org. Chem. 68, 6767–6774 (2003).

Gartner, Z.J., Kanan, M.W. & Liu, D.R. Expanding the reaction scope of DNA-templated synthesis. Angew. Chem. Int. Ed. 41, 1796–1800 (2002).
Supplementary information
About this article
Cite this article
Clark, M., Acharya, R., Arico-Muendel, C. et al. Design, synthesis and selection of DNA-encoded small-molecule libraries. Nat Chem Biol 5, 647–654 (2009). https://doi.org/10.1038/nchembio.211
Received:

Accepted:

Published:

Issue Date:

DOI: https://doi.org/10.1038/nchembio.211
Further reading
Alexander L. Satz
Andreas Brunschweiger
Jörg Scheuermann

Nature Reviews Methods Primers (2022)

Yiran Huang
Yizhou Li
Xiaoyu Li

Nature Chemistry (2022)

Balayeshwanth R. Vummidi
Lluc Farrera-Soler
Nicolas Winssinger

Nature Chemistry (2022)