A phenotypic cell-based screen identifies an inhibitor of BET bromodomain transcriptional activity via inhibition of the alternative bromodomain-containing protein TAF1.
Access options
Subscribe to Journal
Get full journal access for 1 year
$119.00
only $9.92 per issue
All prices are NET prices.
VAT will be added later in the checkout.
Tax calculation will be finalised during checkout.
Buy article
Get time limited or full article access on ReadCube.
$32.00
All prices are NET prices.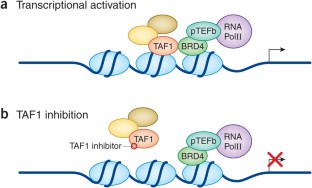 References
Filippakopoulos, P. & Knapp, S. Nat. Rev. Drug Discov. 13, 337–356 (2014).

Sdelci, S. et al. Nat. Chem. Biol. 12, 504–510 (2016).

Lovén, J. et al. Cell 153, 320–334 (2013).

Liu, X., Vorontchikhina, M., Wang, Y.L., Faiola, F. & Martinez, E. Mol. Cell. Biol. 28, 108–121 (2008).

Li, H.-H., Li, A.G., Sheppard, H.M. & Liu, X. Mol. Cell 13, 867–878 (2004).

Belkina, A.C. & Denis, G.V. Nat. Rev. Cancer 12, 465–477 (2012).

Vidler, L.R., Brown, N., Knapp, S. & Hoelder, S. J. Med. Chem. 55, 7346–7359 (2012).

Tran, T.A. et al. ACS Chem. Biol. 9, 2603–2611 (2014).

Wang, L. et al. Nat. Commun. 4, 2035 (2013).

Zengerle, M., Chan, K.H. & Ciulli, A. ACS Chem. Biol. 10, 1770–1777 (2015).
Ethics declarations
Competing interests
The author declares no competing financial interests.
About this article
Cite this article
Burns, C. A BET inhibitor workaround. Nat Chem Biol 12, 469–470 (2016). https://doi.org/10.1038/nchembio.2107
Published:

Issue Date:

DOI: https://doi.org/10.1038/nchembio.2107