Abstract
We engineered a photoactivatable system for rapidly and reversibly exporting proteins from the nucleus by embedding a nuclear export signal in the LOV2 domain from phototropin 1. Fusing the chromatin modifier Bre1 to the photoswitch, we achieved light-dependent control of histone H2B monoubiquitylation in yeast, revealing fast turnover of the ubiquitin mark. Moreover, this inducible system allowed us to dynamically monitor the status of epigenetic modifications dependent on H2B ubiquitylation.
Relevant articles
Open Access articles citing this article.
Yang Shen

,

Alessandro Luchetti

…

Alcino J. Silva

Molecular Brain Open Access 04 January 2022

npj Systems Biology and Applications Open Access 11 March 2021

Agnieszka A. Gil

,

César Carrasco-López

…

Jared E. Toettcher

Nature Communications Open Access 13 August 2020
Access options
Subscribe to Journal
Get full journal access for 1 year
$119.00
only $9.92 per issue
All prices are NET prices.
VAT will be added later in the checkout.
Tax calculation will be finalised during checkout.
Buy article
Get time limited or full article access on ReadCube.
$32.00
All prices are NET prices.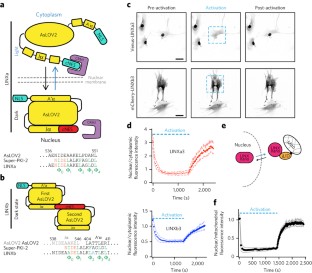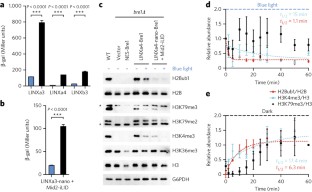 References
Tischer, D. & Weiner, O.D. Nat. Rev. Mol. Cell Biol. 15, 551–558 (2014).

Yang, X., Jost, A.P.-T., Weiner, O.D. & Tang, C. Mol. Biol. Cell 24, 2419–2430 (2013).

Gautier, A. et al. J. Am. Chem. Soc. 132, 4086–4088 (2010).

Yumerefendi, H. et al. PLoS One 10, e0128443 (2015).

Niopek, D. et al. Nat. Comm. 5, 4404 (2014).

Harper, S.M., Neil, L.C. & Gardner, K.H. Science 301, 1541–1544 (2003).

Zayner, J.P., Antoniou, C. & Sosnick, T.R. J. Mol. Biol. 419, 61–74 (2012).

Hutten, S. & Kehlenbach, R.H. Trends Cell Biol. 17, 193–201 (2007).

Güttler, T. et al. Nat. Struct. Mol. Biol. 17, 1367–1376 (2010).

Hodel, M.R., Corbett, A.H. & Hodel, A.E. J. Biol. Chem. 276, 1317–1325 (2001).

Guntas, G. et al. Proc. Natl. Acad. Sci. USA 112, 112–117 (2015).

Hodel, A.E. et al. J. Biol. Chem. 281, 23545–23556 (2006).

Xiao, T. et al. Mol. Cell. Biol. 25, 637–651 (2005).

Fuchs, G., Hollander, D., Voichek, Y., Ast, G. & Oren, M. Genome Res. 24, 1572–1583 (2014).

Henry, K.W. et al. Genes Dev. 17, 2648–2663 (2003).

Kosugi, S., Hasebe, M., Tomita, M. & Yanagawa, H. Proc. Natl. Acad. Sci. USA 106, 10171–10176 (2009).

Sun, Z.-W. & Allis, C.D. Nature 418, 104–108 (2002).

Briggs, S.D. et al. Nature 418, 498 (2002).

Huang, F. et al. J. Biol. Chem. http://dx.doi.org/10.1074/jbc.M115.693085 (2015).

Katan-Khaykovich, Y. & Struhl, K. EMBO J. 24, 2138–2149 (2005).

Cai, L., Makhov, A.M., Schafer, D.A. & Bear, J.E. Cell 134, 828–842 (2008).

Hallett, R.A., Zimmerman, S.P., Yumerefendi, H., Bear, J.E. & Kuhlman, B. ACS Synth. Biol. 5, 53–64 (2016).

Gietz, R.D. & Schiestl, R.H. Nat. Protoc. 2, 35–37 (2007).
Acknowledgements
We would like to thank D. Dickinson for help with C. elegans injections, H. Meriesh for providing a plasmid containing BRE1, and R. Dronamraju and Z.-W. Sun for helpful discussions. Funding: J.E.B. (NIH GM111557), B.K., K.H., B.S. (NIH DA036877), K.H. (GM102924).
Ethics declarations
Competing interests
The authors declare no competing financial interests.
Supplementary information
About this article
Cite this article
Yumerefendi, H., Lerner, A., Zimmerman, S. et al. Light-induced nuclear export reveals rapid dynamics of epigenetic modifications. Nat Chem Biol 12, 399–401 (2016). https://doi.org/10.1038/nchembio.2068
Received:

Accepted:

Published:

Issue Date:

DOI: https://doi.org/10.1038/nchembio.2068