Abstract
Post-translational modifications (PTMs) have key roles in regulating protein-protein interactions in living cells. However, it remains a challenge to identify these PTM-mediated interactions. Here we develop a new lysine-based photo-reactive amino acid, termed photo-lysine. We demonstrate that photo-lysine, which is readily incorporated into proteins by native mammalian translation machinery, can be used to capture and identify proteins that recognize lysine PTMs, including 'readers' and 'erasers' of histone modifications.
Relevant articles
Open Access articles citing this article.
Abbas H. K. Al Temimi

,

Vu Tran

…

Jasmin Mecinović

Scientific Reports Open Access 28 February 2020

Ayami Kita

,

Nobumasa Hino

…

Takefumi Doi

Scientific Reports Open Access 11 November 2016
Access options
Subscribe to Journal
Get full journal access for 1 year
$119.00
only $9.92 per issue
All prices are NET prices.
VAT will be added later in the checkout.
Tax calculation will be finalised during checkout.
Buy article
Get time limited or full article access on ReadCube.
$32.00
All prices are NET prices.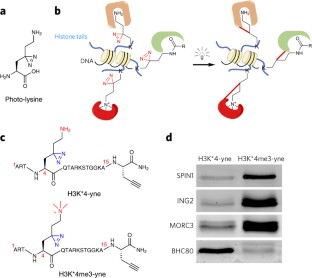 References
Walsh, C.T. Posttranslational Modifications of Proteins: Expanding Nature's Inventory (Roberts and Co. Publishers, Greenwood Village, Colorado, USA, 2006).

Pham, N.D., Parker, R.B. & Kohler, J.J. Curr. Opin. Chem. Biol. 17, 90–101 (2013).

Suchanek, M., Radzikowska, A. & Thiele, C. Nat. Methods 2, 261–267 (2005).

Lan, F. et al. Nature 448, 718–722 (2007).

Musrati, R.A., Kollárová, M., Mernik, N. & Mikulásová, D. Gen. Physiol. Biophys. 17, 193–210 (1998).

Nemoto, T., Ohara-Nemoto, Y., Ota, M., Takagi, T. & Yokoyama, K. Eur. J. Biochem. 233, 1–8 (1995).

Bukau, B. & Horwich, A.L. Cell 92, 351–366 (1998).

Walker, J.R., Corpina, R.A. & Goldberg, J. Nature 412, 607–614 (2001).

Roth, S.Y., Denu, J.M. & Allis, C.D. Annu. Rev. Biochem. 70, 81–120 (2001).

Wang, H. et al. Mol. Cell 8, 1207–1217 (2001).

Nishioka, K. et al. Genes Dev. 16, 479–489 (2002).

Houtkooper, R.H., Pirinen, E. & Auwerx, J. Nat. Rev. Mol. Cell Biol. 13, 225–238 (2012).

Li, Y. et al. Cell 159, 558–571 (2014).

Tippmann, E.M., Liu, W., Summerer, D., Mack, A.V. & Schultz, P.G. ChemBioChem 8, 2210–2214 (2007).

Chou, C.J., Uprety, R., Davis, L., Chin, J.W. & Deiters, A. Chem. Sci. (Camb.) 2, 480–483 (2011).

Zhang, M. et al. Nat. Chem. Biol. 7, 671–677 (2011).

Muir, T.W. Annu. Rev. Biochem. 72, 249–289 (2003).

Chin, J.W. Annu. Rev. Biochem. 83, 379–408 (2014).

Yang, Y.Y., Grammel, M., Raghavan, A.S., Charron, G. & Hang, H.C. Chem. Biol. 17, 1212–1222 (2010).

Du, J. et al. Science 334, 806–809 (2011).

Hubbard, B.P. et al. Science 339, 1216–1219 (2013).

Bao, X. et al. eLife 3, e02999 (2014).

Yang, T.P., Liu, Z. & Li, X.D. Chem. Sci. (Camb.) 6, 1011–1017 (2015).

Filippakopoulos, P. et al. Cell 149, 214–231 (2012).

Couture, J.F., Collazo, E., Hauk, G. & Trievel, R.C. Nat. Struct. Mol. Biol. 13, 140–146 (2006).

Shechter, D., Dormann, H.L., Allis, C.D. & Hake, S.B. Nat. Protoc. 2, 1445–1457 (2007).

Goldberg, D. et al. J. Proteome Res. 6, 3995–4005 (2007).
Acknowledgements
We acknowledge support from the Hong Kong Research Grants Council General Research Fund (GRF 17303114, GRF 17127915), Early Career Scheme (ECS) (HKU 709813P ) and Collaborative Research Fund (CRF C7037-14G). We acknowledge the University of Hong Kong for an e-SRT on Integrative Biology and grants from the Seed Funding Program (201411159101, 201409160027, 201311159007 and 201309176090). We thank X. Li for discussion. We thank E. Verdin (University of California, San Francisco), Q. Hao (The University of Hong Kong), H. Li (Tsinghua University), R.C. Trievel (University of Michigan), K. Guan (Fudan University) and H. Sun (City University of Hong Kong) for providing the plasmids.
Ethics declarations
Competing interests
The authors declare no competing financial interests.
Supplementary information
About this article
Cite this article
Yang, T., Li, XM., Bao, X. et al. Photo-lysine captures proteins that bind lysine post-translational modifications. Nat Chem Biol 12, 70–72 (2016). https://doi.org/10.1038/nchembio.1990
Received:

Accepted:

Published:

Issue Date:

DOI: https://doi.org/10.1038/nchembio.1990