Selecting compounds for the chemical library is the foundation of high-throughput screening (HTS). After some years and multiple HTS campaigns, many molecules in the Novartis and NIH Molecular Libraries Program screening collections have never been found to be active. An in-depth exploration of the bioactivity of this 'dark matter' does in fact reveal some compounds of interest.
Access options
Subscribe to Journal
Get full journal access for 1 year
$59.00
only $4.92 per issue
All prices are NET prices.
VAT will be added later in the checkout.
Tax calculation will be finalised during checkout.
Rent or Buy article
Get time limited or full article access on ReadCube.
from$8.99
All prices are NET prices.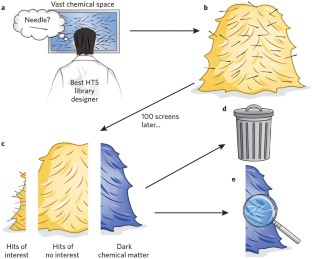 References
1

Wassermann, A.M. et al. Nat. Chem. Biol. doi:10.1038/nchembio.1936 (19 October 2015).

2

Polishchuk, P.G. et al. J. Comput. Aided Mol. Des. 27, 675–679 (2013).

3

Huggins, D.J. et al. ACS Chem. Biol. 6, 208–217 (2011).

4

Baell, J.B. & Holloway, G.A. J. Med. Chem. 53, 2719–2740 (2010).

5

Leeson, P.D. & Springthorpe, B. Nat. Rev. Drug Discov. 6, 881–890 (2007).
Ethics declarations
Competing interests
The author declares no competing financial interests.
About this article
Cite this article
Macarron, R. How dark is HTS dark matter?. Nat Chem Biol 11, 904–905 (2015). https://doi.org/10.1038/nchembio.1937