Abstract
We transformed an alkaloid biosynthetic gene with reengineered substrate specificity into Catharanthus roseus. The resulting transgenic plant cell culture produced a variety of unnatural alkaloid compounds when cocultured with simple, achiral, commercially available precursors that the reengineered enzyme was designed to accept. This work demonstrates the power of genetic engineering to retailor the structures of complex alkaloid natural products in plant culture.
This is a preview of subscription content
Access options
Subscribe to Journal
Get full journal access for 1 year
$119.00
only $9.92 per issue
All prices are NET prices.
VAT will be added later in the checkout.
Tax calculation will be finalised during checkout.
Buy article
Get time limited or full article access on ReadCube.
$32.00
All prices are NET prices.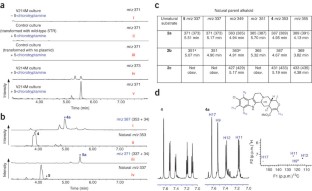 References
Ganesan, A. Curr. Opin. Chem. Biol. 12, 306–317 (2008).

Menzella, H.G. & Reeves, C.D. Curr. Opin. Microbiol. 10, 238–245 (2007).

Yun, D.-J., Hashimoto, T. & Yamada, Y. Proc. Natl. Acad. Sci. USA 89, 11799–11803 (1992).

Ye, X. et al. Science 287, 303–305 (2000).

Katsuyama, Y., Funa, N., Miyahisa, I. & Horinouchi, S. Chem. Biol. 14, 613–621 (2007).

Schmidt-Dannert, C., Umeno, D. & Arnold, F.H . Nat. Biotechnol. 18, 750–753 (2000).

O'Connor, S.E. & Maresh, J.J. Nat. Prod. Rep. 23, 532–547 (2006).

Minami, H. et al. Proc. Natl. Acad. Sci. USA 105, 7393–7398 (2008).

Hawkins, K.M. & Smolke, C.D. Nat. Chem. Biol. 4, 564–573 (2008).

Bernhardt, P., McCoy, E. & O'Connor, S.E. Chem. Biol. 14, 888–897 (2007).

Ma, X. et al. Plant Cell 18, 907–920 (2006).

Chen, S., Galan, M.C., Coltharp, C. & O'Connor, S.E. Chem. Biol. 13, 1137–1141 (2006).

Loris, E. et al. Chem. Biol. 14, 979–985 (2007).

Toivonen, L., Balsevich, J. & Kurz, W.G.W. Plant Cell Tissue Organ Cult. 18, 79–93 (1989).

Hughes, E.H., Hong, S.-B., Shanks, J.V., San, K.-Y. & Gibson, S.I. Biotechnol. Prog. 18, 1183–1186 (2002).
Acknowledgements
We gratefully acknowledge J. Shanks and C. Peebles (Iowa State) for detailed advice in the transformation procedure. CAMBIA is acknowledged for providing the pCAMBIA vectors, and N.-H. Chua (Rockefeller) is acknowledged for providing pTA7002. We thank L. Smeester (MIT) for assistance with rt-PCR, J.J. Maresh (MIT) for helpful discussions regarding the Agrobacterium transformation and N. Nims (MIT) for helpful suggestions regarding primer design for rt-PCR experiments. N. Yerkes (MIT) generously provided strictosidine standards. We thank T. Kutchan (Danforth Plant Science Center) for suggesting the pCAMBIA vector system. We gratefully acknowledge J. Simpson's (MIT) assistance in obtaining two-dimensional NMR data. This work was supported by the US National Science Foundation (MCB0719120). We acknowledge the US National Institutes of Health and the American Cancer Society for additional support.
Supplementary information
Supplementary Figures 1–7, Supplementary Table 1 and Supplementary Methods (PDF 1636 kb)
About this article
Cite this article
Runguphan, W., O'Connor, S. Metabolic reprogramming of periwinkle plant culture. Nat Chem Biol 5, 151–153 (2009). https://doi.org/10.1038/nchembio.141
Received:

Accepted:

Published:

Issue Date:

DOI: https://doi.org/10.1038/nchembio.141