Abstract
We identify an Arabidopsis pyridoxal-phosphate–dependent aminotransferase, VAS1, whose loss-of-function simultaneously increases amounts of the phytohormone auxin and the ethylene precursor 1-aminocyclopropane-1-carboxylate. VAS1 uses the ethylene biosynthetic intermediate methionine as an amino donor and the auxin biosynthetic intermediate indole-3-pyruvic acid as an amino acceptor to produce L-tryptophan and 2-oxo-4-methylthiobutyric acid. Our data indicate that VAS1 serves key roles in coordinating the amounts of these two vital hormones.
This is a preview of subscription content
Access options
Subscribe to Journal
Get full journal access for 1 year
$119.00
only $9.92 per issue
All prices are NET prices.
VAT will be added later in the checkout.
Tax calculation will be finalised during checkout.
Buy article
Get time limited or full article access on ReadCube.
$32.00
All prices are NET prices.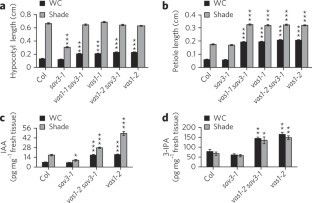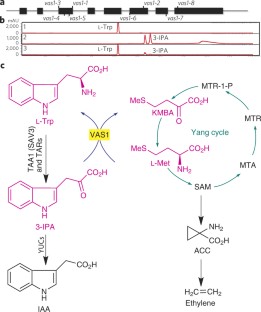 Accession codes
Primary accessions
GenBank/EMBL/DDBJ
References
Santner, A. & Estelle, M. Nature 459, 1071–1078 (2009).

Jaillais, Y. & Chory, J. Nat. Struct. Mol. Biol. 17, 642–645 (2010).

Franklin, K.A. New Phytol. 179, 930–944 (2008).

Li, L. et al. Genes Dev. 26, 785–790 (2012).

Tao, Y. et al. Cell 133, 164–176 (2008).

Stepanova, A.N. et al. Cell 133, 177–191 (2008).

Yamada, M., Greenham, K., Prigge, M.J., Jensen, P.J. & Estelle, M. Plant Physiol. 151, 168–179 (2009).

Stepanova, A.N. et al. Plant Cell 23, 3961–3973 (2011).

Won, C. et al. Proc. Natl. Acad. Sci. USA 108, 18518–18523 (2011).

Mashiguchi, K. et al. Proc. Natl. Acad. Sci. USA 108, 18512–18517 (2011).

Zhao, Y. Mol Plant 5, 334–338 (2012).

Liepman, A.H. & Olsen, L.I. Crit. Rev. Plant Sci. 23, 73–89 (2004).

Ulmasov, T., Murfett, J., Hagen, G. & Guilfoyle, T.J. Plant Cell 9, 1963–1971 (1997).

Albers, E. IUBMB Life 61, 1132–1142 (2009).

Bürstenbinder, K., Rzewuski, G., Wirtz, M., Hell, R. & Sauter, M. Plant J. 49, 238–249 (2007).

Baur, A.H. & Yang, S.F. Phytochemistry 11, 3207–3214 (1972).

Tsuchisaka, A. & Theologis, A. Plant Physiol. 136, 2982–3000 (2004).

Alonso, J.M., Hirayama, T., Roman, G., Nourizadeh, S. & Ecker, J.R. Science 284, 2148–2152 (1999).

Pierik, R., Djakovic-Petrovic, T., Keuskamp, D.H., de Wit, M. & Voesenek, L.A. Plant Physiol. 149, 1701–1712 (2009).

Poeggeler, B. et al. Brain Res. 815, 382–388 (1999).

Chowdhury, G. et al. Chem. Res. Toxicol. 22, 1905–1912 (2009).

Lukowitz, W., Gillmor, C.S. & Scheible, W.R. Plant Physiol. 123, 795–805 (2000).

Nakagawa, T. et al. J. Biosci. Bioeng. 104, 34–41 (2007).

Jez, J.M., Ferrer, J.L., Bowman, M.E., Dixon, R.A. & Noel, J.P. Biochemistry 39, 890–902 (2000).

Smets, R., Claes, V., Van Onckelen, H.A. & Prinsen, E. J. Chromatogr. A 993, 79–87 (2003).

Edlund, A., Eklof, S., Sundberg, B., Moritz, T. & Sandberg, G. Plant Physiol. 108, 1043–1047 (1995).

Tam, Y.Y. & Normanly, J. J. Chromatogr. A 800, 101–108 (1998).

Kowalczyk, M. & Sandberg, G. Plant Physiol. 127, 1845–1853 (2001).

Rittenberg, D. & Foster, L. J. Biol. Chem. 133, 737–744 (1940).

Tamura, K., Dudley, J., Nei, M. & Kumar, S. Mol. Biol. Evol. 24, 1596–1599 (2007).
Acknowledgements
We thank W. Chen for technical assistance and the Arabidopsis Biological Resource Center for mutant seeds. These studies were supported by US National Institutes of Health (NIH) grant 5R01GM52413 to J.C., the Internal Grant Agency of Palacký University (PrF_2012_016) and the Grant Agency of the Academy of Sciences of the Czech Republic (KAN200380801) to O.N., the Swedish Governmental Agency for Innovation Systems and the Swedish Research Council (K.L.), NIH grant R01GM68631 to Y.Z., the National Science Foundation under award nos. EEC-0813570 and MCB-0645794 to J.P.N. and the Howard Hughes Medical Institute (Z.Z., J.P.N., J.C.).
Ethics declarations
Competing interests
The authors declare no competing financial interests.
Supplementary information
About this article
Cite this article
Zheng, Z., Guo, Y., Novák, O. et al. Coordination of auxin and ethylene biosynthesis by the aminotransferase VAS1. Nat Chem Biol 9, 244–246 (2013). https://doi.org/10.1038/nchembio.1178
Received:

Accepted:

Published:

Issue Date:

DOI: https://doi.org/10.1038/nchembio.1178