Abstract
The finding that oxygenase-catalyzed protein hydroxylation regulates animal transcription raises questions as to whether the translation machinery and prokaryotic proteins are analogously modified. Escherichia coli ycfD is a growth-regulating 2-oxoglutarate oxygenase catalyzing arginyl hydroxylation of the ribosomal protein Rpl16. Human ycfD homologs, Myc-induced nuclear antigen (MINA53) and NO66, are also linked to growth and catalyze histidyl hydroxylation of Rpl27a and Rpl8, respectively. This work reveals new therapeutic possibilities via oxygenase inhibition and by targeting modified over unmodified ribosomes.
Relevant articles
Open Access articles citing this article.
Rasheduzzaman Chowdhury

,

Martine I. Abboud

…

Christopher J. Schofield

Scientific Reports Open Access 11 April 2022

Him K. Shrestha

,

Manasa R. Appidi

…

Paul E. Abraham

BMC Microbiology Open Access 08 November 2021

Chitra Thakur

,

Bailing Chen

…

Fei Chen

Signal Transduction and Targeted Therapy Open Access 21 September 2018
Access options
Subscribe to Journal
Get full journal access for 1 year
$119.00
only $9.92 per issue
All prices are NET prices.
VAT will be added later in the checkout.
Tax calculation will be finalised during checkout.
Buy article
Get time limited or full article access on ReadCube.
$32.00
All prices are NET prices.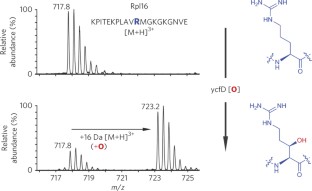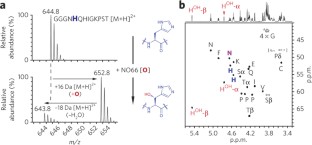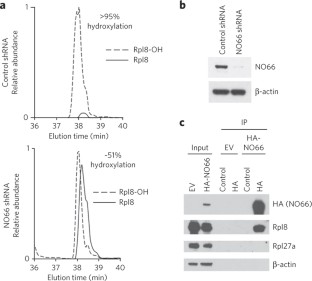 References
Kaelin, W.G. Jr. & Ratcliffe, P.J. Mol. Cell 30, 393–402 (2008).

Klose, R.J., Kallin, E.M. & Zhang, Y. Nat. Rev. Genet. 7, 715–727 (2006).

Webby, C.J. et al. Science 325, 90–93 (2009).

Hausinger, R.P. Crit. Rev. Biochem. Mol. Biol. 39, 21–68 (2004).

Loenarz, C. & Schofield, C.J. Trends Biochem. Sci. 36, 7–18 (2011).

Iyer, L.M., Abhiman, S., de Souza, R.F. & Aravind, L. Nucleic Acids Res. 38, 5261–5279 (2010).

Lu, Y. et al. Cell Cycle 8, 2101–2109 (2009).

Sinha, K.M., Yasuda, H., Coombes, M.M., Dent, S.Y. & de Crombrugghe, B. EMBO J. 29, 68–79 (2010).

Baba, T. et al. Mol. Syst. Biol. 2, 2006.0008 (2006).

Yin, X. & Zabriskie, T.M. ChemBioChem 5, 1274–1277 (2004).

Kaczanowska, M. & Ryden-Aulin, M. Microbiol. Mol. Biol. Rev. 71, 477–494 (2007).

Suzuki, C. et al. Mol. Cancer Ther. 6, 542–551 (2007).

Teye, K. et al. Am. J. Pathol. 164, 205–216 (2004).

Tsuneoka, M., Koda, Y., Soejima, M., Teye, K. & Kimura, H. J. Biol. Chem. 277, 35450–35459 (2002).

Zhang, Y. et al. Oncogene 24, 4873–4882 (2005).

Fukahori, S. et al. J. Pediatr. Surg. 42, 1831–1840 (2007).

Ishizaki, H. et al. Pathol. Int. 57, 672–680 (2007).

Ogasawara, S. et al. Hepatol. Res. 40, 330–336 (2010).

Tsuneoka, M. et al. Clin. Cancer Res. 10, 7347–7356 (2004).

Eilbracht, J., Kneissel, S., Hofmann, A. & Schmidt-Zachmann, M.S. Eur. J. Cell Biol. 84, 279–294 (2005).

Eilbracht, J. et al. Mol. Biol. Cell 15, 1816–1832 (2004).

Coleman, M.L. & Ratcliffe, P.J. Curr. Pharm. Des. 15, 3904–3907 (2009).

Fu, Y. et al. Angew. Chem. Int. Edn Engl. 49, 8885–8888 (2010).

Noma, A. et al. J. Biol. Chem. 285, 34503–34507 (2010).

Mullen, A.R. & Deberardinis, R.J. Trends Endocrinol. Metab. published online, doi:10.1016/j.tem.2012.06.009 (1 August 2012).
Acknowledgements
We thank the Biotechnology and Biological Sciences Research Council (BB/G014124/1 to P.J.R. and C.J.S.), Wellcome Trust (091857/Z/10/Z to P.J.R. and C.J.S.), Cancer Research UK for studentships (to R.S. and A.Z.), the Slovenian Academy of Sciences and Arts (R.S.), the Oxford Cancer Research Centre (M.L.C.) and the Oak Foundation (M.L.C.) for funding. We thank C. Ducho (Georg-August University, Göttingen, Germany) for the kind gift of standards of hydroxyarginine stereoisomers, R. Fischer for generating MS data and U. Ackermann and C. Tessmer for technical assistance in antibody preparation. R.B.H. is on leave from the Department of Pharmacognosy, Assiut University, Egypt.
Ethics declarations
Competing interests
The authors declare no competing financial interests.
Supplementary information
About this article
Cite this article
Ge, W., Wolf, A., Feng, T. et al. Oxygenase-catalyzed ribosome hydroxylation occurs in prokaryotes and humans. Nat Chem Biol 8, 960–962 (2012). https://doi.org/10.1038/nchembio.1093
Received:

Accepted:

Published:

Issue Date:

DOI: https://doi.org/10.1038/nchembio.1093