Electron transfer between ions and water is of fundamental interest for many processes in biology and chemistry. Now, using core-electron excitation of hydrated iron cations, ultrafast electron transfer to the coordinating water molecules has been detected.
Access options
Subscribe to Journal
Get full journal access for 1 year
$160.00
only $13.33 per issue
All prices are NET prices.
VAT will be added later in the checkout.
Rent or Buy article
Get time limited or full article access on ReadCube.
from$8.99
All prices are NET prices.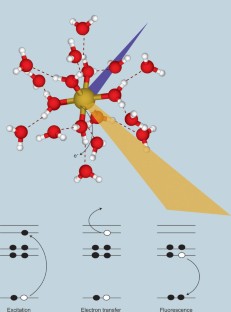 References
1

Ball, P. Chem. Rev. 108, 74–108 (2008).

2

Marcus, Y. Chem. Rev. 109, 1346–1370 (2009).

3

Näslund, L. Å. et al. J. Phys. Chem. A 107, 6869–6876 (2003).

4

Aziz, E. F., Rittmann-Frank, M. H., Lange, K. M., Bonhommeau, S. & Chergui, M. Nature Chem. 2, 853–857 10.1038/nchem.768(2010).

5

Stöhr, J. NEXAFS Spectroscopy (Springer, 1992).
About this article
Cite this article
Nilsson, A. Transferring electrons to water. Nature Chem 2, 800–802 (2010). https://doi.org/10.1038/nchem.807