New methodology that couples together carbonyl compounds with boronic acids shows much promise for synthesis owing to ease of access of the building blocks, functional group tolerance and broad scope of the reaction.
Access options
Subscribe to Journal
Get full journal access for 1 year
$169.00
only $14.08 per issue
All prices are NET prices.
VAT will be added later in the checkout.
Rent or Buy article
Get time limited or full article access on ReadCube.
from$8.99
All prices are NET prices.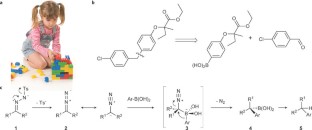 References
1

Barluenga, J., Tomás-Gamasa, M., Aznar, F. & Valdés, C. Nature Chem. 1, 494–499 10/1038/nchem.328(2009).

2

Hooz, J. & Linke, S. J. Am. Chem. Soc. 90, 5936–5937 (1968).

3

Brown, H. C., Midland, M. M. & Levy, A. B. J. Am. Chem. Soc. 94, 3662–3664 (1972).

4

Peng, C., Zhang, W., Yan, G. & Wang, J. Org. Lett. 11, 1667–1670 (2009).

5

Closs, G. L. & Moss, R. A. J. Am. Chem. Soc. 86, 4042–4053 (1964).

6

Fulton, J. R., Aggarwal, V. K. & de Vicente, J. Eur. J. Org. Chem. 1479–1492 (2005).
About this article
Cite this article
Aggarwal, V. New uses for old building blocks. Nature Chem 1, 433–434 (2009). https://doi.org/10.1038/nchem.346
Further reading
Naijing Su

,

Juliana A. Theorell

,

Donald J. Wink

&

Tom G. Driver

Angewandte Chemie (2015)

Naijing Su

,

Juliana A. Theorell

,

Donald J. Wink

&

Tom G. Driver

Angewandte Chemie International Edition (2015)