A trinuclear nickel cluster is the basis for a porous material with a highly connected and symmetric structure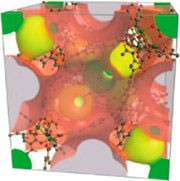 Porous coordination polymers have simple and highly connected networks that form extremely open framework materials. Most of them are formed by four- or six-coordinate metal ions in a square planar, octahedral or trigonal prismatic environment.
Now, Xiao-Ming Chen, Jie-Peng Zhang and colleagues from Sun Yat-Sen University in Guangzhou have made a porous coordination polymer that has a three-metal-centred nine-connected building unit. The central cluster is a tricapped trigonal prism with dicarboxylate and pyridyl benzoate linkers. These units join together through the linkers to form tetrahedra whose faces are capped with trigonal pyramids, forming a 'triakis tetrahedron'.
The overall structure can be described as a body-centred, caesium-chloride-like, arrangement of these tetrahedra. The void around these that is accessible by solvent makes up over 21% of the crystal volume. The surface area of the material is over 2,000 m2 g−1, and the pore volume is 0.95 cm3 g−1. The channel system contains three cavity types connected by three types of passages, and Chen and co-workers hope that these will lead to useful and interesting adsorption properties.
References
Zhang, Y.-B., Zhang, W.-X., Feng, F.-Y. Zhang, J.-P. & Chen, X-M. A highly connected porous coordination polymer with unusual channel structure and sorption properties. Angew. Chem. Int. Ed. 10.1002/anie.200901964 (2009).
About this article
Cite this article
Withers, N. Get connected. Nature Chem (2009). https://doi.org/10.1038/nchem.321
Published:

DOI: https://doi.org/10.1038/nchem.321