Abstract
Difluoromethylated aromatic compounds are of increasing importance in pharmaceuticals, agrochemicals and materials. Chlorodifluoromethane (ClCF2H), an inexpensive, abundant and widely used industrial raw material, represents the ideal and most straightforward difluoromethylating reagent, but introduction of the difluoromethyl group (CF2H) from ClCF2H into aromatics has not been reported. Here, we describe a direct palladium-catalysed difluoromethylation method for coupling ClCF2H with arylboronic acids and esters to generate difluoromethylated arenes with high efficiency. The reaction exhibits a remarkably broad substrate scope, including heteroarylboronic acids, and was used for difluoromethylation of a range of pharmaceuticals and biologically active compounds. Preliminary mechanistic studies revealed that a palladium difluorocarbene intermediate is involved in the reaction. Although numerous metal–difluorocarbene complexes have been prepared, the catalytic synthesis of difluoromethylated or difluoromethylenated compounds involving metal–difluorocarbene complexes has not received much attention. This new reaction therefore also opens the door to understand metal–difluorocarbene complex catalysed reactions.
Your institute does not have access to this article
Relevant articles
Open Access articles citing this article.
Jianke Su

,

Xinyuan Hu

…

Qiuling Song

Nature Communications Open Access 17 August 2021

Aijie Cai

,

Wenhao Yan

…

Wei Liu

Nature Communications Open Access 01 June 2021

Fei Ye

,

Yao Ge

…

Matthias Beller

Nature Communications Open Access 31 May 2021
Access options
Subscribe to Nature+
Get immediate online access to the entire Nature family of 50+ journals
Subscribe to Journal
Get full journal access for 1 year
$119.00
only $9.92 per issue
All prices are NET prices.
VAT will be added later in the checkout.
Tax calculation will be finalised during checkout.
Buy article
Get time limited or full article access on ReadCube.
$32.00
All prices are NET prices.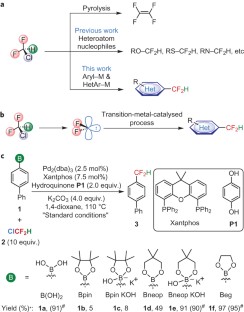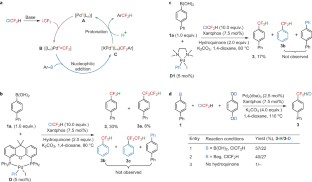 References
Müller, K., Faeh, C. & Diederich, F. Fluorine in pharmaceuticals: looking beyond intuition. Science 317, 1881–1886 (2007).

Purser, S., Moore, P. R., Swallow, S. & Gouverneur, V. Fluorine in medicinal chemistry. Chem. Soc. Rev. 37, 320–330 (2008).

Hagmann, W. K. The many roles for fluorine in medicinal chemistry. J. Med. Chem. 51, 4359–4369 (2008).

Wang, J. et al. Fluorine in pharmaceutical industry: fluorine-containing drugs introduced to the market in the last decade (2001–2011). Chem. Rev. 114, 2432–2506 (2014).

Tomashenko, O. A. & Grushin, V. V. Aromatic trifluoromethylation with metal complexes. Chem. Rev. 111, 4475–4521 (2011).

Liang, T., Neumann, C. N. & Ritter, T. Introduction of fluorine and fluorine-containing functional groups. Angew. Chem. Int. Ed. 52, 8214–8264 (2013).

Chen, B. & Vicic, D. Transition-metal-catalyzed difluoromethylation, difluoromethylenation, and polydifluoromethylenation reactions. Top. Organomet. Chem. 52, 113–142 (2014).

Meanwell, N. A. Synopsis of some recent tactical application of bioisosteres in drug design. J. Med. Chem. 54, 2529–2591 (2011).

Erickson, J. A. & McLoughlin, J. I. Hydrogen bond donor properties of the difluoromethyl group. J. Org. Chem. 60, 1626–1631 (1995).

Hudlicky, M. & Pavlath, A. E. Chemistry of Organic Fluorine Compounds II (American Chemical Society, 1995).

Hine, J. & Porter, J. J. Methylene derivatives as intermediates in polar reactions. VIII. Difluoromethylene in the reaction of chlorodifluoromethane with sodium methoxide. J. Am. Chem. Soc. 79, 5493–5496 (1957).

Miller, T. G. & Thanassi, J. W. The preparation of aryl difluoromethyl ethers. J. Org. Chem. 25, 2009–2012 (1960).

Moore, G. G. I. Fluoroalkanesulfonyl chlorides. J. Org. Chem. 44, 1708–1711 (1979).

Nawrot, E. & Jonczyk, A. Difluoromethyltrialkylammonium salts their expeditious synthesis from chlorodifluoromethane and tertiary amines in the presence of concentrated aqueous sodium hydroxide. The catalytic process. J. Org. Chem. 72, 10258–10260 (2007).

Obayashi, M., Ito, E., Matsui, K . & Kondo, K. (Diethylphosphinyl)difluoromethyllithium — preparation and synthetic application. Tetrahedron Lett. 23, 2323–2326 (1982).

Metcalf, B. W. et al. Catalytic irreversible inhibition of mammalian ornithine decarboxylase (E.C.4.1.1.17) by substrate and product analogs. J. Am. Chem. Soc. 100, 2551–2553 (1978).

Konno, T. & Kitazume, T. Novel synthesis and application of γ-difluoromethylated prop-2-ynylic and allylic alcohols. Chem. Commun. 19, 2227–2228 (1996).

Markovsi, L. N., Pahinnik, V. E. & Kirsanov, A. V. Application of dialkylaminosulfur trifluorides in the synthesis of fluoroorganic compounds. Synthesis 12, 787–789 (1973).

Middleton, W. J. New fluorinating reagents. Dialkylaminosulfur fluorides. J. Org. Chem. 40, 574–578 (1975).

Fujikawa, K., Fujioka, Y., Kobayashi, A. & Amii, H . A new method for aromatic difluoromethylation: copper-catalyzed cross-coupling and decarboxylation sequence from aryl iodides. Org. Lett. 13, 5560−5563 (2011).

Fujiwara, Y. et al. A new reagent for direct difluoromethylation. J. Am. Chem. Soc. 134, 1494–1497 (2012).

Fier, P. S. & Hartwig, J. F. Copper-mediated difluoromethylation of aryl and vinyl iodides. J. Am. Chem. Soc. 134, 5524−5527 (2012).

Prakash, G. K. S. et al. Copper-mediated difluoromethylation of (hetero)aryl iodides and β-styryl halides with tributyl(difluoromethyl)stannane. Angew. Chem. Int. Ed. 51, 12090–12094 (2012).

Gu, Y., Leng, X. & Shen, Q. Cooperative dual palladium/silver catalyst for direct difluoromethylation of aryl bromides and iodides. Nat. Commun. 5, 5405 (2014).

Matheis, C., Jouvin, K. & Goossen, L. Sandmeyer difluoromethylation of (hetero-)arenediazonium salts. Org. Lett. 16, 5984–5987 (2014).

Feng, Z., Min, Q.-Q. & Zhang, X. Access to difluoromethylated arenes by Pd-catalyzed reaction of arylboronic acids with bromodifluoroacetate. Org. Lett. 18, 44–47 (2016).

Xu, L. & Vicic, D. A. Direct difluoromethylation of aryl halides via base metal catalysis at room temperature. J. Am. Chem. Soc. 138, 2536–2539 (2016).

Deng, X.-Y., Lin, J.-H. & Xiao, J.-C. Pd-catalyzed transfer of difluorocarbene. Org. Lett. 18, 4384–4387 (2016).

Ruppert, I., Schlich, K. & Volbach, W. Die ersten CF3-substituierten organyl(chlor)silane. Tetrahedron Lett. 25, 2195–2198 (1984).

Tyutyunov, A. A., Boyko, V. E. & Igoumnov, S. M. The unusual reaction of (trifluoromethyl)trimethylsilane with sodium borohydride. Fluorine Notes 74, 1 (2011).

Prakash, G. K. S., Hu, J. & Olah, G. A. Preparation of tri- and difluoromethylsilanes via an unusual magnesium metal-mediated reductive tri- and difluoromethylation of chlorosilanes using tri- and difluoromethyl sulfides, sulfoxides, and sulfones. J. Org. Chem. 68, 4457–4463 (2003).

Brahms, D. L. S. & Dailey, W. P. Fluorinated carbenes. Chem. Rev. 96, 1585–1632 (1996).

Brothers, P. J. & Roper, W. R. Transition-metal dihalocarbene complexes. Chem. Rev. 88, 1293–1326 (1988).

Takahira, Y. & Morizawa, Y. Ruthenium-catalyzed olefin cross-metathesis with tetrafluoroethylene and analogous fluoroolefins. J. Am. Chem. Soc. 137, 7031–7034 (2015).

Trnka, T. M., Day, M. W. & Grubbs, R. H. Olefin metathesis with 1,1-difluoroethylene. Angew. Chem. Int. Ed. 40, 3441–3444 (2001).

Harrison, D. J., Daniels, A. L., Korobkov, I. & Baker, R. T. d10 nickel difluorocarbenes and their cycloaddition reactions with tetrafluoroethylene. Organometallics 34, 5683–5686 (2015).

Bakhmutov, V. I. et al. CF3–Ph reductive elimination from [(Xantphos)Pd(CF3)(Ph)]. Organometallics 31, 1315–1328 (2012).

Ishiyama, T . et al. Mild iridium-catalyzed borylation of arenes. High turnover numbers, room temperature reactions, and isolation of a potential intermediate. J. Am. Chem. Soc. 124, 390–391 (2002).

Tobisu, M., Kinuta, H., Kita, Y., Rémond, E. & Chatani, N. Rhodium(I)-catalyzed borylation of nitriles through the cleavage of carbon–cyano bonds. J. Am. Chem. Soc. 134, 115–118 (2012).

Harrison, D. J., Gorelsky, S. I., Lee, G. M., Korobkov, I. & Baker, R. T. Cobalt fluorocarbene complexes. Organometallics 32, 12–15 (2013).

Grushin, V. V. & Marshall, W. J. Facile Ar-CF3 bond formation at Pd. Strikingly different outcomes of reductive elimination from [(Ph3P)2Pd(CF3)Ph] and [(Xantphos)Pd(CF3)Ph]. J. Am. Chem. Soc. 128, 12644–12645 (2006).

Yang, Z.-Y., Wiemers, D. M. & Burton, D. J. Trifluoromethylcopper: a useful difluoromethylene transfer reagent: a novel double insertion of difluoromethylene into pentafluorophenylcopper. J. Am. Chem. Soc. 114, 4402–4403 (1992).

Clark, G. R., Hoskins, S. V., Jones, T. C. & Roper, W. R. Oxidation state control of the reactivity of a transition metal-carbon double bond. Synthesis, X-ray crystal structure, and reactions of the zerovalent difluorocarbene complex [Ru=CF2)(CO)2(PPh3)2]. J. Chem. Soc. Chem. Commun. 1983, 719–721 (1983).

Markies, B. A. et al. Synthesis and structural studies of phenyl(iodo)- and methyl(phenyl)palladium(II) complexes of bidentate nitrogen donor ligands. J. Organomet. Chem. 482, 191–199 (1994).
Acknowledgements
Financial support for this work was provided by the National Basic Research Program of China (973 Program) (2012CB821600 and 2015CB931900), the National Natural Science Foundation of China (21425208, 21672238, 21421002 and 21332010), the Strategic Priority Research Program of the Chinese Academy of Sciences (XDB20000000), and SIOC. We thank Y. Guo (SIOC) and H.-Y. Wang (SIOC) for assistance with MS analysis of palladium difluorocarbene complexes. We thank W. A. van der Donk and S. Zhang for proof-reading and helpful discussion.
Ethics declarations
Competing interests
The authors declare no competing financial interests.
Supplementary information
About this article
Cite this article
Feng, Z., Min, QQ., Fu, XP. et al. Chlorodifluoromethane-triggered formation of difluoromethylated arenes catalysed by palladium. Nature Chem 9, 918–923 (2017). https://doi.org/10.1038/nchem.2746
Received:

Accepted:

Published:

Issue Date:

DOI: https://doi.org/10.1038/nchem.2746