Molecular daisy-chain structures are typically made up of two interlocked components and can exhibit muscle-like contraction and extension in one dimension. Zinc-based multicomponent systems that can operate in two and three dimensions have now been designed and synthesized.
Access options
Subscribe to Journal
Get full journal access for 1 year
$169.00
only $14.08 per issue
All prices are NET prices.
VAT will be added later in the checkout.
Rent or Buy article
Get time limited or full article access on ReadCube.
from$8.99
All prices are NET prices.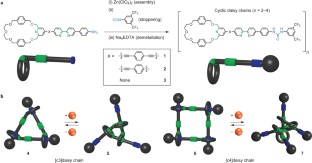 References
1

Rotzler, J. & Mayor, M. Chem. Soc. Rev. 42, 44–62 (2013).

2

Niess, F., Duplan, V. & Sauvage, J.-P. Chem. Lett. 43, 964–974 (2014).

3

Jiménez, M. C., Dietrich-Buchecker, C. & Sauvage, J.-P. Angew. Chem. Int. Ed. 39, 3284–3287 (2000).

4

Coutrot, F., Romuald, C. & Busseron, E. Org. Lett. 10, 3741–3744 (2008).

5

Wu, J. et al. Angew. Chem. Int. Ed. 47, 7470–7474 (2008).

6

Dawson, R. E., Lincoln, S. F. & Easton, C. J. Chem. Commun. 3980–3982 (2008).

7

Romuald, C., Busseron, E. & Coutrot, F. J. Org. Chem. 75, 6516–6531 (2010).

8

Bruns, C. J. et al. Angew. Chem. Int. Ed. 53, 1953–1958 (2014).

9

Bruns, C. J. et al. J. Am. Chem. Soc. 136, 4714–4723 (2014).

10

Romuald, C., Arda, A., Clavel, C., Jimé nez-Barbero, J. & Coutrot, F. Chem. Sci. 3, 1851–1857 (2012).

11

Chang, J.-C. et al. Nat. Chem. 9, 128–134 (2016).10.1038/nchem.2608
About this article
Cite this article
Fournel-Marotte, K., Coutrot, F. Moving into another dimension. Nature Chem 9, 105–106 (2017). https://doi.org/10.1038/nchem.2709
Further reading
Advanced Intelligent Systems (2020)