Nature oxidizes biosynthetic intermediates into structurally and functionally diverse peptides. An iron-catalysed C–H oxidation mimics this approach in the lab, enabling chemists to synthesize structural analogues with ease.
Access options
Subscribe to Journal
Get full journal access for 1 year
$119.00
only $9.92 per issue
All prices are NET prices.
VAT will be added later in the checkout.
Tax calculation will be finalised during checkout.
Buy article
Get time limited or full article access on ReadCube.
$32.00
All prices are NET prices.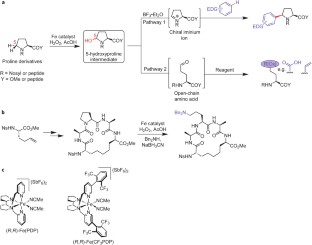 References
Hoffmann, T. & Fosgerau, K. Drug Discov. Today 20, 122–128 (2015).

Ling, L. L. et al. Nature 517, 455–459 (2015).

Walsh, C. & Wencewicz, T. Antibiotics: Challenges, Mechanisms, Opportunities (American Society for Microbiology, 2016).

Winn, M, Fryans, J. K., Zhuo, Y. & Micklefield, J. J. Nat. Prod. Rep. 33, 317–347 (2016).

Fischbach, M. A. & Walsh, C. T. Chem. Rev. 106, 3468–3496 (2006).

Walsh, C. T. et al. Curr. Opin. Chem. Biol. 5, 525–534 (2001).

Bartlett, P. A. & Entzeroth, M. (eds) Exploiting Chemical Diversity for Drug Discovery (Royal Society of Chemistry, 2006).

Osberger, T. J., Rogness, D. C., Kohrt, J. T., Stepan, A. F. & White, M. C. Nature 537, 214–219 (2016).

Barton, D. H. R. & Doller, D. Acc. Chem. Res. 25, 504–512 (1992).

Chuang, K. V., Xu, C. & Reisman, S. E. Science 353, 912–915 (2016).

Yudin, A. K. Chem. Sci. 6, 30–49 (2015).

Over, B. et al. Nat. Chem. Biol. 12, 1065–1074 (2016).

Burns, M. et al. Nature 513, 183–188 (2014).
About this article
Cite this article
Bartlett, S., Spring, D. Complex peptides made simple. Nature Chem 9, 9–10 (2017). https://doi.org/10.1038/nchem.2701
Published:

Issue Date:

DOI: https://doi.org/10.1038/nchem.2701