Abstract
Asymmetric lipid giant vesicles have been used to model the biochemical reactions in cell membranes. However, methods for producing asymmetric giant vesicles lead to the inclusion of an organic solvent layer that affects the mechanical and physical characteristics of the membrane. Here we describe the formation of asymmetric giant vesicles that include little organic solvent, and use them to investigate the dynamic responses of lipid molecules in the vesicle membrane. We formed the giant vesicles via the inhomogeneous break-up of a lipid microtube generated by applying a jet flow to an asymmetric planar lipid bilayer. The asymmetric giant vesicles showed a lipid flip-flop behaviour in the membrane, superficially similar to the lipid flip-flop activity observed in apoptotic cells. In vitro synthesis of membrane proteins into the asymmetric giant vesicles revealed that the lipid asymmetry in bilayer membranes improves the reconstitution ratio of membrane proteins. Our asymmetric giant vesicles will be useful in elucidating lipid–lipid and lipid–membrane protein interactions involved in the regulation of cellular functions.
Relevant articles
Open Access articles citing this article.
Ming Zhang

,

Rammile Ettelaie

…

Hengquan Yang

Nature Communications Open Access 25 January 2022

Koki Kamiya

,

Toshihisa Osaki

…

Shoji Takeuchi

Scientific Reports Open Access 30 November 2018

Masayuki Iwamoto

&

Shigetoshi Oiki

Scientific Reports Open Access 31 July 2017
Access options
Subscribe to Journal
Get full journal access for 1 year
$119.00
only $9.92 per issue
All prices are NET prices.
VAT will be added later in the checkout.
Tax calculation will be finalised during checkout.
Buy article
Get time limited or full article access on ReadCube.
$32.00
All prices are NET prices.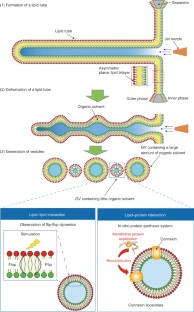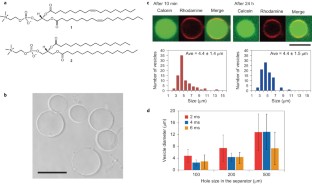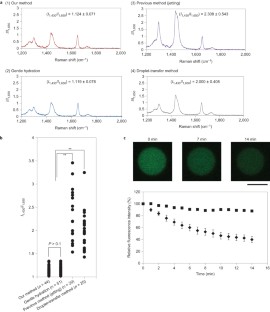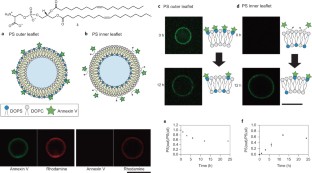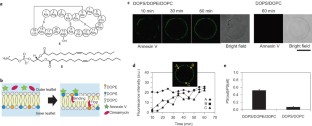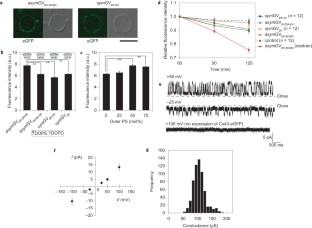 References
Bacia, K., Schwille, P. & Kurzchalia, T. Sterol structure determines the separation of phases and the curvature of the liquid-ordered phase in model membranes. Proc. Natl Acad. Sci. USA 102, 3272–3277 (2005).

Kaneda, M. et al. Direct formation of proteo-liposomes by in vitro synthesis and cellular cytosolic delivery with connexin-expressing liposomes. Biomaterials 30, 3971–3977 (2009).

Kamiya, K., Tsumoto, K., Yoshimura, T. & Akiyoshi, K. Cadherin-integrated liposomes with potential application in a drug delivery system. Biomaterials 32, 9899–9907 (2011).

Kurihara, K. et al. Self-reproduction of supramolecular giant vesicles combined with the amplification of encapsulated DNA. Nature Chem. 3, 775–781 (2011).

Matosevic, M. Synthesizing artificial cells from giant unilamellar vesicles: state-of-the art in the development of microfluidic technology. Bioessays 34, 992–1001 (2012).

Pautot, S., Frisken, B. J. & Weitz, D. A. Engineering asymmetric vesicles. Proc. Natl Acad. Sci. USA 100, 10718–10721 (2003).

Hu, P. C., Li, S. & Malmstadt, N. Microfluidic fabrication of asymmetric giant lipid vesicles. ACS Appl. Mater. Interfaces 3, 1434–1440 (2011).

Funakoshi, K., Suzuki, H. & Takeuchi, S. Formation of giant lipid vesicle like compartments from a planar lipid membrane by a pulsed jet flow. J. Am. Chem. Soc. 129, 12608–12609 (2007).

Richmond, D. L. et al. Forming giant vesicles with controlled membrane composition, asymmetry, and contents. Proc. Natl Acad. Sci. USA 108, 9431–9436 (2011).

Arriaga, L. R. et al. Ultrathin shell double emulsion templated giant unilamellar lipid vesicles with controlled microdomain formation. Small 10, 950–956 (2014).

van Swaay, D. & de Mello, A. Microfluidic methods for forming liposomes. Lab. Chip 13, 752–767 (2013).

Devaux, P. F., Herrmann, A., Ohlwein, N. & Kozlov, M. M. How lipid flippases can modulate membrane structure. Biochim. Biophys. Acta 1778, 1591–1600 (2008).

Hanson, P. K. & Nichols, J. W. Energy-dependent flip of fluorescence-labeled phospholipids is regulated by nutrient starvation and transcription factors, PDR1 and PDR3. J. Biol. Chem. 276, 9861–9867 (2001).

Uchida, K., Emoto, K., Daleke, D. L., Inoue, K. & Umeda, M. Induction of apoptosis by phosphatidylserine. J. Biochem. 123, 1073–1078 (1998).

Funakoshi, K., Suzuki, H. & Takeuchi, S. Lipid bilayer formation by contacting monolayers in a microfluidic device for membrane protein analysis. Anal. Chem. 78, 8169–8174 (2006).

Kawano, R. et al. Automated parallel recording of topologically identified single ion channels. Sci. Rep. 3, 1995 (2013).

Hagedorn, J. G., Martys, N. S. & Douglas, J. F. Breakup of a fluid thread in a confined geometry: droplet-plug transition, perturbation sensitivity, and kinetic stabilization with confinement. Phys. Rev. E 69, 056312 (2004).

Oglęcka, K., Rangmani, P., Liedberg, B., Kraut, R. S. & Parikh, A. N. Oscillatory phase separation in giant lipid vesicles induced by transmembrane osmotic differentials. eLIFE 3, e03695 (2014).

Bangham, A. D. & Home, R. W. Negative staining of phospholipids and their structural modification by surface-active agents as observed in the electron microscope. J. Mol. Biol. 8, 660–668 (1964).

Reeves, J. P. & Dowben, R. M. Formation and properties of thin-walled phospholipid vesicles. J. Cell Physiol. 73, 49–60 (1969).

Tsuji, Y. et al. Droplet split-and-contact method for high-throughput transmembrane electrical recording. Anal. Chem. 85, 10913–10919 (2013).

Cherney, D. P., Conboy, J. C. & Harris, J. M. Optical-trapping Raman microscopy detection of single unilamellar lipid vesicles. Anal. Chem. 75, 6621–6628 (2003).

Ota, S., Yoshizawa, S. & Takeuchi, S. Microfluidic formation of monodisperse, cell-sized, and unilamellar vesicles. Angew. Chem. Int. Ed. 48, 6533–6537 (2009).

Rodrigues, N., Pincet, F. & Cribier, S. Giant vesicles formed by gentle hydration and electroformation: a comparison by fluorescence microscopy. Colloids Surf. B 42, 125–130 (2005).

van Engeland, M., Nieland, L. J., Ramaekers, F. C., Schutte, B. & Reutelingsperger, C. P. Annexin V-affinity assay: a review on an apoptosis detection system based on phosphatidylserine exposure. Cytometry 31, 1–9 (1998).

Chan, A., Reiter, R., Wiese, S., Fertig, G. & Gold, R. Plasma membrane phospholipid asymmetry precedes DNA fragmentation in different apoptotic cell models. Histochem. Cell Biol. 110, 553–558 (1998).

Matsuzaki, K., Murase, O., Fujii, N. & Miyajima, K. An antimicrobial peptide, magainin 2, induced rapid flip-flop of phospholipids coupled with pore formation and peptide translocation. Biochemistry 35, 11361–11368 (1996).

Bai, J. & Pagano, R. E. Measurement of spontaneous transfer and transbilayer movement of BODIPY-labeled lipids in lipid vesicles. Biochemistry 36, 8840–8848 (1997).

Kornberg, R. D. & McConnell, H. M. Inside–outside transitions of phospholipids in vesicle membranes. Biochemistry 10, 1111–1120 (1971).

Qian, S. Structure and Mechanism of Peptide-induced Membrane Pores (ProQuest, UMI Dissertation Publishing, 2011).

Makino, A. et al. Cinnamycin (Ro 09-0198) promotes cell binding and toxicity by inducing transbilayer lipid movement. J. Biol. Chem. 278, 3204–3209 (2003).

Iwamoto, K. et al. Curvature-dependent recognition of ethanolamine phospholipids by duramycin and cinnamycin. Biophys. J. 93, 1608–1619 (2007).

Guder, A., Wiedemann, I. & Sahl, H. G. Posttranslationally modified bacteriocins—the lantibiotics. Biopolymers 55, 62–73 (2000).

Liu, Y. J., Hansen, G. P., Venancio-Marques, A. & Baigl, D. Cell-free preparation of functional and triggerable giant proteoliposomes. ChemBioChem 14, 2243–2247 (2013).

Kumar, N. M. & Gilula, N. B. The gap junction communication channel. Cell 84, 381–388 (1996).

John, S. A., Kondo, R., Wang, S. Y., Goldhaber, J. I. & Weiss, J. N. Connexin-43 hemichannels opened by metabolic inhibition. J. Biol. Chem. 274, 236–240 (1999).

Uhríková, D. et al. Small-angle neutron scattering study of n-decane effect on the bilayer thickness in extruded unilamellar dioleoylphosphatidylcholine liposomes. Biophys. Chem. 88, 165–170 (2000).

Sasanuma, Y. Conformational analysis of chain molecules in liquid crystalline phases by a rotational isomeric state scheme with maximum entropy method I. 1H–1H dipolar couplings from n-alkanes dissolved in a nematic solvent. Polymer J. 32, 883–889 (2000).

van Meer, G., Voelker, D. R. & Feigenson, G. W. Membrane lipids: where they are and how they behave. Nature Rev. Mol. Cell Biol. 9, 112–124 (2008).

von Heijne, G. Control of topology and mode of assembly of a polytopic membrane protein by positively charged residues. Nature 341, 456–458 (1989).

Hartmann, E., Rapoport, T. A. & Lodish, H. F. Predicting the orientation of eukaryotic membrane-spanning proteins. Proc. Natl Acad. Sci. USA 86, 5786–5790 (1989).

Dowhan, W. & Bogdanov, M. Lipid-dependent membrane protein topogenesis. Annu. Rev. Biochem. 78, 515–540 (2009).
Acknowledgements
We thank Y. Hasegawa for advising us on the simulation of the GV-formation process. We also thank M. Uchida and Y. Nozaki for technical support, K. Okumura and M. Takinoue for providing useful discussion, A. Y. Hsiao for useful comments on the manuscript and A. Sato for the artwork for Fig. 1. This work was partly supported by Grant-in-Aid for Research Activity Start-up No. 23850022 (K.K.), Challenging Exploratory Research No. 25620138 (K.K.), Young Scientists (A) No. 15H05493 (K.K.) and Scientific Research (A) No. 25246017 (S.T.) from the Ministry of Education, Culture, Sports, Science and Technology (MEXT) Japan, by Platform for Dynamic Approaches to Living System (MEXT) Japan, by the Regional Innovation Strategy Support Program (MEXT) Japan and by PRESTO (Design and Control of Cellular Functions) (K.K.) of Japan Science of Technology (JST).
Ethics declarations
Competing interests
The authors declare no competing financial interests.
Supplementary information
About this article
Cite this article
Kamiya, K., Kawano, R., Osaki, T. et al. Cell-sized asymmetric lipid vesicles facilitate the investigation of asymmetric membranes. Nature Chem 8, 881–889 (2016). https://doi.org/10.1038/nchem.2537
Received:

Accepted:

Published:

Issue Date:

DOI: https://doi.org/10.1038/nchem.2537