Mass production at the nanoscale requires molecular machines that can control, with high fidelity, the spatial orientation of other reactive species. The demonstration of a synthetic system in which a molecular robotic arm can be used to manipulate the position of a chemical cargo is a significant step towards achieving this goal.
Access options
Subscribe to Journal
Get full journal access for 1 year
$169.00
only $14.08 per issue
All prices are NET prices.
VAT will be added later in the checkout.
Rent or Buy article
Get time limited or full article access on ReadCube.
from$8.99
All prices are NET prices.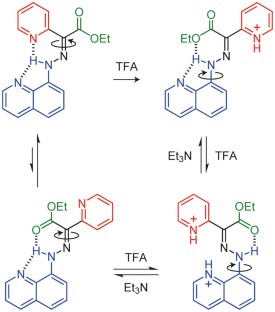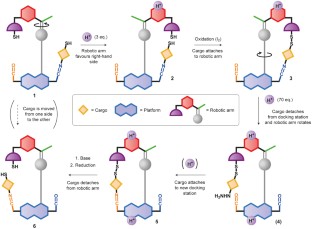 References
1

Feynman, R. P. Eng. Sci. 23, 22–36 (1960).

2

Gu, H., Chao, J., Xiao, S.-J. & Seeman, N. C. Nature 465, 202–205 (2010).

3

Baum, R. Chem. Eng. News 81, 37–42 (2004).

4

Kassem, S., Lee, A. T. L., Leigh, D. A., Markevicius, A. & Solà, J. Nature Chem. 8 138–143 (2016).

5

Su, X. & Aprahamian, I. Org. Lett. 13, 30–33 (2011).

6

Astumian, R. D. & Derényi, I. Eur. Biophys. J. 27, 474–489 (1998).

7

Ray, D., Foy, J. T., Hughes, R. P. & Aprahamian, I. Nature Chem. 4, 757–762 (2012).

8

Nitschke, J. R. Nature 462, 736–738 (2009).
About this article
Cite this article
Aprahamian, I. Molecules bearing robotic arms. Nature Chem 8, 97–99 (2016). https://doi.org/10.1038/nchem.2435