Replication of long nucleic acid sequences was required for the evolution of biological complexity during the origin of life; however, short sequences are normally better replicators than long ones. A common physical environment now provides a simple mechanism to reverse this trend and enables long sequences to flourish.
Access options
Subscribe to Journal
Get full journal access for 1 year
$59.00
only $4.92 per issue
All prices are NET prices.
VAT will be added later in the checkout.
Tax calculation will be finalised during checkout.
Rent or Buy article
Get time limited or full article access on ReadCube.
from$8.99
All prices are NET prices.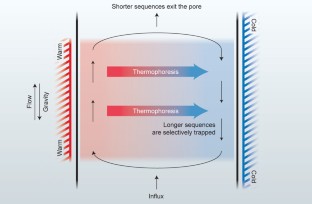 References
1

Kreysing, M., Keil, L., Lanzmich, S. & Braun, D. Nature Chem. 7, 203–208 (2015).

2

Mills, D. R., Peterson, R. L. & Spiegelman, S. Proc. Natl Acad. Sci. USA 58, 217–224 (1967).

3

Ichihashi, N., Usui, K., Kazuta, Y., Sunami, T., Matsuura, T. & Yomo, T. Nature Commun. 4, 2494 (2013).

4

Reichl, M., Herzog, M., Gotz, A. & Braun, D. Phys. Rev. Lett. 112, 198101 (2014).

5

Eigen, M. Naturwissenschaften 58, 465–523 (1971).

6

Rajamani, S. et al. J. Am. Chem. Soc. 132, 5880–5885 (2010).

7

Zhang, S., Blain, J. C., Zielinska, D., Gryaznov, S. M. & Szostak, J. W. Proc. Natl Acad. Sci. USA 110, 17732–17737 (2013).

8

Attwater, J., Wochner, A. & Holliger, P. Nature Chem. 5, 1011–1018 (2013).
About this article
Cite this article
Chen, I. Replicating towards complexity. Nature Chem 7, 191–192 (2015). https://doi.org/10.1038/nchem.2188
Further reading
Sankar Chatterjee

&

Surya Yadav

Life (2019)

Keishi Suga

,

Seishiro Tanaka

&

Hiroshi Umakoshi

European Biophysics Journal (2016)