Lengthy molecular dynamics simulations of complex systems at the atomic scale usually require supercomputers. Now, by stitching together many shorter independent simulations run 'in the cloud', this requirement has been circumvented, allowing two milliseconds of the dynamics of a G-protein-coupled receptor to be simulated.
Access options
Subscribe to Journal
Get full journal access for 1 year
$160.00
only $13.33 per issue
All prices are NET prices.
VAT will be added later in the checkout.
Rent or Buy article
Get time limited or full article access on ReadCube.
from$8.99
All prices are NET prices.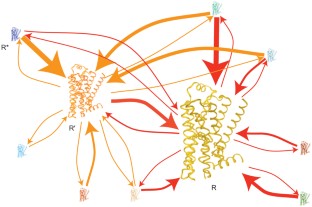 References
1

Kohlhoff, K. J. et al. Nature Chem. 6, 15–21 (2014).

2

Dror, R. O., Dirks, R. M., Grossman, J. P., Xu, H. & Shaw, D. E. Ann. Rev. Biophys. 41, 429–452 (2012).

3

Johnston, J. M. & Filizola, M. Curr. Opin. Struct. Biol. 21, 552–558 (2011).

4

Lohse, M. J. et al. Brit. J. Pharmacol. 153, S125–S132 (2008).

5

Whalen, E. J., Rajagopal, S. & Lefkowitz, R. J. Trends Molecular Med. 17, 126–139 (2011).

6

Bockenhauer, S., Fürstenberg, A., Yao, X. J., Kobilka, B. K. & Moerner, W. E. J. Phys. Chem. B 115, 13328–13338 (2011).

7

Dror, R. O. et al. Proc. Natl Acad. Sci. USA 108, 18684–18689 (2011).

8

Deupi, X. & Kobilka, B. K. Physiology 25, 293–303 (2010).
About this article
Cite this article
Deupi, X. A stitch in time. Nature Chem 6, 7–8 (2014) doi:10.1038/nchem.1832
Further reading
Keelara Abiraj

,

Samer Ursillo

,

Maria Luisa Tamma

,

Svetlana N. Rylova

,

Beatrice Waser

,

Edwin C. Constable

,

Melpomeni Fani

,

Guillaume P. Nicolas

,

Jean Claude Reubi

&

Helmut R. Maecke

EJNMMI Research (2018)

Svetlana N. Rylova

,

Christian Stoykow

,

Luigi Del Pozzo

,

Keelara Abiraj

,

Maria Luisa Tamma

,

Yvonne Kiefer

,

Melpomeni Fani

,

Helmut R. Maecke

&

Christoph E. Hagemeyer

PLOS ONE (2018)